Movie Review: Finding Ohana
I have recently viewed the new film, "Finding Ohana" and it turned out to be better than I expected. I thought the movie was going to misrepresent Hawaiian culture, but I ended up impressed by how they portrayed the culture. There were some parts that involved the Hawaiian language/culture and they nailed many of those words/scenes. I like how they took some time and effort to learn the Hawaiian culture, while also including some funny scenes, which I know most people will fall in love with.
An Ohana of a mother from Oʻahu, Leilani, and two siblings, Pili and Ioane, raised in Brooklyn, New York, decided to pay a visit to their papa, Kimo, on the island of Oʻahu. When they visit the island of Oʻahu, they start learning and connecting to their Hawaiian heritage. While they are attempting to connect to their Hawaiian heritage, they meet up with locals of the island, Hana and Casper, and decide to go on a quest to find lost treasure.

To be honest, most of the actors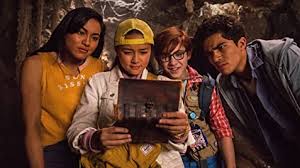 werenʻt the greatest. Also, the background things that were happening were okay, but not the best. The actors of Leilani and Kimo, Kelly Hu and Branscombe Richmond, were the best actors. They emphasized their roles as a parent and a grandparent in the situations going on during the movie pretty well. Kea Peahu and Owen Vaccaro, the actors of Pili and Casper were pretty good. Lastly, the roles of Ioane and Hana, Alex Aiono, and Lindsay Watson, were decently played but not the greatest. I felt that some of the scenes they did could have been done better.
The great parts of the movie were the small comedic scenes that were run during the movie. They actually did make me laugh and most movies I watch can't often achieve. Also, I love that they took some of their time to learn some important parts of the Hawaiian culture and inserted them into the movie. Relating to the Hawaiian culture, some parts are filmed in places most people know of already which is kind of nice being able to relate some of the movies to some small part of your life.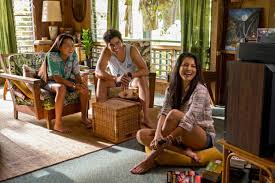 There are two lessons that I have learned during the movie. One, Iʻve learned you should always listen to your parents the first time they tell you something. The reasoning behind that is when your parent tells you something, they tell you it for a reason, not just to keep you away from it, but it is for the best. Second, Iʻve learned that you should always try new things. If you try that new thing, youʻll never know if you will or will not like it. Always try before judging.
This movie is enjoyable for all demographics and especially for some people of Hawaiian descent. However, only certain Hawaiians may like it because some Hawaiian people could be offended by some scenes during the movie. The movie is PG so it would be great for children and anyone older. The movie, "Finding Ohana" is a decent movie for those looking for something upbeat and family-friendly to watch.
About the Writer
Chansten Kaneakua, News Writer
I am currently a senior in high school and enrolled in Saint Louis since 7th grade. I have four brothers. I live in Kalihi, Honolulu, Hawaiʻi. I like...