Crusader Homecoming goes "Next Level"
Every school has a "Homecoming Week", but this year's Crusader Homecoming Week took "spirited" to the next level!  It's a week packed full of school activities, and assemblies and ending with the ILH Division 1 championship game.
The schedule for Homecoming Week is different from the usual schedule the Crusaders are accustomed to, to accommodate the events and assemblies that are held every day in the new gym. The first two days were the practice for the cheers, the third day was the dance, the fourth day was the cheer, and the last day was homecoming court. 
The victors of the Homecoming Week performances were the seniors. They had one of the more eye-catching, and highly-rated dances. "It felt invigorating and satisfying in a way," shares senior dance participant Titan Miller.  "The dance was tons of fun and I loved every moment of it!" "The seniors' dance was unique because they did something that no other grade would want to do. It was funny,"  Wyatt Lee, one of the middle schoolers.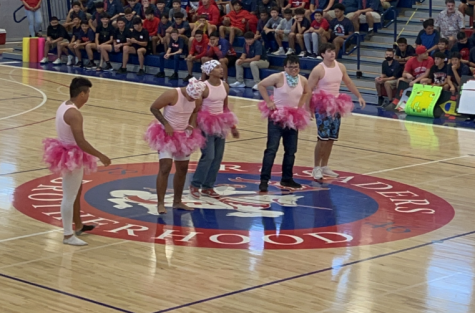 Quite a bit of planning had been done to prepare for the week of Homecoming festivities.  "Ms. Tauaese and I were actually planning homecoming since July [2022]," explains Co-Director of Student Activities and teacher, Ms. Tasha Castro. "All of the planning that goes into organizing the different teams… takes a really long time for advisors. I wanna say hours," explains Castro. Homecoming was a week to remember and the Crusaders were glad to have it back. "It was great to be able to see all of the divisions get together again, I really missed having our homecomings that way." shares Castro. "This full-force version was unmatched. I think it was really nice to see everyone get together again and put in all of the hard work."