SLS celebrates Catholic Schools Week
Saint Louis School and other Catholic schools across the state kicked off the annual Catholic School Week festivities, celebrating the traditions and values that have been a part of Catholic education for many years.
This year's Catholic Schools Week was celebrated recently at Saint Louis School and at Catholic schools throughout the nation. 
"It promotes and recognizes the values, principles, and contributions that Catholic schools have provided for the Church and every citizen for decades," explains religion teacher, Soane Uiagalelei. "Our connection to Catholic Schools Week is special because it gives us an identity that has connections to all Catholic Schools in the nation."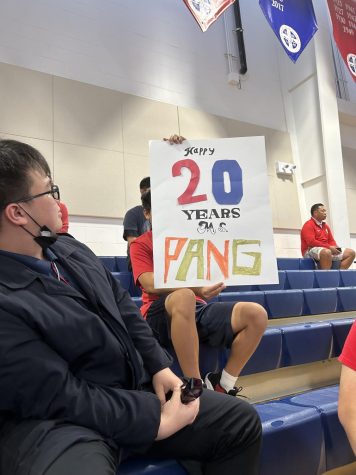 Festivities throughout the week included a special praise and worship service and an assembly honoring our Crusader educators for 20, 30, and 50 years of service.
 "We're really fortunate to have teachers who have invested a lot of time in the Catholic School system," shares Activities Coordinator and teacher, Teuila Tauaese. "It was cool to see the impact of Mr. Ray Abregano," adds Tauaese, "who has been working at Saint Louis for 50 years [and the impact that] that he's had."  Other teachers honored included Teresa Pang and Kainoa Jarret for twenty years and Principal Tim Los Baños for thirty years in Catholic education.
"We just had regular mass, [but] later there was the Father Chaminade award that Bubba Casupang and Ms. [Suenishi] got," describes junior and Saint Louis NHS member, Edward Yokoyama. "[and then] when the lion dance came, it was like a celebration."
There was an inspiring atmosphere throughout this year's Catholic Schools Week.  It was not only a celebration of the school's Catholic roots and values, but an opportunity to recognize some of its educators and administrators, and the bonds between students and staff alike.