Crusader Judo wins first Team Championship
At this year's ILH Dual Meet Tournament held at Kamehameha Schools Kapalama Campus, the Crusader varsity judo team made history earning its first team championship win.
The team began training in February to prepare for the season.  Practice included technical work and conditioning leading up to tournaments.  The team would start by gauging each student's level and tendencies before working on bad habits and honing techniques.   
"I'd definitely say that we spar more than everybody else," notes Sensei Bryce Takemoto, one of the team's coaches, "Other than that, we may [do] more rigorous mental training than most other clubs."
Team captain Zachary Pono Narcisso played a major role in shaping the team's synergy and discipline and is responsible for leading the team throughout training and tournaments.  "[I] have to take charge and show everyone how to work together effectively," explains Narcisso, "It is crucial for realizing [our] goals and establishing the team's culture. Being team captain affects the way I interact with the team because it helps them to succeed and strive to be better each and every day."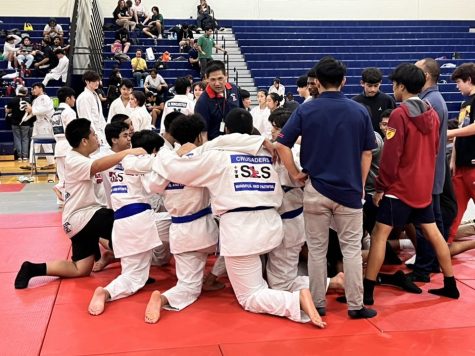 One of the most notable factors that contributed to the team's victory was the mental strength that every member of the team developed, working toward adopting and following a certain mentality throughout their training and competitions.  
"Every day at practice the team and I came in with the mentality to practice how we play in tournaments," explains Narcisso. "No matter how tired or how much pain we were in, we motivated each other to push past our limits and put in our minds that pain is temporary."
This mindset also helped the team overcome some of the obstacles they faced leading up to the dual meet.  The team saw members drop out or split their time between other commitments in addition to the many player injuries throughout competitions, but ultimately, this did not deter them.  "During the seasons I had many bruises and jammed toes," shares co-captain Zion Amerson, "[but] I got over these things by icing and resting."
The varsity player's hard work and strong mindset paid off in the finals against Pac-5, earning the team its first ILH Team Championship win in the school's history.  "Each one of them felt the urgency and the need to do the best that they can, [and] that their team is counting on them to pull their own weight," recounts Takemoto. "It kind of added on to the pressure more, [but they] stepped up to the plate and I'm proud of [them] for doing so."
Even with the season over, the team is looking ahead and beginning pre-season individual training in preparation for next year.  With all that the Crusader Judo Team has accomplished this year,  they will continue to hone their skills and prepare for an even better season next year!