Crusader Track Team takes State Championship
The Crusader Track and Field Team returned triumphant from the Hawaii State Track Championship Meet in Maui.  Despite the smaller team size compared to other schools represented in the Championship meet, the Crusaders did what they came to do: WIN!
Crusader top places included Michael Joshua Price, Josiah Fetui, William Reed and Trech Kekahuna.
Michael Joshua "MJ" Price,  long distance sprinter and Hawaii State Champion in the 800 meter race said,  "I feel most confident in the 800 meter," says Price. When preparing  for a meet, he likes to mentally prepare with music,  adding that,  " "throughout the day, I mentally prepare myself and meditate." 
Unlike Price Josiah Fetui one of our jumpers does primarily field events instead of running. Fetui participated in the triple jump, long jump and high jump. "I'm most confident in the triple jump and long jump," says Fetui. In our field jumping events we have Fetui who is #1 in triple jump and #2 in the long jump. Fetui tells us that "It's my first ever track season" which is very amazing considering his ranking. "Early track meets I wake extra early to make sure I get a good breakfast. Then on my way there I listen to music on top of my headphones and I try to mentally lock in," explained Fetui telling me how he prepared. Fetui went on to win 2nd in triple jump.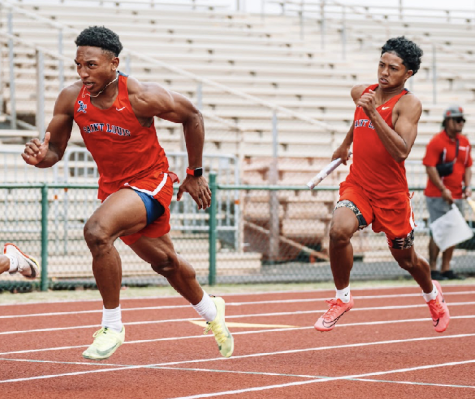 Although Fetui takes 1st and 2nd in triple and long jump William Reed takes 2nd in high jump.  Reed, one of our seniors on the team, participates in both field and Running events  "I feel most confident in the High jump". Reed is ranked #2 in High Jump in the state of Hawaii. Reed was a part of the group that won 1st in the 4×100 meter run as the 2nd leg. Reed explains that when he competes he likes to "clear [his] mind, get rid of all the doubts and regrets". Reed will be Going to West Point Military Academy and plans to continue his track career there. 
Saint Louis goes on to win the state Championships. Saint Louis ended with 64 points while Punahou had 62 points. When Alika Fonseca the head coach was asked how he felt about winning he responded with "It's great, the boys pulled together when it mattered and did their job". This was Saint Louis 2nd ever track and field State championship win all because "the kid cared about the team first and that all that mattered.