Wrestling 2017: Proven Warriors, Young Bulls
Wrestling Preview 2017-2018
Hang on for a minute...we're trying to find some more stories you might like.
With fall sports drawing to a close, Crusader fans are turning their attention to the next wave of winter sports. Of all winter sports, wrestling has the only returning State Champion from last year. Three time ILH All-Star Corey Cabanban stood above the rest last year when he toppled all other 120lb Hawaii wrestlers. He is looking to do the same this year, and bring home his fourth state title. But beyond individual achievements, wrestling is a team sport requiring grit, dedication, and commitment.
The long season began in Mid-November, and students are set to grind hard 'til February. While most students are eating anything and everything over Christmas break, wrestlers are devoted to a strict diet to maintain top shape. Except for when their trying to gain, wrestlers are always looking for ways to lose unnecessary body fat and water weight. You see, wrestling is divided into weight classes. Each year, wrestlers tweak their weight through diet and exercise to move down a weight class or to maximize their weight in their current class. Athletes desire to be in the lowest weight class possible, but as close to the maximum weight for that class. For example, a 123lb student would want to lose weight to enter the 120lb weight class. However, that same student would prefer to be 119lbs than 117lbs.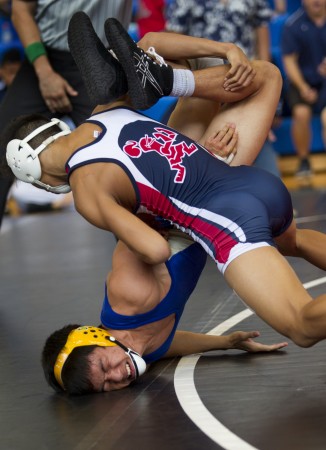 Aside from Corey Cabanban, Crusader fans should keep an eye on seniors Tyler Ibara, Kainalu Reyes-Hackney, Kala'e Correa, and Dominic Tominiko, as well as underclassmen Koali Nishigaya and Boltyn Tam. These young men have proven themselves in years past, and are ready to put up

a strong fight against competitors, particularly defending team champion Iolani.

The Collegian checked in with senior wrestler Kainalu Reyes-Hackney for his thoughts on this year's squad. When asked about the outlook for the season, Kainalu said, "Saint Louis is looking really good. We've got some solid returnees and a bunch of young studs to look out for."

"

We've got some solid returnees and a bunch of young studs to look out for."

— Kainalu Reyes-Hackney

"

Young Studs indeed. The Crusader wrestling program is compiled of proven upperclas

smen at the top of their game, and a pool of freshmen and sophomores looking to make a name for themselves. With weekly competitions and the first tournament set for December 1st, Saint Louis wrestlers have just a few more weeks to prepare to defend Kalaepohaku.

For wrestling standings, scores and other reports, as well as info on all other Crusader happenings, visit the "Athletic" tab of The Collegian. Go Crusaders!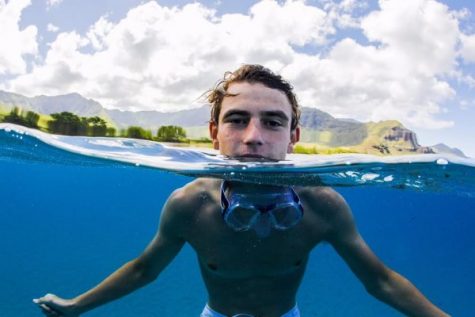 Joe Lyons, Sports Writer
I am a senior, and have been attending Saint Louis since 2011. I am a member of the Varsity Water Polo and Paddling teams. I am also a member of LIFE team...