Teacher Fall Recipes
November 30, 2017
This is a list containing fun and easy homemade Thanksgiving Recipes by our very own teachers here at Saint Louis School. Our teachers are showing their thanks by sharing homemade recipes to the school passed down through the generations, each recipe comes from the heart and holds a special place in each of our featured teacher's Thanksgiving Day.
Mr. Casupang's Classic Green Bean Casserole
Ingredients-
1 can of Campbell's Condensed Cream of Mushroom Soup or Campbell's Condensed 98% Fat Free Cream of Mushroom Soup

½ cup of milk

1 dash of black pepper

4 cups cooked cut green beans

1 and ⅓ cups French Fried Onions
Directions:
Stir the soup, milk soy sauce, black pepper, beans and ⅔ cup onions in a 11/2 – quart casserole

Bake at 350 degree F. for 25 minutes or until the bean mixture is hot and bubbling. Stir the bean mixture. Sprinkle with the remaining onions.

Bake for 5 minutes or until the onions are golden brown.
(Serves 6 people)
Mrs. Soward's Corn Pudding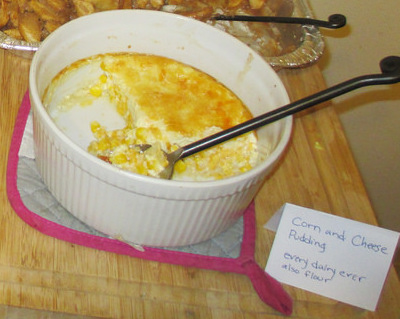 Ingredients
5 eggs

⅓ cup butter melted

¼ cup sugar

½ cup milk

4 tbsp cornstarch

1 can of corn

2 cans of cream corn
Directions
Preheat oven to 400˚ F.

Butter a casserole dish.

Mix everything together, pour the mixture into the casserole dish, and bake for one hour.
Mr. Takashima's Tomato Pudding
Ingredients:
1 stick of butter

1 cup of brown sugar

15 oz of can tomatoes

6-8 slices white bread or french bread (cut into pieces)
Directions:
Melt butter in baking dish, toss bread and coat

Press tomatoes in sieve to extract juice – discard pulp – add water to make 2 cups and add brown sugar, heat until sugar melts.

Pour mixture over bread, bake at 400 degrees F. for 10 minutes.

Lower temperature to 350 degrees F. and bake until crusty and all liquid is absorbed.
(Serves 10 people, served hot or cold)
Ms. Jackson's Cranberry Relish
Mr. Kane's Jello
Ingredients:
2 boxes of Lime jello

1 small box container cottage cheese

Medium sized can crushed pineapple

*Optional finely chopped celery, onion, or nuts
Directions:
Make the jello from the box

Let it sit until almost ready to gel (30-40 minutes)

Add cottage cheese and pineapple

Mix with whisk or electric mixer

Place in bowl or mold to serve
(Serves 10-15)
Fr. Allen's Cranberry Sauce
Ms. Botelho's Stuffing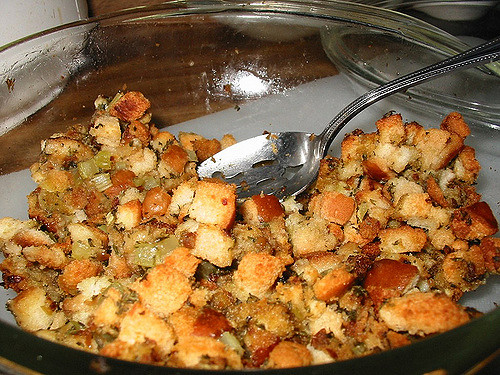 Ingredients
2 loaves french bread

Innards of turkey (gizzards etc.)

Portuguese sausage

Parsley

About ⅓ tsp cinnamon
Directions
Break the french bread up and place in a bowl.

Cover the bowl and allow it to sit out for about two days.

Take the innards of the turkey and boil them until cooked.

Chop the turkey innards up very small.

Add ⅓ teaspoon of cinnamon and some parsley.

If the portuguese sausage is not precooked, cook it before the next step.

Mix everything together.

Stuff the front and back of the turkey and allow stuffing to cook with the turkey.

For the remaining stuffing, place it into a casserole dish and preheat oven to 350˚-375˚ and allow it to bake for around 1 hour.

The casserole is done when a knife comes out clean after being stuck in the center.
(Stuffs whole turkey with some left over for a casserole)
Mr. Pump's Butter
Mr. Leopoldino's Pani Popo
Serves 12
Ingredients:
1 packet dry active yeast

1 cup warm water

¼ cup sugar

2 tsp. Vegetable oil

½ tsp. Salt

1 egg

2-3 cup flour

Sauce:

1 can coconut milk

1 cup sugar
Directions:
Preheat oven 375 degrees F.

Put yeast in water and let sit for 10 min

Combine – sugar, salt, egg, oil

Add water/yeast mixture after 10 minutes

Add 2 cups of flour then slowly add the 3rd little by little until you have a cohesive dough

Roll out and knead on a flour dusted counter

Knead adding more flour as needed

Let sit until doubled in size