Movie Review: Shazam!
May 7, 2019
Every kid has dreamt of gaining superpowers, fighting evil, and doing things that ordinary people can't do. This fantasy is brought to life in the film Shazam!, where director David F. Sandberg encompasses the epitome of what a child would do when given the abilities of a superhero. Given the massive success of Aquaman, things are finally looking up for the DC Universe –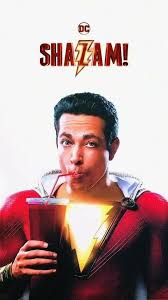 and it looks like the studio has done it again with Shazam!
The movie follows the life of Billy Batson (Asher Angel) who stumbled upon an ancient wizard. During this encounter, Billy Batson gained the ability to become a reincarnation of the ancient wizard by shouting one word: "Shazam!" Still a kid at heart, Shazam (Zachary Levi) revels in the new version of himself by doing what any other teen would do – have fun while testing out his newfound powers. However, his fun is cut short when he faces the difficulties and challenges that come with being a superhero. The evil Dr. Thaddeus Sivana (Mark Strong) seeks to take the magical abilities away from Billy Batson and rule the world. It's up to Billy and his newly found powers to prevent Dr. Sivan from taking over the world.
Contrary to many beliefs, Shazam! is a new and refreshing style of a superhero movie. It strays away from the traditional format of superhero movies and gives the audience a different perspective of this particular genre. This refreshingly delightful, lighthearted entry in the DC Extended Universe has enough charm for the whole family thanks to the standout performances, broad humor, and positive messages. Considering that most DC movies are on the darker side, Shazam! brings something different to the table. This film was overall a great movie and it is a must-see for all ages. It is family friendly and it offers a great experience that everyone will enjoy.
---
Critic Reviews
Even though Shazam! isn't one of the most well-known superheroes from the DC comics, his origin story has turned out to be the best DC film in years. -Chavi Pande
Shazam has great momentum and amazing surprises to fall in love with the new superhero. Don't miss the fun! -Behindwoods
Just when the world needs a superhero with a gift for silliness, here he is in a movie whose best superpower turns out to be a good heart. -Wall Street Journal
Shazam! is a wildly fun superhero adventure, with plenty of humor and heart, but struggles at times to strike a good balance between levity and drama. -Screen Rant
The dreary and crepuscular have given way to something less self-serious and end-of-the-world grim in Shazam!, with its charmingly breezy avenger in tights. -The NY Times
---