Crusaders Face Off Against Buff 'n Blue for ILH Championships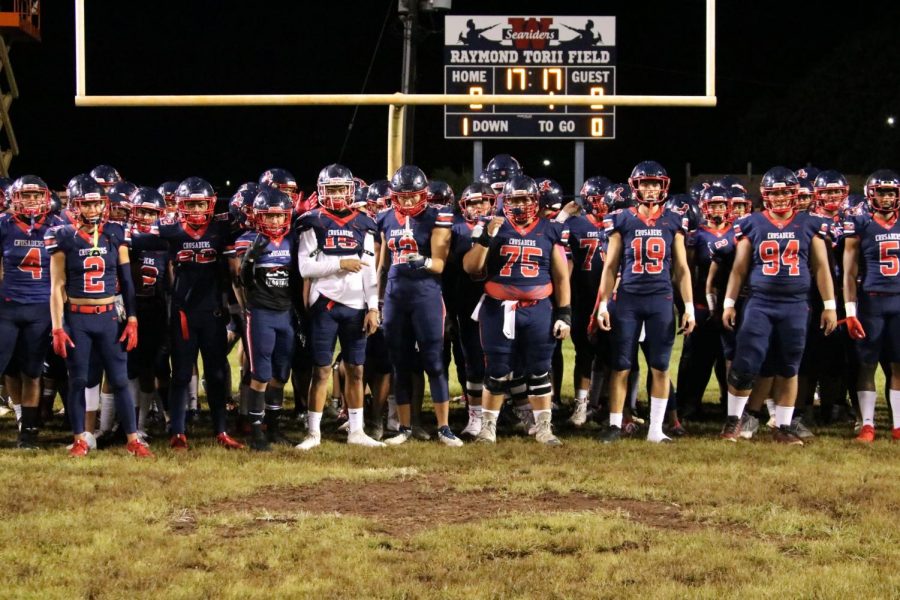 Coming off of a big win against the Waianae Seariders, the Saint Louis Crusaders earned a two week "bye". The Crusaders played at Waianae High School during Friday night with inclement weather. The field was exceptionally muddy and slippery, making it difficult to play on. After the game, there were a couple of injured players, so they took the first bye-week lightly. The Crusaders practiced from Monday through Friday in full pads. That first week was not much of a preparation, but more of a recovery. Recovery is very important for athletes after games, especially in tackle football. The Saint Louis Crusaders also welcome back starting running back, Kainalu Tumpap, who suffered a fractured ankle in the beginning of the season against Bishop Gorman High School from Las Vegas, Nevada. I asked Kainalu Tumpap a few questions and this is what he had to say.
What was the hardest part about coming back from a fractured ankle injury?
"The hardest part about trying to come back from my injury was staying in shape and not losing my momentum and mindset I had going into the season. Since I got hurt early on and sat out for the majority of the season, staying in shape was challenging. My mindset wasn't too hard to keep straight because, 24/7, I have a mindset to work hard and get better."
How do you feel about coming back and playing alongside your brothers?
"I feel pretty excited and hungry. It's my last season so I have no choice but to give it my all. I thank God that I came back sooner than I expected because my injury was pretty serious. All I know is that statements will be made when I get my hands on that ball again."
The second week for the Crusaders focused more on the preparation to play the winner of the Punahou vs. Kamehameha game. The Crusaders ran multiple schemes at practice because they did not know who they were going to be playing yet. On Friday, October 25th, Punahou came out on top against Kamehameha. For the Crusaders, this marked the end of the bye-week and the exciting transition to game-week. The practices during game-week are similar to week two of the bye-week, but are more uptempo and specialized for the opposing team. Unlike the other schools, the Saint Louis Crusaders work hard in practice even though it is game-week. The Crusaders have never been more 'hungry' this season and the energy can be felt from miles away. As they perform on Friday night, they will remember the past generations of Crusaders and represent the entire Crusader nation on their journey to becoming 2019 ILH champions.
About the Contributor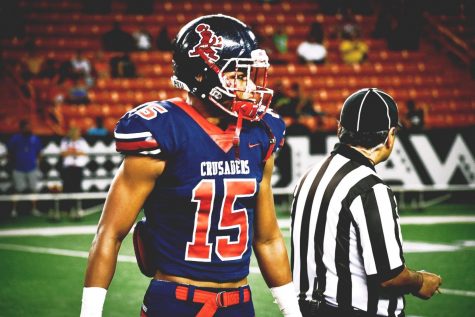 Kamo'i Latu, writer
My name is Kamo'i Latu and my GOD IS GREAT! I play defensive back on the varsity. My football number is 15.