UFC 261 Usman vs. Masvidal II: A Night of Champions
UFC 261 has arrived and is over. In front of 15,000 fans in Jacksonville Arena in Jacksonville, Florida, countless UFC fighters have trained, cut weight, and made the walk to etch their name in UFC history. The card was electric, especially the 5 fights of the main card, so that's what we'll be covering.
The fight to kick off the main card was #6 ranked Anthony "Lion" Smith fighting #13 ranked Jimmy "The Brute" Crute in the light heavyweight division (205 lbs). The fight saw Anthony Smith defeat Jimmy Crute via doctor's stoppage due to a leg kick in between rounds 1 and 2. Anthony Smith picked Crute apart with low kicks and an especially hard leg kick in the middle of round 1 knocked Crute down. During the doctor's examination, Crute was unable to continue, rolling his ankle and wobbling forward. 
The second fight was a rematch between #9 ranked Uriah "PrimeTime" Hall looking to avenge his loss to #11 ranked Chris Weidman in the middleweight division (185 lbs). Unfortunately, this was a gruesome fight that saw Chris Weidman breaking his leg 17 seconds into the fight. Chris "All-American" Weidman threw the first kick of the match but Uriah Hall checked the leg kick, which lead to Weidman's left leg breaking. This comes after Weidman fought Anderson Silva in 2013, checking a leg kick Silva threw, breaking Anderson Silva's leg. We pray for Weidman and his family.
After 2 quick 1 round fights, we finally reached the 1st of 3 UFC championship bouts. Valentina "Bullet" Shevchenko was determined to defend her belt against #1 ranked Jessica "Bate Estaca" Andrade in the women's flyweight division (125 lbs). It was quick work for one of the women's most deadly strikers as Shevchenko TKO's Andrade in the 2nd round. The striking was quick and accurate, and, surprisingly, Shevchenko was able to takedown and land ground strikes to Andrade. MMA experts and analysts predicted that Andrade would find success in takedowns and the ground game, but it seems like "Bullet" had other thoughts. In her post-fight interview, she addressed future contenders looking for weaknesses in her game saying, "Don't waste your time. There isn't one."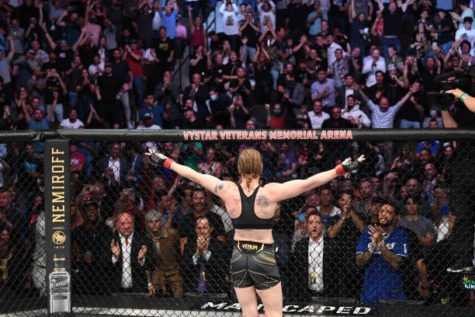 The 2nd title fight saw the champion Zhang "Magnum" Weili defending her belt against #1 ranked and former women's strawweight champion "Thug" Rose Namajunas in the women's strawweight division (115 lbs). Spectacularly, "Thug" Rose KO'd Zhang Weili, via head kick, ended the first female Chinese champion's reign. It was a well-timed kick, as Zhang was attempting to move back to defend against a low leg kick as Rose landed a clean head kick. After the fight, "Thug" Rose was seen to be repeating the phrase "I am the best." After being the first female to win a title after losing it, she certainly is the best among the women's strawweight division.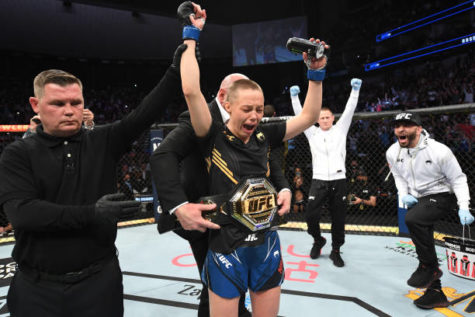 For the main event, the fight card was built around Champion Kamaru "The Nigerian Nightmare" Usman hoping to put away #4 ranked Jorge "Gamebred" Masvidal once and for all in the welterweight division (170 lbs). This fight was booked after Kamaru beat Masvidal in their first title fight, winning by unanimous decision. The first fight was fast and competitive with "Gamebred" landing several inside and outside leg kicks.
Eventually, Usman was able to score a takedown in the middle of the first round with "Gamebred" landing a lot of elbows off his back. At the end of the round, Usman landed several clean jabs and straights. In the 2nd round, it saw a lot of the same game plans. Jorge utilized low leg kicks and front kicks and Usman was looking to land jabs and straights. It was one minute into the 2nd round that Usman struck gold, landing a bomb of a straight right, sleeping the Florida native.
After 50 fights in the octagon, Masvidal was finally KO'd, losing his 2nd title fight. After increasing his win streak to 14 wins (2nd all-time), Usman embraced his daughter and his family, wrapping his championship belt around his father. He ended the main event by telling the fans, "Jacksonville, Florida, y'all said y'all wanted violence? You're welcome."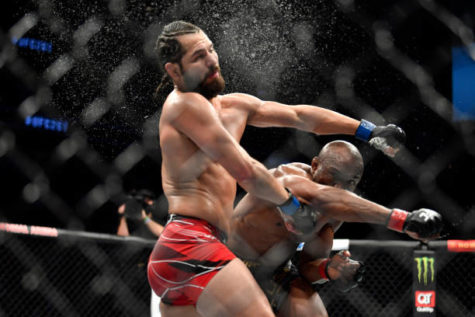 This was the first PPV card with a live crowd since Covid-19 shut down all live events. It seems UFC President Dana White wanted some explosions, and his fighter certainly delivered. I hope you've enjoyed this main card as much as I've enjoyed it. Please look forward to the next PPV event on May 16 where we see a new UFC lightweight (155 lbs) champion crowned at the Toyota Center in Houston, Texas.
About the Contributor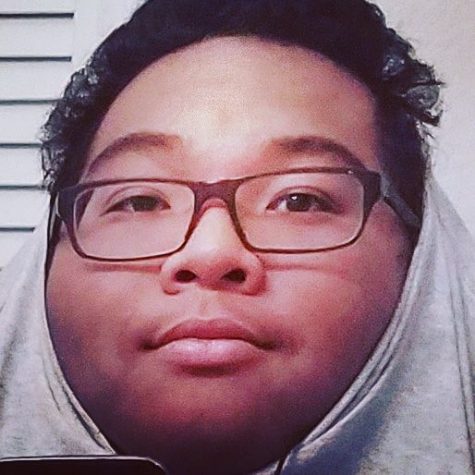 Vinson de Guzman, Writer
Current senior at St. Louis School. I'm from Ewa Beach and I cheer for the Los Angelos Lakers, New York Giants, and the Chicago White Sox.