FOLLOW UP : State Championship…..Can We Do It?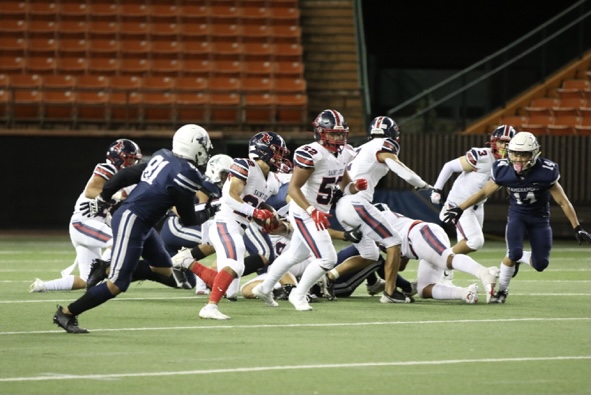 For four consecutive years, the Saint Louis Crusaders have been State Champions, dominating over teams like Kahuku, Mililani, and others in the Open Division to attain the title of "Best in the State". Although the Crusaders had a shaky start, they came out on top to win this year's ILH Championship. As they turn their attention to the State Championship, many are wondering….CAN WE DO IT?
The OIA started the season later than usual, pushing the championship playoffs back to December 18, 2021. The Saint Louis Athletics Department questioned whether to have a season due to other winter sports. However, if Saint Louis participates in the championship playoffs, then winter sports like basketball, wrestling, judo, etc. would be impacted. 
For a week, everyone was left wondering what the Crusaders were going to do. If the Crusaders vacated the title, although they would retain the  ILH championship, they would forfeit the state championship. 
On November 15, 2021, the Crusaders decided to accept the challenge. Everybody on the team understood the commitment and sacrifices they all are willing to make to get a chance to be five-time state champions. 
As the Crusaders endure six weeks off, waiting for the OIA to finish their season, they lose out on valuable playing time.  Despite attempts to schedule scrimmages with other teams, their requests have been declined. In fact, the only game situation the Crusaders could schedule would possibly include OIA teams willing to play an exhibition game, which does not count towards the team's record. 
With time on their hands, the Crusaders are focusing on conditioning and preparing to play one of the powerhouses of the OIA: Campbell, Mililani, or Kahuku. All three teams have great records: Campbell is 4-1, Mililani is 4-1, and Kahuku remains the  #1 seed in the state with an undefeated record of 6-0.  
Nevertheless, and despite the challenges, Saint Louis continues to have a reputation as the best in the state in High School football. As a team, the Crusaders have made drastic changes to both its offense and defensive strategies The bottom line remains that the collaboration between the players is better than ever. Can this new generation of Saint Louis Crusaders keep the legacy going? We'll have to wait and see.