KAIROS Retreat a Memorable Experience for Seniors
The senior men of Kalaepōhaku gathered for one last hoorah in the final senior KAIROS retreat of the 2021-2022 academic year.  Every KAIROS retreat has helped seniors to develop themselves and their relationship with God.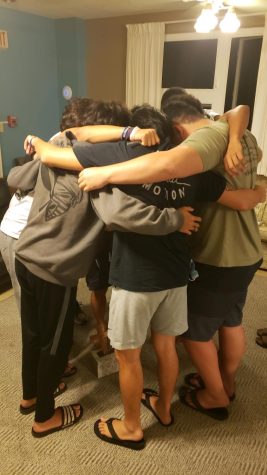 KAIROS, a five day overnight retreat at St. Stephen's Seminary in Kailua, is an opportunity to enrich their relationship with God and classmates in the final year of high school. Brandon Alana, a Marianist brother and one of the adult retreat leaders, says that "Kairos is a retreat that invites seniors into a deeper reflection of God's friendship with them. We do this by examining our relationship with family and friends and how those relationships reflect and often strengthen friendship with God. We examine some of the obstacles that become barriers in our relationship with God."
Many seniors note that this retreat is unlike anything they've experienced. Aidan Davis, a senior at Saint Louis, shares the impact of his experience. "Kairos was truly a life-changing experience for me. It has helped me to develop new morals and values that were easy to adapt to the activities and meditations that we would participate in over the course of the four-day experience. I also got a chance to create new relationships with some of my brothers that I wasn't too close to before. We got time to bond, laugh, and share personal affirmations with each other that helped us to form a bond that would last a lifetime," says Davis. 
Mana Catrett, another KAIROS attendee, also had a profound experience. "Overall, I feel the retreat was life-changing. It really made me look at things differently," said Catrett. 
During the retreat, a group of seniors lead fellow classmate in a variety of activities.  Senior Casey Soong, a student leader at the KAIROS retreat, explained, "As a leader for KAIROS, the first and main role is to help guide the retreatants along. The role of a leader of KAIROS is not necessarily meant to lead them, rather we are there to help them and make sure we are on schedule." 
Joshua Alcisto, another senior leader and 2022 Chaminade Award recipient, explained, "My responsibilities as a leader on KAIROS is to be a supporter and guide the retreatants through the retreat without falling into the role of the retreatant. When leading the retreat, while I am present, I am merely there to facilitate the entire retreat as the people on retreat decided how the overall retreat will go."  
However, these seniors didn't guide their fellow classmates on their own. Several adult leaders were also in attendance.  Brother Brandon Alana, one of the adult leaders, explains, "I provided liturgical support for the retreat. My primary role at KAIROS was to provide liturgical support for the retreat. This included presiding over the Communion prayer service each day, leading the daily meditations, and giving a presentation at the retreat which allows the students into some of my own personal stories of rejections, pain, and faith."
KAIROS was an extremely fun and memorable experience for the students and teachers that attended. Senior Mana Catrett, described the most memorable experience on this retreat.  "I think the affirmations, letters, and rec time were the most memorable activities," says Catrett.  "Affirmations and rec time just helped all the boys bond and come together. The letters showed me a lot about myself and my relationships with others. It really did bring me closer to God after seeing all the amazing people He puts in my life."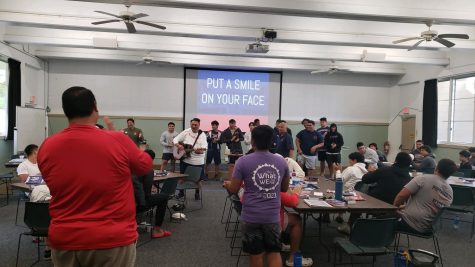 Nani Vegas, Director of Student Activities and another adult leader on the retreat, said that "All of the activities bring both students and leaders closer to God. You just have to be open to receive what is presented and relish those moments of fellowship and vulnerability. I enjoyed daily Mass the most and to be able to pray and worship together every day and receive Christ each day we were there was powerful. The singing was amazing! It was so powerful and true."
As these seniors move closer to graduation, it was nice for the teachers to see these young men enjoy themselves. "The experiences that were most enjoyable was to witness how a group of young men came to this retreat as classmates and left as true brothers in Christ. Some made brand new friendships and others rekindled their friendships with God and each other," notes Vegas. 
Everyone who attended the KAIROS retreat had an enjoyable experience, impacting them in a positive way. Every attendee encourages underclassmen to experience it for themselves.  Student leader, Casey Soong sees a transformation in participants.  "After every KAIROS I see a change in everyone who goes through it. I always feel a sense of accomplishment being able to see the new friendships that were formed as well as the new identities some people leave with.  I would most definitely encourage upcoming juniors to attend because KAIROS for me was my best experience at STL. Aside from getting a week off from school, KAIROS gave me a chance to meet new people, and build bonds with everyone in our senior class," explains Soong. 
KAIROS student leaders recognize the positive influence they add to the retreat. Alcisto adds, "I do feel like I have impacted my brothers in a positive way. Knowing that at the end of the retreat they would come back to school/life a better person. I would definitely and do encourage upcoming Seniors to go on the retreat for the experience that they will get out of it as it may be the most memorable event that they have at STL."
The final KAIROS retreat of the 2021-2022 academic year left a lasting impression on everyone who attended. The men of Kalaepohaku deepened their connections with one another, as well as with God.