Academic Assembly Semester 1 GPA
Hang on for a minute...we're trying to find some more stories you might like.
Class of 2024 Honor Roll 3.14-3.66
Ah Nee, Azaiah
Altomare, Corrado
Atou, Thomas
Cobb-Adams, Ka'ihikapukalaimoku
Gesteuyala, Jaren
Kekua, Drake
Kissel, Cody
Ma, Zepeng [Mark]
Marciel, Kaleo
McCorriston, Riley
Park, Alexander
Pataray, Bryson
Preston, Keanu
Salanoa, Ezekiel
Tamayori, Tyler
Wong, Rylan
Class of 2024 Principalʻs List 3.67-3.99
Abellanida, Brock
Ancheta, Kaito
Apduhan, Keola
Chock, Keenan
Cosma, Justice [Kekama]
Dang, Spencer
Dasalla, Jarin
Kahoekapu, Keenan
Kesi-Hadley, Keeyon
Lee, Brady
Mattson, Kainoa
Merryman, Cael
Mersberg, Thor
Murakami, Jadon
Padello, Isaiah
Palea, Hunter
Parker, Landon
Perry, Ethan
Puchalski, Aliikoa
Relacion, La'akea
Wong, Darren
Class of 2024 Presidentʻs List 4.0 +
Botelho, Brennagen
Chun, Tanner
Corpuz, Samuel
Cote, Branden
Cruz, Denis
Cudiamat, Tyson
Gray, Jason
Hsiung, Sayler
Kanahele, Noah
Lilo, Matagi
Markham, Maddox
McClellan, Jonah-Rylee [Kahoku]
Paguirigan, Rex M
Palama, Dustin
Perry, Kaiolu
Punivai, Jacob
Reynon, Jordan
Seno, Luke
Slevin, Sullivan
Talon, Duke
Tanimoto, Kody
Tingey, Matthew
Class of 2023 Honor Roll 3.14- 3.66
Batoon, Kaiwikanimekealoha
Dancil-Evans, Hika'a
Graham, Kekahi [Kahi]
Holland, Malakai
Kaahanui-Cera, Ely-Justyce
Kahahawai, Rylen
Kiaaina, Daniel
Kikkawa, Cole
Matheny, Declan
Miller, Titan
Molina, Alaka'i
Monteilh, Anakalea
Monteilh, Kanoa
Tausaga, Tatum
Waa, Jacob
Woolsey, Zander
Class of 2023 Principalʻs List 3.67-3.99
Aiona, Kekaimalu
Amerson, Zion
Banis, Jaren
Choo, Ka'ena
Gebauer, Cyrus
Lee, Aidan
Meredith, Keahi
Okimoto, Ryder
Paguirigan, Rex P
Rego, Spencer
Sagocio, Justus
Sanborn, Keka
Streadbeck, Xavier
Victorino, Mason
Yamasaki, Kory
Class of 2023 Presidentʻs List 4.0 +
Casupang, Christopher [Bubba]
Delto, Chaz-Ayden
Escobido, Austin-Tanner
Kroeker, Miles
Lee, Kailer
Lentz, William
Narciso, Zachary-Pono
Nguyen, Tin
Nunes, Cade
Rementer, Aiden
Tupou-Tuipulotu, Tymothy
Werts, Micah
Class of 2022 Honor Roll 3.14-3.66
Ah Sam, Jett
Antone, Cody
Atud, Noah
Aylward, Braden
Barcelona, Mackena [Kena]
Barr, Kaimalu
Brown, Dacoda
Carlson, Jack
Du Pont, Dennis [Makamae]
Dupont, Ramsden
Ekau, Nicholas
Fejeder, Shawn
Gomes, Chayce
Ichinose, Alan [Reece]
Ing, Makana
Iokepa-Guerrero, Maui
Lutz, Alan
Mendoza, Anakin
Miyamoto, Makai
Preston, Keighton [Bubba]
Remiticado, Wes
Tauaefa, Devon
Tilton, Kia'iohokuloa [Kia`i]
Tongg, Maverick
Vincent, Xander
Winchester, Ho'ola'i Palikuonako'olau [Paliku]
Zane, Noah
Class of 2022 Principalʻs List 3.67-3.99
Arquette, Aiva
Beppu, Dylan
Bianco, Alexander [AJ]
Cullen, Sage
Kim, Hyunseok [Andy]
Lee, Hunter
Medeiros, Orion
Nakama, Matthew
Regina, Pietro
Shinjo, Shunta
Sielken, Xander
Spencer, Ethan
Tadio, Dennis
Talbert, Ian
Victorino, Anthony [Alaka'i]
Villalpando, Dreddin
Class of 2022 Presidentʻs List 4.0 +
Alcisto, Joshua
Chang, Kahiau
Contrades, Blayne
Cudiamat, Carson
Davis, Aidan
Eder, Anthony
Geronimo, Logan
Hathaway, Taven
Holani, Blaze
Kamaka, Kamuela [Kamu]
Langford, Michael, Jr.
Luyt, Skyler
McGough, Julius James [JJ]
Midro, Sage
Narciso, Nicholas-Nainoa
Palama, Dylan
Preusser, Thomas
Reynon, Nicholas
Sato, Keythan
Class of 2021 Honor Roll 3.14-3.66
Amantiad, Noah
Aquino, Beau
Castillo, Cole-Austin
Choo, Logan
Dancil-Evans, Ka'ili
de Guzman, Vinson
DeBlake, Kamalu
DeCambra, Blaine [Kaena]
Fa, Maile [Laumomo]
Florita-Gouveia, Chaston
Fujioka, Easton
Hoohuli, Wynden
Hu, Evan
Kamaunu, Jaiton
Kauahikaua, Raven
Kurihara, Kaeleb
Lat, Girwen
Lee, Brandin
Lelauti, Marcus
Lewis, Corbin
Lodahl, Luke
Marquez, Collier
Mata'afa, Matai
Onishi, Justin
Ozeki, Jonathan
Sagapolutele, Arona Ioane
Sam, Dayton [Malosi]
Shin, Caleb
Silva-Garces, Pathan
Spencer, Reginald John
Titcomb, Kainoa
Tolentino, Jett
Tufaga, Mason
Velasco-Echavaria, Landon
Wada, Daiki
Wong, Hok Him
Yasui-Durlacher, Keegan
Young, Chaztin
Class of 2021 Principalʻs List 3.67-3.99
Abrigo, Kawenaulaokeaohou
Arakaki, Nealson Thomas
Beyer, Cheyne
Delgado, Jason
Friel, Cameron Sean
Hannemann, Ashton
Kahue-Parker, Elijah
Kim, Bumm [Jimmy]
Lomavita, Caleb
Munoz, Zachery-Tyler
Pangelinan, Jeremy David
Phillips, Kahai
Pule, Robert, Jr. [Keala]
Ramos-Kamaka, Makena
Sakamoto, Matthew
Stenstrom, Tyler
Sua, Fetuosasae-Reese [Reese]
Class of 2021 Presidentʻs List 4.0 +
Apo, Connor
Brezeale, Tai
Choo, Keahi
Chun, Noah
Dolak, Jachob
Evans, Jacob
Gall, Kela
Kaneakua, Chansten
Kato, Christopher
Kissel, Chance
Kuroda, Michael
Leslie, Solomon
Mamiya, Jacob
Mandado, Rajne
Mayhack, Quinn
Pieper, Jaden
Rodrigues, Ezra
Solomon, Prince
Takahashi, Bryson
Wallace, Keanu
Welch, Harvey
Class of 2020 Honor Roll 3.14-3.66
Abordo, Izaiah
Akana, Austin
Aniya, Bredan [Kaulana]
Botelho, Jordan
Cailing, Tashunka-Witco
Chinen, Joseph
Diaz, Kapaiwi [Kaluna]
Eder, Edward
Finn, Christian
Goeas, Ty
Hatico, Aeryk
Hong, Stanton Jr.
Huang, Anson
Kaawa-Palakiko, Elijah-Chase
Kane, Odyn
Kang, Syrrus
Kekuaokalani, Tyler
Ko-Choi, Michael
Lee, Lawsen
Liftee, Lambert [Nalu]
Lui-Yuen , Isaiah
Meng, Zi Hang [Tim]
Murayama, Ellis
Nakakura, Noah
Nguyen, Daniel
Nishigaya, Koali
Omura, Chaz
Paik, Christopher
Partain, Matthew
Placourakis, Keoni
Teixeira, Austin
Tumpap, Kainalu
Umayam, Angelo
Ursua, Ansen
Wailehua, Trenton Jr. [TJ]
Yadao, Keola
Yamamoto, Ky
Zane, Ethan
Class of 2020 Principalʻs List 3.67-3.99
Herbig, Nicholas
Holani, Raven
Holtz, Jake
Jaena, Micah
Kea-Dejos, Rylen
Keliiholokai, Alex
Lau, Colby
Le Lesch, Jacob [Jake]
Lyons, Scott
Salon, Isaac Roland
Shinjo, Yuta
Tupea, Ryan
Vidal, III, Richard
Vierra, Duke
Wilson, Roman
Class of 2020 Presidentʻs List 4.0 +
Agua, Joshua
Ali, Nicholas [Nick]
Brown, Lawai'alani [Lawai'a]
Cabral, Brennan
Cabral, Dylan
Casinas, Jonah
Chai, You-Fan
Cho, Brighten
Enos, Hunter
Fiaseu, Kalepo
Hurley, Cormac
Jones, Burnham
Joseph, Abner
Kurashima, Rick
Malepeai, Kingston
Nishimura, Chance
Reese, Alton
Scarborough, Issiah
Silva, Isaac
Soong, Kenneth [KJ]
Sykes, Matthew
Todd, Eugene
Yee, Baily
Yoon, Pierce
Young, Brenden
Class of 2019 Honor Roll 3.14-3.66
Agbayani-Shibao, Lexzen-Rhain
Aiu, Logan
Bonner, Kekoa
Chye, Winfred
Coronas, Patrick
Escobar-Bushnell, Diego
Galanto, Isaiah
Goo, Skyler
Hannemann, Lachlan
Johnson, Timothy
Kamakawiwoole, Kila
Kapiko, Liloa
Kasahara, Soma
Lee, Cameron
Moe, Aifua
Panui, Kaipo
Peneueta, Hunter Hoaliali
Quinones, Gino
Rivera, Richard [Kalae]
Ross, Wyatt
Santilena, Wyatt
Scarborough, Curby [CJ]
Sula, Tama
Taba, Trey
Terakubo, Alex
Tupua, Micah
Vaiese, Emmit
Villanueva, Byron
Wily, Junior
Zembik, Jonah
Class of 2019 Principalʻs List 3.67-3.99
Cooper, Dallas
Higa, Devin
Jornacion, Jason
Kaolelopono, Sean
Kashimoto, Cole
Kea, Jonah
Lave, Tanuvaimalu [Tanu]
Lavoie, Charles
Lee, Donovan
Morgan, Dakota
Muramoto, Maxx
Nakasone, Jon
Paikai, Robbie
Pascual, Michael
Pham, Bang [KB]
Polinar-Pascua Jr., Romy
Respicio, Fabian Carlo
Saelua, Mathew
Schaal, Aziah
Semorile III, Pedro
Shin, Jacob
Smith, Kulia'ikanu'u [Kulia]
Tuitele, Faatui
Wong, Devin
Yanagawa, David
Class of 2019 Presidentʻs List 4.0 +
Bali, Aeron-Justin
Cho, Dong Kyun [Felix]
Close, Makoa
Filisi, Isaiah
Galeai, Alexander
LaManna, Nicholas
Mai, Raymond
Noh, Cody
Olaivar, Jacob
Ontai, Makana
Parks, Duke
Piosalan, Denison
Preusser, Andrew
Scott, Ben
Shaw, Christian
Suzuki, Braven
Wang, Yiqi [Jack]
Yang, Dylan
Yonemura, Andrew
Class of 2018 Honor Roll 3.14-3.66
Ah Soon, Cullen [Kauhi]
Bennett, Kala'e
Cabanban, Corey
Carter, Ke'Andre [Dre]
Chang-Holloway, Zhane
Correa, Kala'e
Ho, Daniel
Kanahele, Kealohi
Kaneshige, Kenjiro
Kaneshiro, Kai
Kekahuna, Kayson
Kekahuna-Kalawe, Tosh
Lave, Tauliaileave [Kauwe]
Lulu, Ordain
Magee, John
Mau, Sean
Moniz, Makoa
Perry, Colin
Quinn, Mitchell
Scott, Sam
Smith, Barrett
Tufaga, Isaiah
Underwood, Noah
White, Joshua
Yano, Jonah
Yeh, Po-Tsen [Thomas]
Young, Mikoa
Class of 2018 Principalʻs List 3.67-3.99
Bates-Domingo, Adrian [Imai]
Botelho, Joshua
Buell-Alosio, Kayson
Dagdagan, Geriq
Foehr, Markus
Hallums, Tamarick [Maika]
Ibarra, Tyler
Jobe, Zechariah
Lafua, Arius
Lavarias, Jacob
Li, Jun Hong [Henry]
Meredith, Kanoa
Ren, Zhiyu
Rivera, Loi Jr.
Sapla, Randy
Snell, Jonas
Spencer, Noa
Taliulu, Isaiah
Tanaka, Kala'e
Yamamoto, Kanji
Class of 2018 Presidentʻs List 4.0 +
Arai-Mercado, Cory
Carnaggio, John [Jack]
Chock, Coby
Dawiczyk, John [Jovanni]   
Hasebe, John
Kuwamoto, Nicholas
Lilly, Dimitri
Lyons, Joe
Mashima, Micah
Medeiros, Chord
Pham, Randy
Reyes-Hackney, Kainalu
Sousa, Logan
Sykes, Chris
Tanuvasa, Eliki
Tominiko, Dominic
Unciano, Coen
Vo, Steven
Wong, Bo
Yanagi, Peyton
Yeh, Aaron
Young, Aarin
About the Writer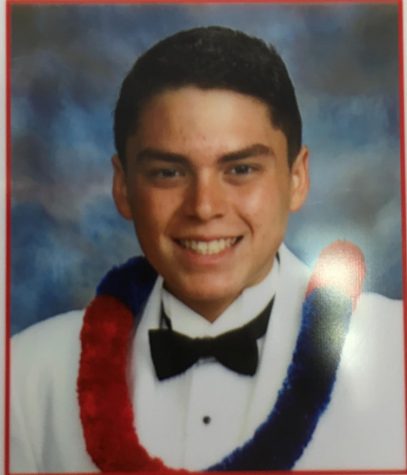 Bo Wong, News Reporter
I am a senior at Saint Louis School. I've been going to this school since the 7th grade. My favorite sport is golf and I have been playing it since I could...