The Black Ghost: Detroit's Racing Legend
The city of Detroit, home to some of the biggest automotive industries in the United States in the 1950s. During the 1970s was home to the city's greatest racing legend, The Black Ghost. It is a 1969 Dodge Challenger RT S/E owned by a purple heart recipient and Detroit police officer named Godfrey Qualls. Qualls was a kindhearted, humble guy who really loves cars and street racing. He was known to be the fastest street racer in Detroit. People would challenge him and he smoked them out of the dust, then disappeared for two months or more. There were rumors around about this challenger beating every other car from Chevy to Ford and more, then disappearing right after the races. 
The owner, Godfrey Qualls was a soldier, he was a veteran, who received a purple heart and also a Detroit police officer on a motorcycle. When he was in the military he was assigned to be a paratrooper. He loved to jump out of planes and when driving the car he gets that same feeling. Qualls was challenged multiple times but has never lost once. He won a lot of races during that time.
When Qualls started a family, The Black Ghost had disappeared completely. It was sitting inside his garage collecting dust. He didn't want to sell the car because of how precious it was to him like it was a second home and a second life. Godfrey wanted to get that car fixed. He wanted to get The Black Ghost up and running again
Godfrey Qualls died on December 24, 2015. Before he passed he gave the title to the car to his son Gregory Qualls. The car was in good condition, but it was dusty and it couldn't run. Gregory wanted to fix the legend so that it would run again. He knew how special it was to his dad so he needed to fix it. It surprised his family at how many people showed up and offered to help it. After so many attempts and tries it finally started turning on. All the parts from the body to the engine were all original except for the maintenance parts like spark plugs. It was joyful and happiness that he brought the legend back to life. His father's spirit is within that car and all the stories that he has heard is what made Gregory want to learn more about cars. The Black Ghost has many great stories, many great memories that it's touched many people.
It's truly amazing how the 1969 Dodge Challenger RT S/E also known as the Black Ghost has made so many memories and stories and how much more appreciation it has gotten to many people and especially Godfrey and Gregory Qualls.
---
https://www.rkmotors.com/blog/Black-Ghost-Challenger https://www.historicvehicle.org/nhvr-2020/ https://www.motorbiscuit.com/this-police-officers-1970-dodge-challenger-was-secretly-a-street-racing-legend/
About the Writer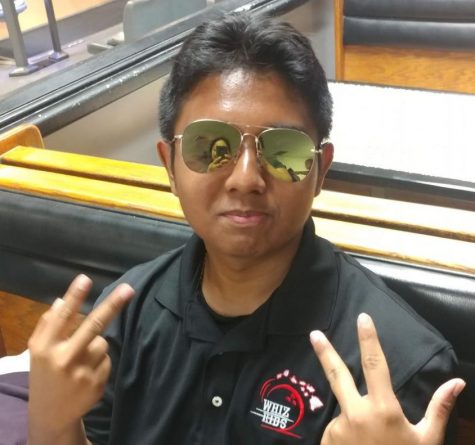 Zachery-Tyler Munoz, writer
My name is Zachery-Tyler Munoz, you can call me Zach or Tyler it's up to you, I respond to both. I'm a senior at Saint Louis School who played volleyball...