Homecoming Week Returns to Campus!
Crusaders celebrate Homecoming "Covid-style".
Homecoming Week was one for the history books at Saint Louis this year. Luckily, unlike 2020, the Covid-19 pandemic didn't stop the Saint Louis Crusaders from celebrating its Homecoming week. However, this year's celebration was done "Covid Style."
With the goal of celebrating a typical Crusader homecoming this year, a lot of work was put into this year's preparations. To achieve this, Saint Louis staff relied on teamwork.  Mrs. Nani Vegas, Dean of Student Life, said "I am responsible as a Dean of Student Life to plan out the Homecoming Week along with Mrs. Paiaina."  Both Vegas and Paiaina coordinated the many events which were a part of Homecoming Week.  Although Vegas has planned many homecoming weeks in the past, this year was a unique challenge due to the pandemic, so she teamed with other staff.
Mrs. Paiaina, the assistant to the Dean of Student Life, was part of that team effort. "I (had) a small role with Mrs. Vegas (as) a big energizer bunny who planned all these events and I just kinda followed her lead," said Paiaina. "Mrs. Vegas is mainly the one who had the big role. I kind of  followed her lead and helped her with some of the planning and making sure things were set up and things like that."
Covid restrictions posed a big challenge for Mrs. Vegas. "It was a little tough because we were unsure of when our Homecoming Week was. We usually have at least a month to prepare," said Vegas. Things needed to be organized quickly, so the team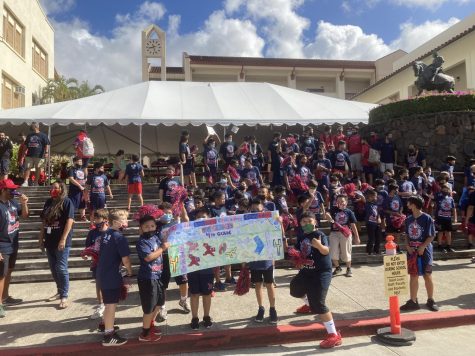 quickly set things in motion.  "This year we were told, two weeks (prior), that your homecoming is on this day so division coordinators had to get kids in their classrooms to paint their banners. All of 
these virtual challenges had to take place, so we had two weeks to do it but everyone was so jazzed about having a homecoming," added Vegas.  "I think that all the students were on board like everyone was willing to help to make it work."
Despite the challenges posed by the Pandemic, the
event was a success!  "It was almost our normal," said Paiaina.  Although some elements were  "missing out on some of the traditional things that we do like the cheer competition, that's always a great event that everybody looks forward to, but with Covid, we had to adapt."  Part of this year's challenge was to also include those students who remain in distance learning and Student Life responded to this need with its online activities. 
New traditions were also introduced to Homecoming Week.  " I really liked the parade that we started. I think that was a good tradition to do, especially for the football team to boost them up," added Paiaina. By adapting to change, Student Life also made adjustments to this year's Homecoming Court. "We didn't have our normal homecoming court and we did get to videotape the Homecoming court," added Vegas.  "Instead of princesses from Sacred Hearts, we had our moms this year." 
Hopefully, we do it a little more often. I thought it was a step forward from where we were last year on a much smaller scale. It was good that we at least got to do this much."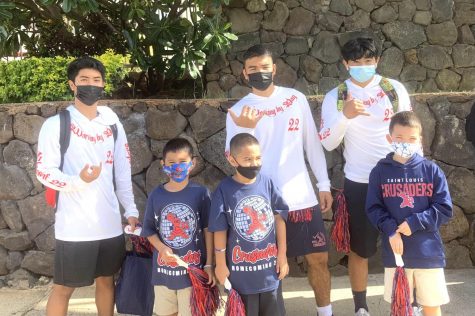 Although Homecoming Week wasn't as traditional as in past years." Vegas added. "It was much better than last year because we were able to get live activity so kids were able to participate in the challenges every day."  With the goal to bring everyone together digitally,  "Mrs. Smith live-streamed [the events] so everyone else can see it." The event responded well to the distance challenges, by bringing everyone together online. "We got to do a little more things live, like the parade that we had at the end of the week so I felt like it was more of a success because kids could participate more," notes Vegas.
As a result of all of the work put into creating this Homecoming Week, the event was a success. Dreddin Villalpando, a senior, reflected on this year's Homecoming events.   "It was okay because social distancing didn't allow us to attend (the) assembly or do any fun activities altogether." Although the week differed from past years, students were still able to participate in other events.  
In the end, by celebrating Homecoming, despite all of its challenges, Saint Louis continues to make every effort to keep its traditions, despite  Covid-19, which are a special part of being a part of the Saint Louis "brotherhood."