Crusaders Top the List for the 2022 Polynesian Bowl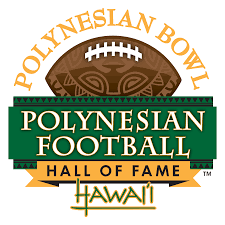 "THE" Polynesian Bowl… a once-in-a-lifetime moment, a place where some of the nation's top high school football athletes gather in Hawai'i to celebrate the Polynesian culture and play the sport they love. Several Crusaders have been invited to participate this year, including, Kona Moore (Defensive Back), Devon Tauaefa (Wide Receiver), Jonah Savaiinaea (Offensive Line), and Ethan Spencer (Offensive Line).
"There's more to football than a game, and the players learn a lot from it, even after they've retired," says Moore. "Discipline, persistence, setting goals, managing success and failure, time management, and physical fitness are all aspects of a successful team." But for some, the sport of football is quite different. "To me, nothing compares to the joy that football brings, notes Tauaefa As an athlete, my life revolves around football. Some mistakenly think that I am only a football player, but cooperation and sportsmanship are all things that I like about it." 
The excitement of selection to the 2022 Polynesian Bowl is a pivotal moment for high school football players. Moore recently shared his thoughts on the honor. "I was thankful enough and realized my hard work had paid off. And to my family, teammates, and God, I'm thankful enough for them to help guide me through this journey," says Moore.  
Tauaefa was selected later as a participant of the Polynesian Bowl, "At first, I didn't think I was going to be selected into the Polynesian Bowl." says Tauaefa.  "With the many great athletes out there, I was afraid that no spots were available for me.  Finally, he received the call.  "I was surprised by a call," shared Tauaefa.  "With that, all glory goes to God." 
As each of these gentlemen has enjoyed success throughout their football journey, they continued to focus on realizing greatness through hard work and discipline. "Being selected to the Polynesian Bowl is nothing but another opportunity to play football. I will still work hard until I feel I've reached my goal" says Spencer, the Center for the Crusaders Offensive Line.  Fans will be watching to see these powerhouse student-athletes continue to flourish and seek to achieve recognition for their hard work and dedication on the field.