Hawaii's Lifeguards Rise to the Challenge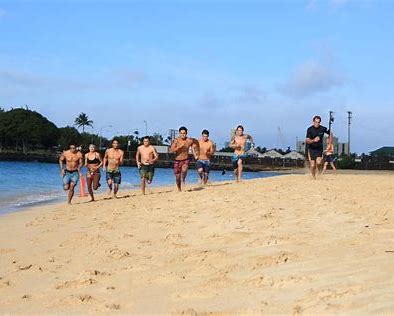 In Hawai'i, ocean safety is a big priority! Hawaii's tourists spend a lot of time visiting some of Hawaii's most beautiful beaches in the world. In order to fulfill a safe Hawaii beach experience, the City's Department of Ocean Safety (DOS) requires lifeguard tryouts to ensure the safety of Hawaii's residents.
Jason Cole, a DOS  Lifeguard, describes the events in Lifeguard tryout. " We start with a thousand yard run, followed by a thousand yard swim in under twenty five minutes," says Cole. To challenge them even further, "they do a hundred yard run, followed by a hundred yard swim back in under three minutes." After two tough drills, the participants finish with "a four-hundred yard paddle in under four minutes," explains Cole. "It requires a lot of preparation." 
Cole stresses the critical nature of being a lifeguard in Hawaii. "It's very important," says Cole.  "We have many tourists. The ocean can be dangerous for some people."  Hawai'i has a unique environment, which causes the currents to be very hazardous. Cole stresses the importance that Hawaii's visitors are aware that "the power of the ocean current may be stronger than where they are coming from." Some visitors may not acknowledge these warnings; therefore, "It leads us to potentially saving their lives," adds Cole.
Kaiulani Bowers, a DOS Honolulu Lifeguard, recognizes the advantages of being a lifeguard. "Doing this job not only allows you to come to the beach, but to be able to help people," Many may not recognize the many sacrifices and discipline required of Hawaii's lifeguards, but it also has its perks.  "You stay fit doing lifeguard work. You get to train,  surf and run" says Bowers. 
Bowers has also encountered many challenges due to the Covid Pandemic.  The DOS Lifeguard tryouts were also impacted due to State Covid requirements.  "The biggest challenge is the number of participants. If class size doesn't cooperate with the social distancing, reduction in participants may have to be made," adds Bowers.
Despite the rigor of the job and recent Covid challenges, safety on Hawaii's many beaches remains the priority. Each day, Hawaii's lifeguards face the challenge to ensure that those who enjoy our beautiful beaches remain safe at all times.  Their sacrifice and determination begins with tryouts, but continues as the top priority each day on the job.