Mariota Triumphs over Adversity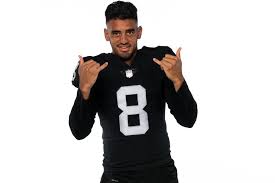 Saint Louis's own Marcus Mariota is facing adversity amidst the bright lights. After the Tennessee Titans moved on, the Hawaii-born quarterback is now looking to take his talents to the "9th Island". The Las Vegas Raiders will add Mariota to their roster, behind veteran quarterback Derek Carr. The journey isn't over, but just getting started, as he looks to add his talents, perseverance, and leadership to the team.
Marcus Mariota was born and raised in Hawaii and graduated from the Saint Louis Class of 2010. While attending the University of Oregon, he became the first Hawaii-born athlete and Oregon player to win the prestigious Heisman Trophy.
Selected by the Tennessee Titans as the second overall pick in the 2015 NFL Draft, Mariota played for five years before adversity struck. During the 2019 off-season, the Titans added Miami Dolphins quarterback Ryan Tannehill to the roster. Once he was replaced as the starting quarterback, Mariota signed a free-agent contract with the Las Vegas Raiders for the 2020 season. In Hawaii, the reaction was mixed. "When I heard the news, I saw a guy who was from Hawaii, and deserved another chance," replied sophomore Keenan Kahoekapu.
Mariota's journey to the NFL has prepared him for moments of adversity. "When the Titans moved on from him and used Tannehill, he didn't sob, he didn't cry," notes Kahoekapu.  "He kept his head up and kept working and grinding. And look [at him] now. He's with us and doing better than ever."
As the 2022 NFL season draws to a close, Mariota adds a seventh season under his belt, and his second with the Raiders. Finishing second in the AFC West Division and a 10-7 season,  Mariota continues to demonstrate his continuous perseverance when facing adversity. Although the Titans fell short this season, Hawaii fans continue with their admiration and support of Mariota, both on and off the field. "He taught me that the dream is the journey," says Kahoekapu. Mariota continues to inspire us with his strength of character. From his early years as a Crusader, and all that has challenged him throughout his journey, Mariota continues to show the graciousness and team spirit which remain the cornerstone of the Saint Louis man.