Siblings Form Strong Bonds through Sports
Two of Saint Louis's tremendous student-athletes, Pono Narciso and Kona Moore, share their experience of playing the sport of football with a sibling.
For both, the existing relationship typically develops stronger while participating in the same sport, even more so while on the same team. "Whenever I make a mistake, he always tells me what I should do rather than what I should not, but other than that I love having a brother to play with," recalls Narciso.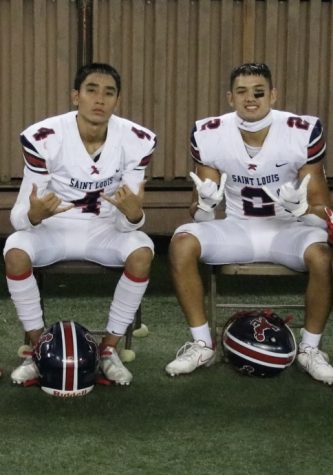 Although, in the competitive climate of sports, strong relationships of friendships may be formed that can last a lifetime. "The fact that we had differences didn't stop us from being one another's biggest supporters," says Moore. 
Being involved in a competitive sport, they are able to spend more time together, improving their talents on and off the field. "We train together, we basically do all things with both of us," says Narciso. 
"It's a once-in-a-lifetime moment," recalls Narciso. These specific sets of siblings find that participating in competitive sports helps to strengthen their connections.  "Watching my older brother play at Aloha Stadium while in middle school, and now that I'm about to graduate, I'm starting to kind of realize how rare it is to see a set of brothers play for the same team," explained Moore. 
When competing, siblings' deep bonds not only help the siblings individually but also the teams on which they compete. "We both drive each other to reach our full potential, even on days it may be exhausting, and that pretty much carries on to the team," says Moore.