Crusaders join Kaimuki Christmas Parade celebration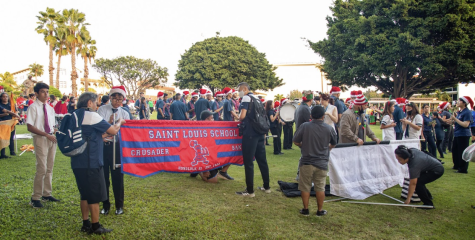 The Kaimuki community kicked off the holiday season with the Saint Louis School Band, Crusader ROTC Battalion, and a number of community groups marching along Waialae Avenue to cheering parade spectators.
The annual Kaimuki Christmas Parade took place on the first of December for the first time since the start of the pandemic.  The parade included many local businesses and was opened by the Saint Louis School ROTC Battalion. 
Marching bands from Saint Louis and Sacred Hearts joined forces for the holiday festivities.  The two groups marched along Waialae Avenue to represent their school and join the community in welcoming the holiday season with a medley of Christmas songs.  
"I haven't ever marched in any parades," notes Aaron Dela Cruz, a trombone, "except for like last year's ROTC Pearl Harbor parade and [the recent] Veteran's [Day] parade…"  Dela Cruz comments, "With like the Christmas parade I'm sure it'll be a new experience because, you know, it's Christmas."
The joint marching band has been preparing since July.  "We've been having rehearsals on our campus on weekends," explains Crusader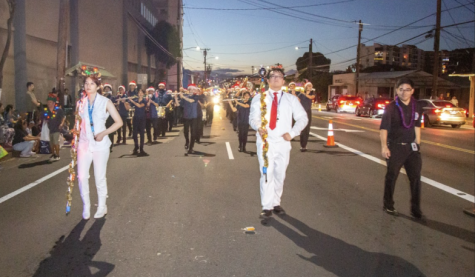 Band Director, Curtis Noborikawa, "and [we] also have been having rehearsals during the weekdays at Sacred Hearts Academy to practice their music as well as their marching [formations]." 
Noborikawa goes on to explain the significance of the school's participation in the Kaimuki Christmas Parade. It "… goes back decades, because the Kaimuki Christmas Parade heavily involves Saint Louis School and many different clubs, the band [is] one of the [biggest] participants of that parade, especially as it represents the school."
The Battalion's preparations were managed mainly by the staff, comprised of ROTC students.  "We're all tasked with, you know, organizing this event [and preparing]  for this parade,"  explains Cadet Second Lieutenant Christian Salehi.  "We appointed two cadets to hold the big banner we had," adds Salehi, "and we formed the color guard right behind the staff in the formation and then all of like the flag bearers, or called guidon bearers, for each respective company."
The parade's return to Waialae Avenue marked another post-pandemic milestone for the Kaimuki community, who enthusiastically showed their support for the return of this year's Christmas parade.