Celebrating Father Chaminade and Catholic Educators
Our Crusader family recently marked the annual "Father Chaminade Day" with a celebration of faith and activities which reflect the pride students and faculty have for their school as a part of Catholic Schools Week events.
Father William Joseph Chaminade is remembered "as the founder of the Marianists, the Society of Mary's cause [and] the religious supporter that sponsors our school," explains Director of Campus Ministry,  Christopher Casupang.  Over many years, the students and faculty have celebrated Chaminade Day with a variety of service projects on campus and in the community.  Brother Brandon Alana, the Associate Dean of Campus Ministry, describes this day as "an expression of love."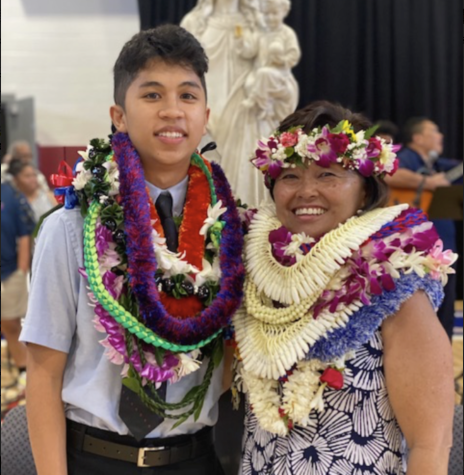 The school also recognized the recipients of the 2023 Father Chaminade Award given to a faculty or staff member and a member of the senior class who " graduation senior and school exemplifies "the spirit of William Joseph Chaminade," explains Casupang. The 2023 recipients included Auntie Barbie Suenishi and senior Christopher "Bubba" Casupang.
"They become a role model for the rest of us," notes Brother Brandon. Bubba was chosen for "his humility, his service, and leadership." Auntie Barbie is known across campus for "her humility, her gentleness, her caring and her loving of students and staff and faculty".
Chaminade Day is a part of the annual "Catholic Schools Week" events in Hawaii.  "We're actually going to be celebrating the teachers that have dedicated 50, 30, and 20 years in Catholic School teaching," says Activities Coordinator, Tasha Castro.   
Saint Louis teachers are among those celebrating.  Dean of Faculty & Staff, Ray Abregano will celebrate 50 years in Catholic schools.  Saint Louis Principal, Tim Los Baños celebrated 30 years and teacher Teresa Pang and Mr Kainoa Jarrett were recognized for 20 years of teaching at Catholic education. 
The fun-filled week ended  "with a surprise for our students and a relay game between mixed divisions to celebrate brotherhood."  The school gathered in the CTCC Athletic Complex for an appearance from Mana Maoli Collective, with a special appearance by Junior Kala'i Kealoha.