Saint Louis Wins Shootout Against Narbonne
Hang on for a minute...we're trying to find some more stories you might like.
Following the completion of the first round of ILH league play in which the Crusaders went 2-0 in dominating fashion, the crusaders were faced with another tough task. On Saturday night they faced the Narbonne Gauchos a team from Harbor City located in Los Angeles. Narbonne is ranked 19 in California and nationally placed at 111. They are known to be a prestigious program producing many Division 1 players year in and year out. However, the Crusaders are known for the same thing and have just broken through the top 25 nationally ranked teams at number 15 according to MaxPreps.
Narbonne arrived in Oahu the Thursday of the game prepared and ready to go to war with the Crusaders. The Gauchos were the toughest opponent by far this year for the Crusaders, who still have several games left to play. Their offense led by Rutgers commit, Jalen Chatman, who threw for over 500 yards and 5 touchdowns, was explosive from the get-go. They amassed a net total of 598 yards and 7 touchdowns against the experienced Saint Louis defense. However, the Crusader offense led by University of Hawaii commit, Chevan Cordeiro, had 522 yards of their own as well as 8 touchdowns to seal the deal against the hard-nosed Narbonne defense led by 4-star USC linebacker commit Raymond Scott, and Safety Logan Taylor.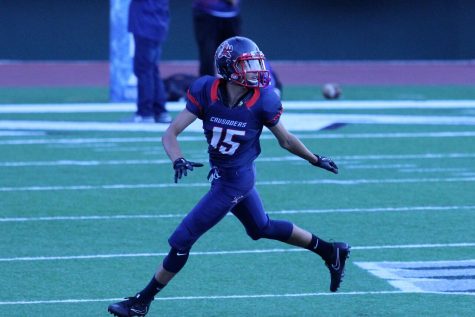 The offense struggled to finish their drives in the first half due to a strong pass rush by the Gauchos front 7 and the Secondary switching up their coverage. As the Crusader offense had a difficult time in the first half the Narbonne offense showed otherwise, scoring 30 points and taking an early lead over the Saints. Going into the second half the Crusaders made a ton of adjustments both offensively and defensively, and although they turned over the ball on their first drive they remained relentless. They put up 35 points and only allowed 20 to secure the comeback victory over a very talented Narbonne team.
Mitchell Quinn finished the game with 233 yards and 4 touchdowns, his career-best following a previous game where he also put it his best numbers. Not only was this his career best, he also made the state record books tied for second with the most receiving yards in one game. Chevan Cordeiro who threw for 409 yards, also entered the record books, beating one of Tua Tagovailoa's previous records. Although Narbonne posed as one of the greatest challenges for this Saint Louis team, the Crusaders came out with the win in this thriller of a game. Saint Louis' next game is this Friday, 7:30, at Aloha Stadium, against Kamehameha to kick off the second round of ILH league play.