New Teacher: Don Pump
Hang on for a minute...we're trying to find some more stories you might like.
Mr. Pump is our new kinesiology teacher and also Head Strength and Conditioning Coach that joined the Saint Louis family at the beginning of September 2017.  In addition to teaching and coaching, he is also a personal trainer for his own company based in Ewa Beach, Don Pump Training Systems LLC.  He was born in New Jersey and is an alumnus of the class of 1999 from Saint Joseph Regional High School, a private Catholic school in Montvale, New Jersey.  After high school, Mr. Pump remained on the east coast and pursued a bachelor's degree in exercise science from Sacred Heart University in Fairfield, Connecticut.  Mr. Pump is currently completing his graduate work at the University of Texas' Department of Kinesiology.
"My Coaching philosophy is simple, maximize athletic performance through the practical application of evidence based research."
Mr. Pump is currently involved with these associations: National Strength and Conditioning Association (NSCA), Hawaii State Board of Advisors, as well as the director for the Hawaii State branch of the National Association of Speed and Explosion (NASE).  He also holds these certifications within his field: NSCA Certified Strength and Conditioning Specialist with Distinction (CSCS*D), Certified Personal Trainer with Distinction (NSCA-CPT*D) and Registered Strength and Conditioning Coach (RSCC).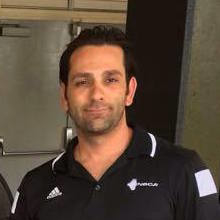 Mr. Pump is a no-nonsense, straight to the point, military veteran.  He believes that the "best approach to performance coaching is through evidence-based research".  To stay up to date in his field of strength, conditioning, and personal training, Mr. Pump utilizes an Evidence-Based Training Philosophy.  This philosophy is able to easily adapt and evolve by studying and applying the best and most current evidence-based off of peer-reviewed research and professional reasoning within a specific sport.  In regards to training, Mr. Pump evaluates the athlete and trains him to his current capabilities, then builds up from there.