Featured Album Review – LUV is Rage 2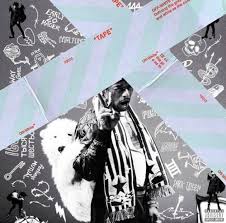 Hang on for a minute...we're trying to find some more stories you might like.
On August 25th, 2017, Symere Woods, better known as "Lil Uzi Vert" dropped his debut studio album "LUV is Rage 2" following up a string of mixtapes and the lead single "XO Tour Life," which is currently 3x platinum, and widely regarded as one of his best songs by fans and non fans alike. Many people were hyped coming into this album, including me, as it had been hyped up since November of last year and the precursor  "LUV is Rage 1," which is considered the best of Vert's projects to his most loyal fans. So the question is, did the project live up to all the hype? Sort of. It has a lot of quality and listenability in it, however there is much to be desired in lyrics and while the theme is good the development is lacking.
The overall theme is pretty simple, in his earlier mixtapes he would always rap about wanting to become a "rockstar" and now that he has received large amounts of fame and money he can claim to be one. However, with that status there are many negatives and trials that he has to deal with. Drug use, debauchery, and heartbreaks are the major themes.
The lyrics at times can be pretty strong and make you feel emotional, even sorry for him, but at other times they are straight up horrible and meaningless. Lines like "Leonardo DiCaprio, Watch out boys, I might bag your h*e" while they are delivered energetically and sound good, give off a feeling of vapidness and edginess that isn't very appealing or meaningful. However it's important to consider that lyrics aren't usually the main focus of this type of music.
The second point is the beats of the songs. They are extremely well produced and more importantly, unique. I cannot imagine anyone else using these beats to these effects and sounding so good. The beats are very spacey and unique, they give off a luxurious and moody quality which fit the themes of the album very well. Uzi's voice goes so well over the beat and he uses auto tune and vocal effects well enough that the end sound is very slick and entertaining.
Overall the quality is definitely there, but I would say it doesn't live up to the hype. However, that's probably just because it was overhyped, with people's expectations extremely high. It was a solid project with great vocals and beats, with the major flaws being inconsistent themes and lackluster lyrics. I would personally give it a 6.5/10. Let us know in the comments what you think!
What do you think of the featured album LUV is Rage 2?
Loved it! (42%, 5 Votes)
Meh (33%, 4 Votes)
Some songs were good (17%, 2 Votes)
Liked it (8%, 1 Votes)
Total Voters: 12

Loading ...