Saturday Night Lights
Hang on for a minute...we're trying to find some more stories you might like.
Homecoming and senior night all in one match; this was not just a normal game of football for Saint Louis. The Crusaders (7-0), No. 1 in the state of Hawaii, took on Punahou for the second time this year, and came out of the gates attacking.  Starting on the defensive side of the ball, even with star defensive linemen Faatui Tuitele and Michael Malepeai sidelined for the match, the Crusaders consistently put pressure on Punahou quarterback Hugh Brady. This forced Brady to have a below average game going 10-of-30 passing, with 204 yards, two touchdowns, and an interception. Leading the way for the Crusader defense, which shut out the Buff 'n Blue in the first half was Noa Purcell (Fumble rec., interception) and Jordan Bothello (2.5 sacks).
The crusader offense, led by senior quarterback Chevan Cordeiro, had no trouble finding its rhythm in the first half. Cordeiro dominated with both his arm and legs en route to a 24-point lead by the end of the first half.
In the second half, there was clearly a difference in the Buff 'n Blue game plan. After the crusaders capitalized on a Buff n Blue fumble with another touchdown (27 yard pass from Chevan Cordeiro to Mitchell Quinn), the Buff 'n Blue answered with their own 75-yard drive down the field capped by a touchdown catch by Andrei Iosivas. On the very next kickoff, the Buff 'n Blue caught the Crusader special teams off guard by recovering an onside kick attempt. Two-pass interferences and a roughing the passer penalty on the ensuing drive plagued the Crusader defense. It took the Buff 'n Blue seven plays from the three yard-line to finish the drive with a one-yard TD run by Maninoa Tufono. As the Buff 'n Blue pulled within 31-13, the comeback attempt was compromised by an over the head snap of a punt, which lead to a safety. On the following drive, the Crusaders regained the momentum with a 36-yard TD strike from Chevan Cordeiro to Makoa Close to make the final score 40-20.
With this victory, the Crusaders won the ILH regular season, and earned a bye in the ILH playoffs. Punahou and Kamehameha are set to battle this Friday night and whoever wins that game will face the Crusaders the following week for the ILH playoff title. If the crusaders win the ILH playoffs, they will be crowned as ILH champions for the third year in a row.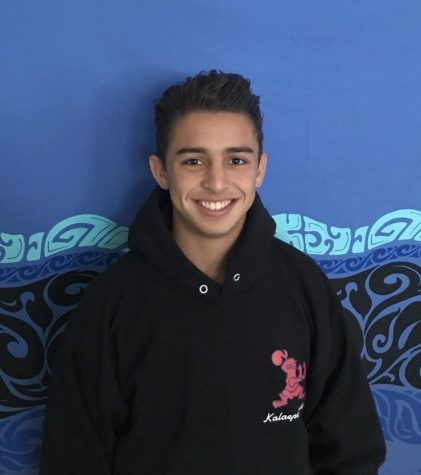 Chord Medeiros, Sports Writer
I am a senior at Saint Louis High School. I am a waiter at HASR Bistro in downtown and I play for the Saint Louis volleyball team. I am also a part of...