Injury Report Oct '17
Seniors on the Road to Recovery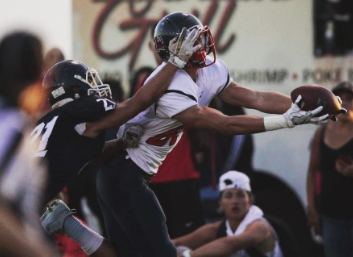 Hang on for a minute...we're trying to find some more stories you might like.
With football season underway, several players are sidelined due to various injuries. The Collegian is here to check in on a few of these players and their injuries. First up is Chris Sykes, a senior wide receiver with what is debatably the team's most serious injury. He shared an exclusive interview with the Collegian this week. He explained how he broke his Clavicle (Collarbone) in the first quarter of play against Waianae. He dove for a catch in the back of the endzone, and landed hard on his shoulder, snapping his bone in two. Chris did not undergo surgery because his doctors didn't see it necessary, and has been out of play for seven weeks already. He says of his situation; "It's been tough watching from the sidelines, but I can't wait to come back." And come back he will. He is planning on returning within the next two weeks if all goes well in the final stages of recovery. However, nothing is set in stone, and return in dependant on no medical complications.
A more recent injury event occurred in the Crusaders' late game against Punahou. Senior Maika Hallums sustained a shoulder injury that will sideline him for a week or two. Maika explained how his shoulder was already bothering him during practices leading up to the Punahou game, and a second quarter tackle sealed the deal and removed him from play. Maika is looking at a week or so of recovery time, and hopes to return as soon as possible. When asked for a statement, Maika shared: "I'll hopefully be back by next week, but until then I will support my brothers." 
The final injury to be discussed on this month's injury report is senior Micah Mashima's shoulder. Micah dislocated his shoulder in the Crusader's most recent matchup against California powerhouse Narbonne. "I was unsure whether it was the ground or the linebackers that dislocated my shoulder", Micah explained. As the Crusaders were running out the clock in the fourth quarter, Micah took and heavy fall and wound up with his injury. He is looking at up to four weeks of no contact before returning for the tail end of the season. Micah is "Doing everything I can [to quicken recovery], but don't know the final outlook until I get the MRI".
That's all for this month's injury report. You can read more about Crusader Football under the "Athletics" tab of the Collegian. Please keep all injured Saint Louis brothers in your prayers as they make their recovery and return to play.