Friday Night Lights
Hang on for a minute...we're trying to find some more stories you might like.
Bright lights, beautiful weather, and screaming fans; all were present on this Friday night. It was a semi-final to remember between the top ranked team in the state, Saint Louis Crusaders (9-0), and the third ranked Mililani Trojans (10-2).
The Crusaders started off the game by surrendering a safety on their very first offensive drive to give the Mililani Trojans a quick start out of the gate. On the ensuing kickoff, the Trojans took full advantage of the turnover and scored on a five yard pass from D. Gabriel to K. Malepeai to end the first quarter with a 9-0 lead. At this point of the game, the Crusaders were in uncharted territory, as they had never trailed a Hawaii opponent this season.
However, on the ensuing drive the Crusaders responded with a touchdown drive of their own. A 52-yard touchdown pass from Chevan Cordeiro to Mitchell Quinn in the beginning of the second quarter set the game score to 9-7. The Mililani Trojans then continued their hot offensive start in the first half with 12 and 25 yard passing touchdowns en route to a 23-17 halftime lead over the Crusaders.
The Crusaders came out of the half hungry, but composed. At the beginning of the third quarter, the Crusaders scored on a 50-yard touchdown pass from Cordeiro to Quinn to tie up the game 23-23. The Crusaders had a chance to take their first lead of thegame with a made PAT, but unfortunately Jacob Tobias' kick was unsuccessful. That wouldn't matter however, because the Crusaders defense stiffened up in the second half. The Crusaders scored 37 unanswered points, all from star wide receiver Mitchell Quinn on 69, 57, and 59-yard touchdowns to put away the game for Saint Louis. Quinn ended the game of his life with five touchdowns and 307 yards.
With this victory, the Crusaders will appear in their third straight state championship game against the Kahuku Red Raiders.. Kickoff is scheduled for 8pm on Saturday, November 18th.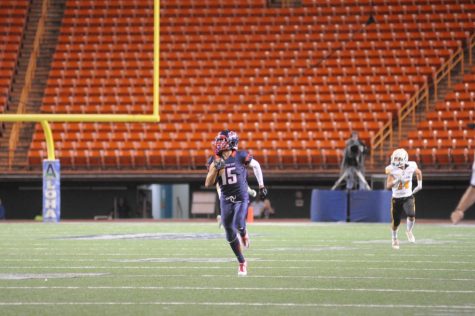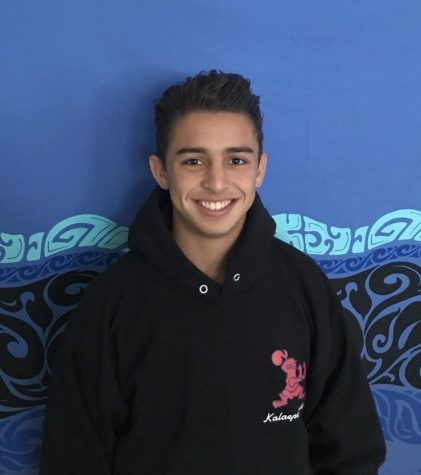 Chord Medeiros, Sports Writer
I am a senior at Saint Louis High School. I am a waiter at HASR Bistro in downtown and I play for the Saint Louis volleyball team. I am also a part of...