Crusaders on the Hunt
Varsity Basketball looking for win this season
Hang on for a minute...we're trying to find some more stories you might like.

New Year, New Season. Welcome to another year of Crusader basketball.The Saint Louis basketball program fields two Division 1 teams. The Division 1A team is led by rookie head coach, Sol Batoon. With the season underway, the Crusaders are looking to continue the success of Saint Louis Athletics and keep the dream of a Triple Crown alive.
Led by senior forward Noa Purcell, Varsity Div-1 A is looking to improve upon a 0-9 start to what has been a tough season. This unfavorable record is disappointing, but understandable with the competitive nature of the ILH. Powerhouses such as Punahou, Kamehameha, and Maryknoll fill the top spots of the state's interleague rankings. The combination of a new coach, new gameplan, and young players put the Crusaders in an uphill battle against more developed teams. The Collegian checked in with senior guard Chris Sykes to see his take on the season. "It's a very tough league (ILH). We have been losing, but we are definitely improving."
Improve they will. The team is relying on point scorers like Noa Purcell, Liloa Kapiko, and Lachlan Hanneman to put up the score necessary to get the win. The Crusaders have the entire second half of their season to come, and are looking to continue improving and secure a berth in the state tournament.
Saint Louis Div-1 AA has had better fortune this year. AA Crusaders are currently 2-4 in league play. Seniors like Makoa Ing, Loi Rivera, and Seth Hiro are leading the team in points. Crusaders are out to win the AA title this year, and establish Saint Louis as a competitor in varsity basketball.
For those looking to join the Crusader Basketball program, Chris suggests you, "Get involved as soon as you can. Learn the system, and work hard."
To keep up with basketball, and all other Crusader sports, view the "Athletics" tab of the Collegian.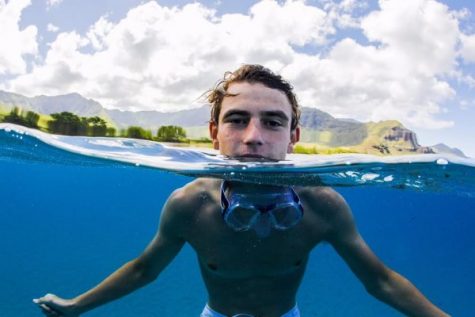 Joe Lyons, Sports Writer
I am a senior, and have been attending Saint Louis since 2011. I am a member of the Varsity Water Polo and Paddling teams. I am also a member of LIFE team...