Mid Season Update: Soccer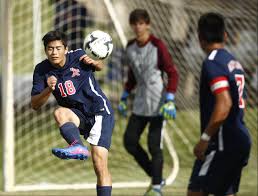 Hang on for a minute...we're trying to find some more stories you might like.
The Crusader varsity soccer team has engineered what is perhaps their greatest start to a season in school history. Undefeated for the first three games of the season, the Crusaders have beat big name teams including Damien (8-1), Kamehameha (3-0), and Iolani (3-0). However, over the Christmas break the Crusaders were handed their first loss by the #1 ranked team in the state, Punahou (3-1). Although the Crusaders lost, it was a very close game, and could very well be a preview to the ILH championship in weeks to come. Since the loss, the Crusaders have won two straight games, beating Mid-Pac and Pac-5 with relative ease. Leading the team in goals for the second season in a row is striker Skyler Goo (5), and not too far behind are midfielders Mitchell Quinn (3) and Daunte Mangiarelli (3). The Crusaders have been fortunate enough to have minimal injuries through the first half of the season. However, defender Matthew Watkins suffered a face injury in practice, and had been held out of the match against Mid-Pac. No further updates have been received upon his status, but the injury was deemed minor. With the first round of ILH play over, the Crusaders are currently ranked #2 in the state and look to avenge their single loss to Punahou on January 27th, at Punahou. For more on the Crusader varsity soccer team, head to the athletics section of the Collegian.