Golf Season Open
Hang on for a minute...we're trying to find some more stories you might like.
With winter sports coming to a close, Crusader fans are looking for a new sport to cheer on. This year, stray from the norm, and get down with Crusader golf. You read that right; this year, Saint Louis is fielding a larger-than-average g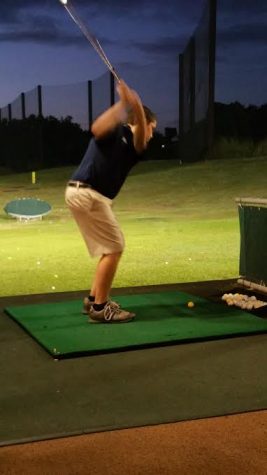 olf squad. The Collegian checked in with five year golfer, Bo Wong, to hear his take on this season.
Bo Wong was named Mr. Golf this year at homecoming. "It's a mind game," Bo said of his favorite sport. Bo began golfing in seventh grade, but took off last year to pursue other interests.

He is the most seasoned member of this year's pack. However, Bo is far from the only senior represented in the ILH. First year golfers Kelium Brunn, Markus Foehr, Hinano Hanakeawe, and Sean Mau are late bloomers in the golf game. These five seniors are among those willing to give the rewarding game of golf a try. In addition to the Class of 2018, experienced junior Ethan Finau will be joining the Crusaders ranks.
Golfing appeals to those looking for a relaxing, yet challenging, off-season sport. Golfers can learn important business and recreational skills, on someone else's dime. Golfers enjoy island-wide courses including Turtle Bay, Prince Ewa, and Mililani Club. For many, golf is a way to gain some extracurricular experience while bonding with brothers. The mental benefits of golf can best be explained by Bo."Every hole is a new opportunity to redeem yourself."
"
Every hole is a new opportunity to redeem yourself."
— Bo Wong
Golfing matches will commence in March, with scoring being a combination of the entire teams scores. The goal of golf is to tally the least amount of points. For results, schedule, and updates on Crusader golfing, be sure to check the "Athletics" tab of the Collegian. Beat Punahou!