Teacher of the month April 2018
Hang on for a minute...we're trying to find some more stories you might like.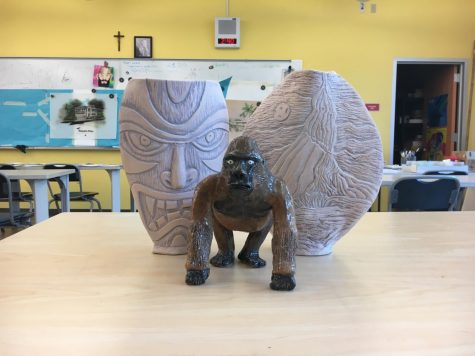 The teacher of the month for April 2018 belongs to the humble Mr. Mike Amerino. Mr. Amerino has been inspiring creative minds here at Saint Louis for several years now. Originally from the windward side, Mr. Amerino dreamed about attending Saint Louis as a young man. Though he didn't experience the slopes of Kalaepohaku he is a graduate of Castle High School. Always being creative, after graduating from Castle he attended the Milwaukee Institute of Art and Design. Where he obtained his Bachelor of Arts degree. He continued his journey in Wisconsin by working at the prestigious Milwaukee Museum of Art for several years. He worked as the educational coordinator for Milwaukee public school, and his teaching career began.
After moving back home Mr. Amerino was hired to teach at Holy Trinity School. There he taught multiple subjects including Art history, Art, as well as Religion to middle schoolers. While there his faith continued to strengthen as he realized he enjoyed teaching students in a faith-based environment. He soon had hoped to one day teach at Saint Louis School. Mr. Amerino pride for Saint Louis is so strong that when asked what he would change about the school, he answered: "nothing because I like the school just the way it is." Mr. Amerino enjoys teaching several types of art, including ceramics, graphic design, and even painting. He shares his passion with students who share the same interest, and those who want to explore their creative side. Mr. Amerione ideal Saint Louis man is someone who is respectful, faithful, and religious. If given the chance to tell all Saint Louis graduates what's important in life he would tell them "know where you came from, and always keep God in your heart."
"
" is someone who is respectful, faithful, and religious.""
— Mr. Amerino's ideal Saint Louis man