Saint Francis School football Team Forfeits Their Entire Season
Hang on for a minute...we're trying to find some more stories you might like.
The Saint Francis football team will have to forfeit its entire 2018 season for having an ineligible player on its roster. Saint Francis who went 9-0 in the season, will not be able to play in the state tournament. PAC Five who went 3-5, will be the new ILH Division II champion. This would have been the schools first visit to the state tournament for their varsity football program, which was formed in 2012. According to Hawaii Prep World, "Due to misinformation in the admissions process five years ago, this fell through the cracks," as stated by the Casey Asato the head of the school. When the ineligible player enrolled, he was required to repeat the eighth grade despite having attended ninth grade classes for part of the school year at his former public school. The player then played four consecutive years on the Saint Francis football roster, which made him a fifth year player this year. He played on the intermediate football team in 2015 and then played for St.Francis' higher level teams in the 2016, 2017 and 2018 seasons, making him ineligible as a fifth year senior. The ILH handbooks says that a player has four years to complete his eligibility once he enters ninth grade.
Saint Francis School appealed the ILH's decision to forfeit the school's undefeated season. The head of Saint Francis, Dr. Case Asato sent a letter to the ILH explaining why the school should not be disqualified. He acknowledged that the student only played five out of the eight games. So only those five should be counted as losses, but the other three should be recognized as wins. He also asked the ILH to make up two games that were cancelled due to Hurricane Lane. The outcome of those games would determine who goes on to the State Tournament. However, on Thursday, October 26th, the ILH denied his appeal to overturn its decision to forfeit their whole season. Pac Five now represents the ILH in the Division II state tournament starting on November 10th.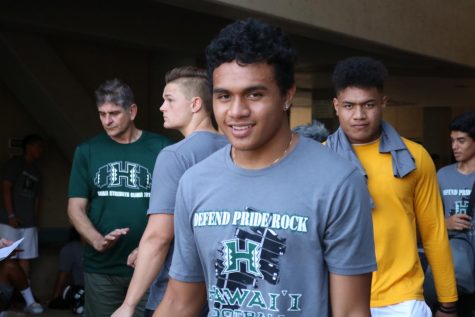 Lawai'a Brown, Writer
I was borin in Hawai'i. I live in Palolo Valley. I go to Saint Louis School and play on the varsity football team. My favorite food is a spicy ahi poke...