Game Review: Brawl Stars
Have you ever heard of the mobile games "Clash of Clans", "Clash Royale", "Boom Beach", or "Hay Day?" Well, the creators of these games are called Supercell. They have recently just dropped a new game on mobile devices called "Brawl Stars." It is easily one of the most addicting mobile games on the app store for mobile devices. Right now "Brawl Stars" is #1 on the app store for action games. Out of 5 stars, this game is rated 4.9. Also, over 102,000 people have rated this game.
This game on the app store is a fast-paced multiplayer battle. You can either do solo, duo, or squad (teams of 3). There are many different characters you can choose from. Also, each of those characters you can rank them up and upgrade them to make them stronger. The higher level your character is the better he or she will perform.
After playing this game it is one of the most fun games I have on my phone today. It is very intense and competitive because you can play with your friends which adds a whole other aspect to the game. Supercell is doing a really good job with this game and is always adding on to it and making sure it is always running on top shape. If I were you I would download this game right now! But the best part of this game is that it is free!
About the Contributor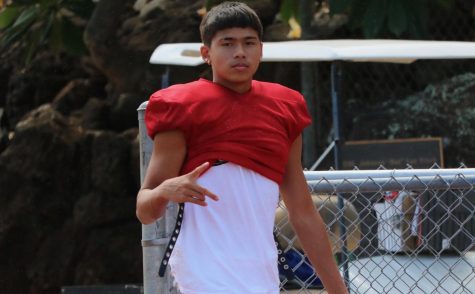 Lexzen Agbayani-Shibao, Writer
My name is Lexzen Agbayani-Shibao, I was born in Wahiawa and raised in Mililani. I am a senior and I attend Saint Louis School. Also I play football for...