Saint Louis D2 Senior Night
On February 2nd, 2019 it was the Saint Louis Division II senior night. They played Hawaii Baptist Academy at McCabe Gym at Saint Louis School. We had six seniors playing in this game. The seniors that played in this game was Justice Mills, Dallas Cooper, Donavan Cassison, Michael Pascual, Kila Kamakawiwoole, and Aeron-Justin Bali. Leading up to this game the Division II basketball team's record was 5 wins and 11 losses.
Justice was averaging 4.6 points per game, Dallas was averaging 10.0 points per game, Donavan was averaging 0.3 points per game, Michael was averaging 2.4 points per game, Kila was averaging 9.6 points per game, and Aeron was averaging 4.3 points per game.
This was a very close game throughout all 4 quarters. Every player for Saint Louis had that dawg mentality in them, they all wanted to win for the Seniors and for all the fans watching and supporting. During the game, the crowd was going wild because it was a very intense game. After the first quarter, the score was 8-7 and we're leading by 1 point. At halftime, the score was 20-21 and now we were down 1. Then in the third quarter, it was 29-34. The final score of the game was 38-39.
I interviewed some seniors and asked them some questions like; What did you do to prepare for this season? Are you satisfied with how you played this season? Lastly, what was the most memorable moment about this season? Dallas said, "I really didn't do much to prepare for basketball, I just worked out for fun and then just decided to play basketball." He also said, "He was fine with how he played because he played hard and did well considering it is my first year playing basketball at Saint Louis." Lastly, he said "coming back down 21 points against Iolani.
Donavan said, "I just worked hard on the offseason, worked out my flaws and mentally prepared myself." Also "honestly I am never satisfied because I know I could have played better and worked harder in the offseason." Lastly "I think it was my senior night because it felt that the season went by so fast and it would be one of my last times playing for Saint Louis."
Lastly, I interviewed Justice and asked him those questions. He said "speed, agility, and shooting training." Also, he said "yessa." This is how he felt about what he remembered most about this season "Running over and bullying the weak players that couldn't play up to my intensity."
About the Writer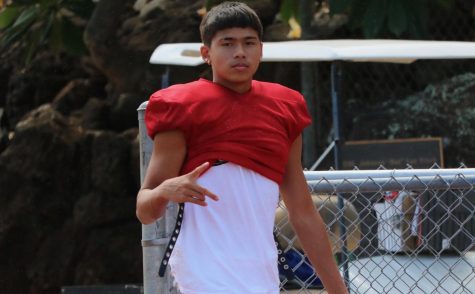 Lexzen Agbayani-Shibao, Writer
My name is Lexzen Agbayani-Shibao, I was born in Wahiawa and raised in Mililani. I am a senior and I attend Saint Louis School. Also I play football for...