Saints Blowout Is Cut Short
The Saint Louis Crusaders came out firing against the Kahuku Red Raiders, but the game was sadly abbreviated at halftime. However, the game was outstanding. The Crusader defense had forced Kahuku to punt the football, and the Crusader offense scored 5 plays later with Mason Taliulu running in from the 1-yard line, putting the first seven points on the scoreboard. Shortly after the touchdown, Kahuku went three-and-out, and the ball was back in deLaura's hands. As he lead the march for the Crusaders down the field, he threw a dime to Roman Wilson for a 22-yard touchdown catch.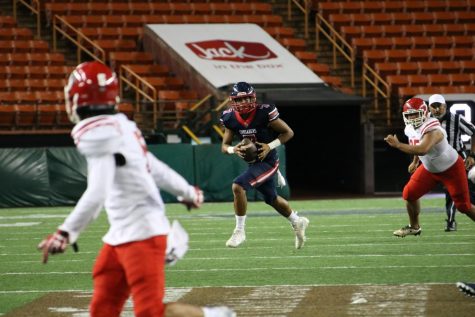 Another Kahuku three-and-out set up the Crusaders offense at their own 39-yard line. The highlight of this drive was a play in which deLaura met Isaac Silva for an 11-yard completion. This set the Crusaders at third-and-two. As they kept moving the chains, they set up Jason Cruz to run in for a touchdown at the 2-yard line. The Red Raiders seemed to be no match for the Crusaders with absolutely no points on the board. Finally, the Kahuku defense shut down the Crusader offense and forced a punt. However, this was only fuel for the Crusader defense as they made Kahuku go three-and-out yet again, forcing them to punt. The punt was blocked by Sonny Masaniai, giving the Crusaders four plays to get another 7 points on the board.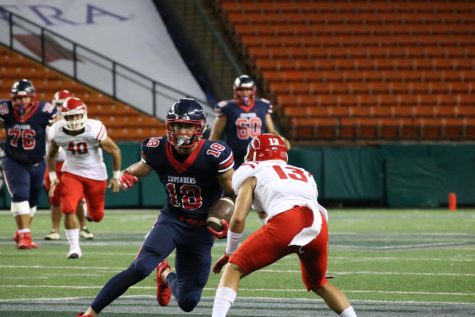 However, there were technical difficulties with the lighting, leaving it up to the coaches to decide whether to carry on or not. This game has long been anticipated, not only because Kahuku dominated the Sabers, but mostly because of the rivalry between the two schools. For years, the powerhouse in the OIA was Kahuku and the powerhouse for ILH was Saint Louis. Many families, friends, and fans were upset that the game was called early, especially those that showed up at halftime. I spoke with Saint Louis' athletic weight trainer Marus Kimura, who "rushed through traffic in the horrible weather after work just to find out that the game was canceled." He was bummed and was just overall shocked with the call. Regardless, the Crusaders took home the win with a final score of 28-0. Jayden deLaura threw for a total of 150-yards and had two touchdowns, making a great impact on the outcome.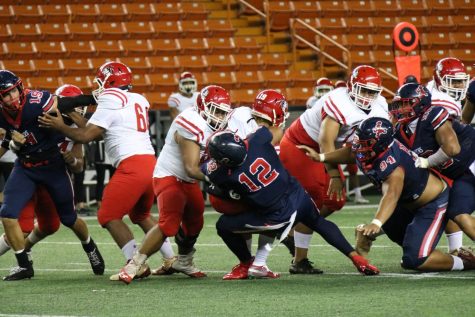 Leave a Comment
About the Contributor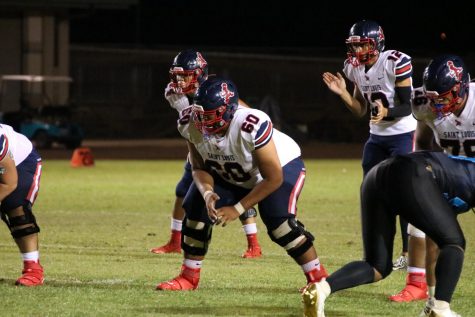 Kahekili Catrett, Writer
Howzit, my name is Kahekili Catrett. Iʻm a senior here at Saint Louis, and have been attending since freshman year. I play on the football team at left...