Crusaders Top Buff n' Blu in the Fight for the ILH Top Seed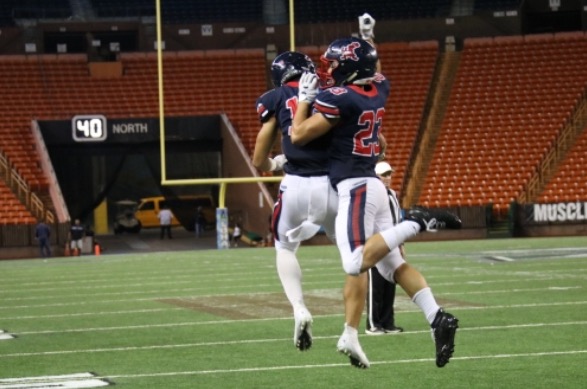 Advertisement
Hang on for a minute...we're trying to find some more stories you might like.
On September 20, 2019 the Crusaders were faced with their toughest challenge of the season thus far, the Punahou Buff'n Blue, at Aloha Stadium. Punahou's offense was led by freshman quarterback, John-Keawe Sagapolutele, and star running back, Vincent Terrell. The previous week, the Buff'n Blue had an outstanding performance against the Waianae Seariders, beating them 42-0. Sagapolutele threw for 183 yards and one passing touchdown. However, the run game was what really shined in their previous game with Terrell running for 182 yards along with a total of 4 touchdowns. Saint Louis also had an exceptional game against the Red Raiders despite being cut short at halftime. Saint Louis quarterback, Jayden De Laura, threw for 150 yards with two touchdown passes. The defenses performance contributed greatly to the game also with the help of leaders such as Jordan Botelho, Nick Herbig, Sonny Masaniai, Lawai'a Brown, and Kamo'i Latu.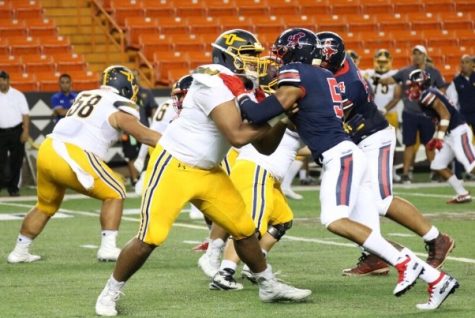 The Crusaders knew that this was not going to be an easy game. Buff'n Blue's Vincent Terrell returned the opening kick off for a 94 yard touchdown. However, later on in the first quarter the Crusaders were able to rally and score a 10 yard touchdown strike from quarterback Jayden De Laura to receiver Roman Wilson to bring the Crusaders back to 7-6 after missing the point after touchdown. However, in the second quarter the Buff'n Blue were able to score another touchdown and a field goal to bring their lead to 16-6 at halftime.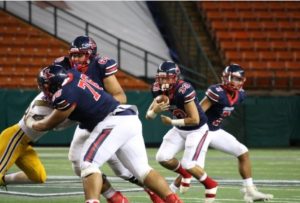 After the half the Crusaders bounced back with a TD run by slot receiver Koali Nishigaya, bringing the score to 16-12. Shortly after, the Crusader defense forced a three-and-out against the Buffanblu giving the Saint Louis offense another opportunity to score. Five plays into the drive, De Laura threw a 46 yard bomb to Roman Wilson for his second touchdown of the game. This put Saint Louis in the lead for the first time of the night, with the score being 19-16. The Saint Louis Crusaders were able to maintain this lead after another Koali Nishigaya touchdown run. This stressful game came to an end with Crusaders coming out on top with a score of 25-19. Roman Wilson finished the game with 11 receptions, 190 receiving yards, and 2 touchdowns, making him the impact player of the game. Catch the next game as the Crusaders face another tough opponent in their homecoming against the Mililani Trojans. This game will take place on Friday, September 28, 2019 at 7:30 P.M. at Aloha Stadium.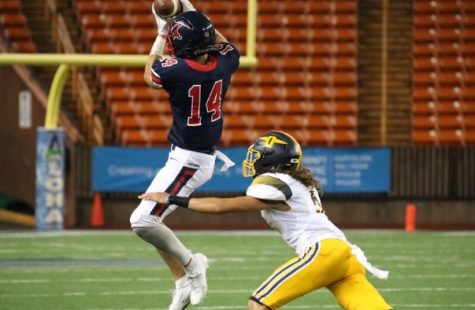 ---
Takase, Kalani. "Crusaders Rally to Deny Buffanblu's Upset Bid, 25-19." ScoringLive, 4 Oct. 2019, https://scoringlive.com/story.php?storyid=17520.
Takase, Kalani. "Saint Louis Blanks Kahuku, 28-0, in Abbreviated Game." ScoringLive, 4 Oct. 2019, https://scoringlive.com/story.php?storyid=17504.
"Open Football: Punahou vs. Waianae." ScoringLive, 4 Oct. 2019, https://scoringlive.com/football/gamesummary.php?gameid=4878&matchup=Football-Punahou-vs-Waianae.