Jordan Botelho
All American Bowl All-Star
The Saint Louis Crusader football team recently won their fourth consecutive state championship against the Kahuku Red Raiders on November 29th, 2019. There were many outstanding players that had a huge impact on the game but Jordan Botelho stood out with a sack and over four tackles. He is a superb player and a force to be reckoned with. Jordan's numerous accolades and athletic awards helped him earn an invite to play the All-American Bowl game sponsored by Toyota. As the #1 recruited player in Hawaii, Jordan is well-deserving of this invitation and will play in the Alamodome on Saturday, January 4th. 380 NFL players, 144 Pro Bowl Selections, and 159 NCAA All-Americans have played in this bowl game before. The All-American Bowl has truly left its legacy as the nation's premier bowl game. In advance, only one hundred of the nation's top players participate in this bowl game and it is the most-watched bowl game in the nation as it is aired on ESPN.
On December 3rd, the All-American Bowl committee recognized Jordan as an official All-American Bowl player with the jersey ceremony held in Mamiya Theatre. At the event, he was presented with his jersey and gave a speech on his behalf. In his speech, Jordan acknowledged his family, teammates, teachers, and coaches with gratitude in helping him make his dreams a reality. The junior and senior grades attended the event as well as a few of the elementary school's grades. The elementary students were in awe of Jordan's accomplishments as he was recognized as a prime role model for younger generations of crusaders to follow. Furthermore, it was extremely heartwarming to see one of our very own Saint Louis brothers succeed in ambitions as an athlete. This All-American Bowl invite is a testament to Jordan's continuous hard work in the classroom, field, and weight room. Tune in to NBC or ESPN at 9 am to support our crusader, Jordan Botelho!
About the Writer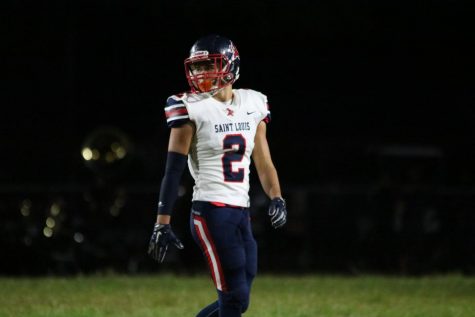 Brian Cox, Feature Editor
Aloha Crusaders!

I'm a senior at Saint Louis School and am a proud member of the Saint Louis Football Team, Volleyball Team, Life Team, and National...