Signing Day
Wednesday, February 5th, was National Letter of Intent Signing Day, and as usual, Saint Louis had a big showing. Seven athletes at Saint Louis School signed to play sports at the next level. These sports include football, baseball, track, and swimming. It's been a dream for all these athletes to play at the next level, so this was a proud moment to celebrate all of their achievements. Saint Louis School is proud of these young men as they represent our school in competitive college sports. These seven gentlemen have a GPA average of 3.88 and over 300 combined hours of community service.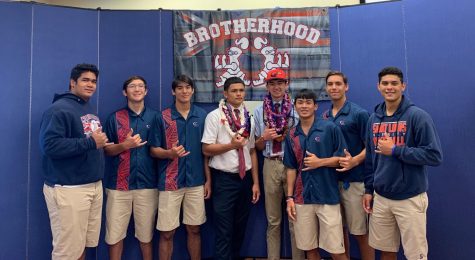 Meet The Athletes:
Dylan Cabral (Baseball)-Simpson University
Pono Dela Cruz (Baseball)-Clark College
Kaiser Cambra-Cho (Football)-United States Air Force Academy
Kalepo Fiaseu (Football)-Missouri Southern State University
Darryl Masaniai (Football)-San Diego State University
Jack Mucciarone (Swimming)-Stevens Institute of Technology
Baily Yee (Track)-Pacific University
After signing day, the 17 signees from the class of 2020 join athletes who signed earlier in the year. Of the 17 signees, 12 will be playing at the NCAA division 1 level. Best of luck and congratulations to all who've signed!