Featured Teacher: John Miller
Mr. Miller is a new teacher here at Saint Louis. This is his first year of teaching at any institution. Originally born in Michigan, Mr. Miller grew up in Maryland for most of his life. Specifically just outside Annapolis, Maryland. Mr. Miller then received his undergraduate degree from Messiah College in Mechanicsburg, Pennsylvania. He majored in Communications and received his bachelors. For his second bachelor's degree, Mr. Miller attended University of Maryland and majored in Asian studies. Mr. Miller likes the one on one aspect of teaching. He likes to connect with the students and to teach them life lessons. He wants to be the person that the students can go to for advice, someone who he wishes he had when he was growing up. 
In Mr. Miller's spare time he enjoys playing video games. Mr. Miller is a gamer. He enjoys games such as Apex Legends, Dark Souls, and his favorite of all time Blood Bourne. Mr. Miller also enjoys reading and writing. "My Asian studies degree was studying Japanese Literature and I really enjoy reading the literature." He enjoys movies, before his communications major he wanted to major in film.
However, before Mr. Miller became a teacher, he was a professional lacrosse player. Mr. Miller started playing lacrosse in the 7th grade when he moved to Maryland. He played all throughout high school and college. However, he first wanted to be a soccer player until his interests changed. He prefers the physicality of lacrosse. Also, Maryland lacrosse was a bigger sport than soccer. After college, Mr. Miller played professionally for the outdoor lacrosse league, the Major League Lacrosse. He first played for the Chesapeake Bayhawks, eventually playing for the Ohio Machine. He later moved his talents into the Indoor Lacrosse League, however due to unforeseen circumstances the league folded. Throughout his professional career, Mr. Miller helped coach lacrosse. He has been coaching lacrosse for ten years. Even while in college, he was coaching at the age of 19. He is excited to coach the Saint Louis lacrosse team. "I like the fact that the kids want to learn new things. Since this is a bunch of new players, I like watching when all the techniques come together and they get that moment of excitement when they finally learn it."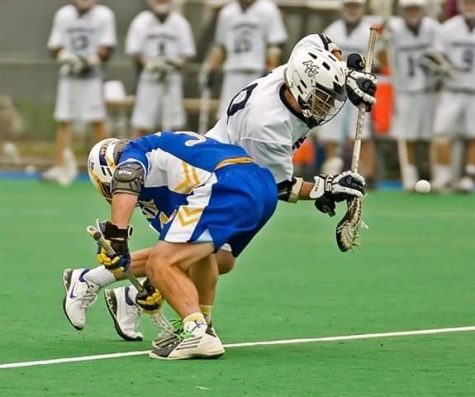 When asked why he came to Hawai'i, Mr. Miller responded, "I was really excited to move to Hawaii. My girlfriend is native Hawaiian from the island of Molokai. I've been here since June and the atmosphere is a lot friendlier and laid back. You can really feel the Aloha Spirit here." The most surprising thing he has seen here is letting people in when there is traffic. He says on the mainland it is cutthroat. 
Finally, Mr. Miller who teaches 9th grade english and U.S. Government hopes that his students will find something they are interested in. He knows that not everyone is interested in the U.S. Government or English. That is why he begins his class with start up writings in the hopes that the students may find something that they are interested in. To keep him going he lives by a quote, "Knowing is not enough, we must apply. Willing is not enough, we must do it." -Bruce Lee. "I think it helps with motivation. When I want to do something it's hard for me to move on. It's kind of like a call to action. Because you can want to do a lot of things but it's another thing to actually act upon it. You can know stuff but it's another thing to actually apply it to life."