A Game In A "League" Of Its Own
Have you ever had the urge to play soccer with cars? Me neither, but here we are. When you think of a sports video game, you probably think of games like Madden NFL or Fifa, and when you think of a racing game, you probably think of Forza, Asphalt, or maybe even Mario Kart. Rocket League takes these two genres and combines them to create a new, one of kind experience. The game takes the controls and overall feel of a racing game and throws in some unorthodox mechanics such as your car being able to jump or having a rocket boost, as well as the fact that you are not racing someone but are trying to score on the enemy's goal.
The Context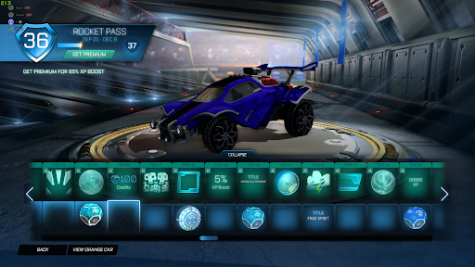 Rocket League (2014) is the sequel/remake to the lesser-known video game Supersonic Acrobatic Rocket-Powered Battle-Cars (2008). It was developed by an indie game studio called Psyonix, which was later acquired by Epic Games, in May of 2019, the studio best known for developing the game called Fortnite. Epic Games acquisition of Psyonix led to many changes within Rocket League such as the loss of collaboration deals previously held by Psyonix as well as a full rework of the games microtransactions system. Recently on September 23, 2020, the studio decided to change the game to a free-to-play model), which has made the player base boom. This was preceded by the launch of a new Rocket Pass, which is Rocket League's take on the traditional battle pass system, on September 2, and it was followed up by the launch of a new Fornite collaborative event called LLama Rama on September 26.
The Gameplay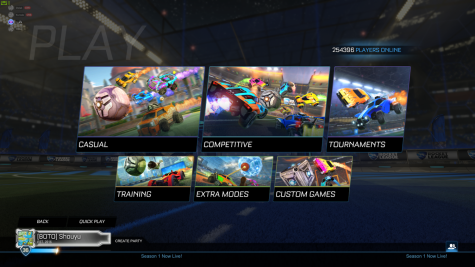 Rocket League is made up of six main categories of game modes: Casual, Competitive, Tournaments, Training, Extra Modes, and Custom Games. The Casual category is comprised of the main Rocket League game mode, soccer. In this category, you have the choice between playing one on one, in teams of two, three, or four. The Competitive category is the same as casual, but you are placed into matches based on a rank that you raise through winning matches. Tournaments follow the standard bracket formatting with a variety of team sizes. Training consists of various drills to help improve your skills. The Extra Modes category consists of game modes besides the standard soccer. These game modes include Rumble, which is the soccer mode except with power-ups similar to that of Mario Kart, Dropshot, Hoops, and Snow Day, which are the game's take on Volleyball, Basketball, and Ice Hockey respectively. Custom Games mode allows the player to play against bots, on user-created maps, or with special effects such as moon gravity or a cube soccer ball.
The Personalization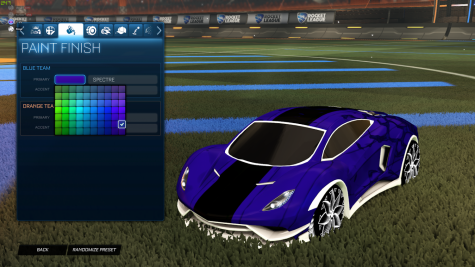 The game also allows for extensive personalization of your car. You start with ten free car bodies, for which you can customize the color, type of wheels, style of decal, boost type, and much more.
Final Thoughts
I first tried the game back in 2016 and recently started again after the recent major updates. I have been playing the game frequently ever since and was pleasantly surprised by the many changes that were made to the gameplay. The game has modes for every type of player and is fun to play for competitive and casual players. It is especially fun to play when in a team of friends. I would have recommended this game when it wasn't free to play, but with these updates and the game being free, I 100% recommend you at least give it a try.