Every Play Counts
Let's take a look at some of the big plays of Super Bowl LV!
Tama Mata'afa-Alferos , Sports Writer
March 1, 2021
  Super Bowl LV was a crazy way to end off a football season of an already crazy year. Tom Brady took his new team from having one winning season since 2010 to Super Bowl Champions. The Tampa Bay Buccaneers held the Kansas City Chiefs without a touchdown in Super Bowl LV, defeating the reigning champs 31-9. Every play was important, but some had a bigger impact than others.
     The Buccaneer's first touchdown of the game was one to remember. The Bucs were 2nd & 5 at the Chiefs' 8 yards line, and Tom threw an 8-yard touchdown to his previous Patriot teammate Rob Gronkowski, taking a 7-0 lead in the first quarter. After this pass, they broke the record for the most touchdowns in history by a QB-WR duo in the postseason (13).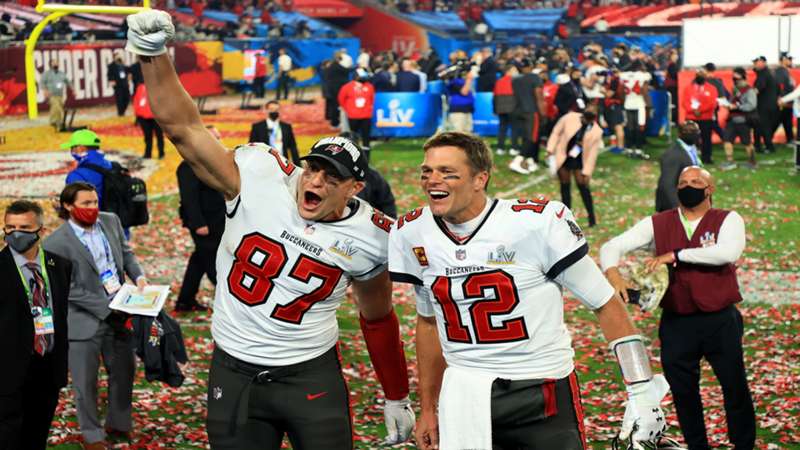 In the second quarter, KC was down 7-3. It was 4th & Goal for Brady and his offense. The ball was on the 1-yard line, and defensive lineman Vita Vea was placed at fullback. Ronald Jones was given the handoff, but the Chiefs stopped him short, keeping their deficit to only 4 points, as opposed to 11. Kansas City was not going down without a fight.
    Tyrann Mathieu's pass interference penalty affected the outcome of the game. After one on the same drive by Brashaud Breeland, Tyrann's pass interference call placed the ball on Kansas City's 1-yard line, where Brady would work his magic with 10 seconds left in the game.
        Tom Brady's 1-yd touchdown to Antonio Brown was significant as well. Brown was able to make his comeback to the NFL this season. With 10 seconds left in the second quarter, Brady and the Bucs had time for one or two more plays to score before halftime. Tom took the snap and threw a bullet to Brown, who was tackled in the endzone by Tyrann Mathieu for 6 more points. This play extended Tampa's lead to 14 over the Chiefs.
        With a little less than 8 minutes left in the third quarter, the last major play was made. On 1st & 10 from the KC 27 yard line, Brady handed the ball off to Leonard Fournette, who blew past the Chiefs' defense for another Tampa Bay touchdown. This took the Buccaneers from the "pulling away" stage to the "blowout" stage, as this touchdown caused Kansas City to trail 28-9 after the extra point was kicked.
      The 2020-2021 NFL season was definitely one to remember, in both positive and negative ways. The Super Bowl ended the season in a way that many people didn't expect. If this season and Super Bowl LV taught us anything, it's to never take anything for granted, and of course, to NEVER count out Tom Brady.
---
Patrik Walker Feb 8. "Top 15 Plays from Super Bowl 2021: Tom Brady, Rob Gronkowski Go Vintage While Bucs D Pummels Patrick Mahomes." CBSSports.com, 8 Feb. 2021, www.cbssports.com/nfl/news/top-15-plays-from-super-bowl-2021-tom-brady-rob-gronkowski-go-vintage-while-bucs-d-pummels-patrick-mahomes/.
Epstein, Jori. "Three Pivotal Moments That Won Super Bowl 2021 for Tom Brady and the Buccaneers." USA Today, Gannett Satellite Information Network, 8 Feb. 2021, www.usatoday.com/story/sports/nfl/super-bowl/2021/02/08/super-bowl-2021-buccaneers-chiefs-important-plays/4427669001/.