Saint Louis Football Goes Undefeated on All Three Tiers
Hang on for a minute...we're trying to find some more stories you might like.
Following the varsity football team beating Kamehameha in dominant fashion, all three levels of Saint Louis Football are undefeated in regular season play. The win not only allowed the ILH division I title to remain on the slopes of Kalaepohaku but it also helped the Crusaders secure the first seed in the HHSAA Open Division State Championship. The Crusaders are set to play the OIA runner-up in the first round. The win also allowed Saint Louis to break into the top 10 of the MaxPreps freeman rankings at number 10. This is possibly one of the best rankings for Saint Louis in its long history of dominance within the state of Hawaii. However, the Crusader varsity still has more to prove as they face the state's best in the postseason.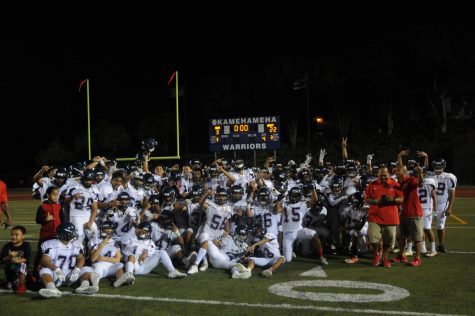 The junior varsity team beat teams with ease all season long and finished the season 6-0 on October 5, with a 22-3 win at Kamehameha. The JV only played 4 ILH games this year against Punahou and Kamehameha and two of league games against Campbell and Waianae. They continue the winning tradition at the JV level that has been set by Coach Anthony Monteilh since he received the head-coaching job.
The intermediate football team finished of their season on October 20, in comeback fashion, with a 42-35 win in a rematch against 'Iolani. 'Iolani came into the game undefeated with one tie against Saint Louis the week before. The Crusaders outscored all competition by 21+ points, except for Damien, and 'Iolani, who's starters are mainly freshmen. The crusaders had their closest games against both teams, coming back to win after being down by one or more touchdowns.
This is the first time in many years that the Crusaders have pulled off undefeated seasons in all three tiers ILH football. All teams have fairly young players and look to continue the dominance of Crusader football in the near future. Watch the Crusader varsity take on the OIA runner-ups on November 10, to secure their spot in the chase for the championship.