Terrific Tua
Saint Louis Grad of '17 Leaves Mercedes-Benz Stadium With a National Championship
He started the National Championship as a backup, but ended it as a legend. Monday night, January 8th 2018, Tua Tagovailoa made a name for himself, leading his team to a National Championship against the Georgia Bulldogs.
Tua is a quarterback for the Alabama Crimson Tide, and at the start of the game was second string to Jalen Hurts. After a scoreless 2 quarters for Alabama, head coach for the Crimson Tide, Nick Saban, made a half time decision that would change the "tide" of the game
Tua was going to start the second half.
With only two quarters of football left to play, Tua was put on the spot, and he delivered. Half way through the 3rd quarter, Tua dumps it off for a 6-yard touchdown pass to Henry Ruggs III, finally putting Alabama on the board. Two field goals later, with 3 minutes left in the game, Tua sticks the ball to Calvin Ridley for a 7-yard touchdown reception to tie the game at 20-20. Alabama had a chance to end the game but with three seconds remaining, Andy Pappanastos missed 36-yard field goal to the left.
The National Championship was going into Over-time.
Georgia gets the ball first but only to settle for a Rodrigo Blankenship 51 yard field goal. The Crimson Tide now have the ball, a field goal to tie, or a touchdown to win. The first play was a disaster, Tua was sacked for a 16-yard loss. All hope seemed lost for Alabama. This was all but a reality. Tua drops back in the pocket, looking right, then immediately throwing a 41-yard touchdown bomb down the left sideline to DeVonta Smith, winning the game.
Tua Tagovailoa and the Alabama Crimson Tide are National Champions.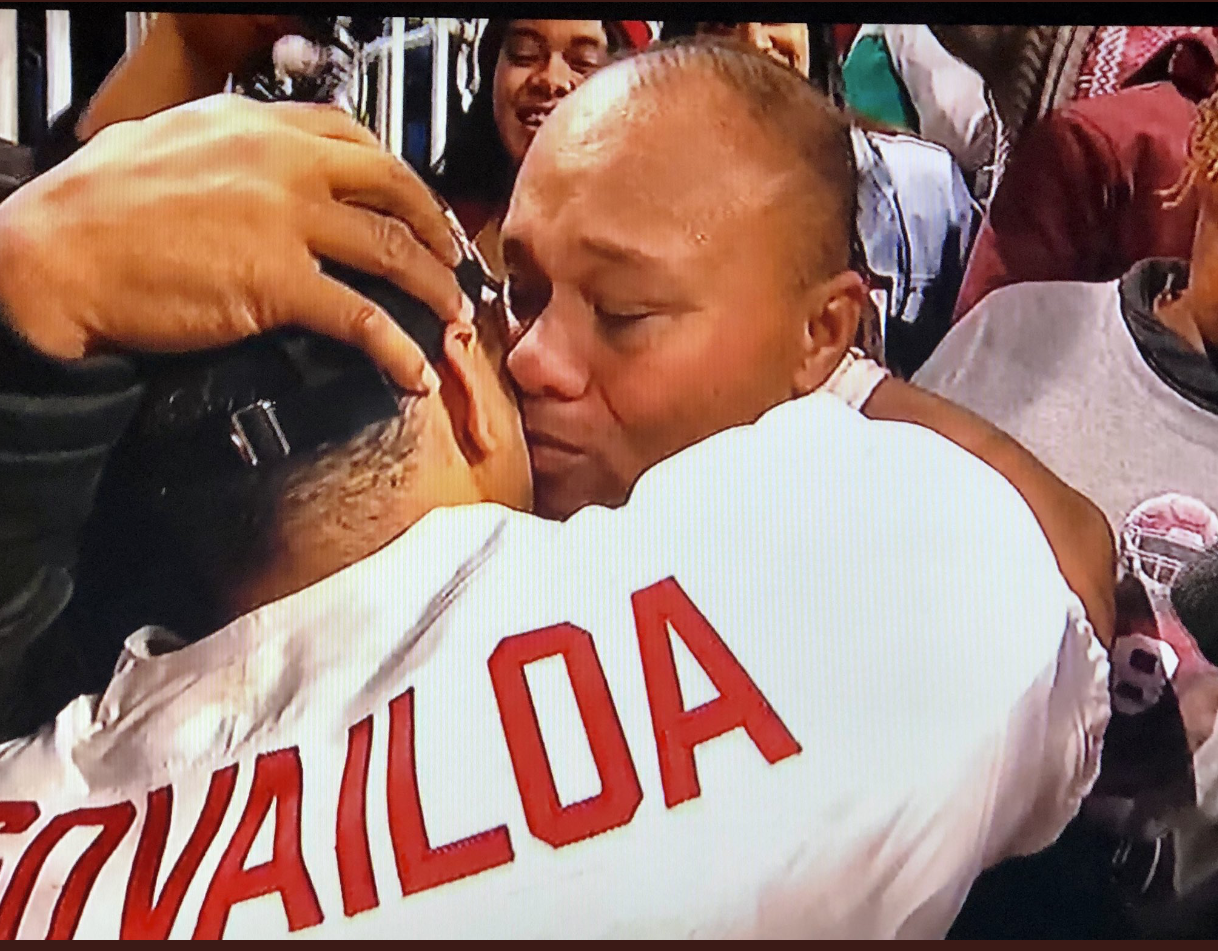 This was unbelievable, with the help of his defense, Tua led his team to a National Championship in only 2 quarters… as a freshman. Tua made a name for himself, his family, his college, his state, and his high school. Tua was born and raised in Hawaii as the oldest of four children. Graduating from Saint Louis School in 2017, Tua went on to commit to Alabama.
After the game, Tua was named offensive player of the game, which was only fitting considering his performance. Seconds after the game ended twitter exploded with tweets about Tua and his big game.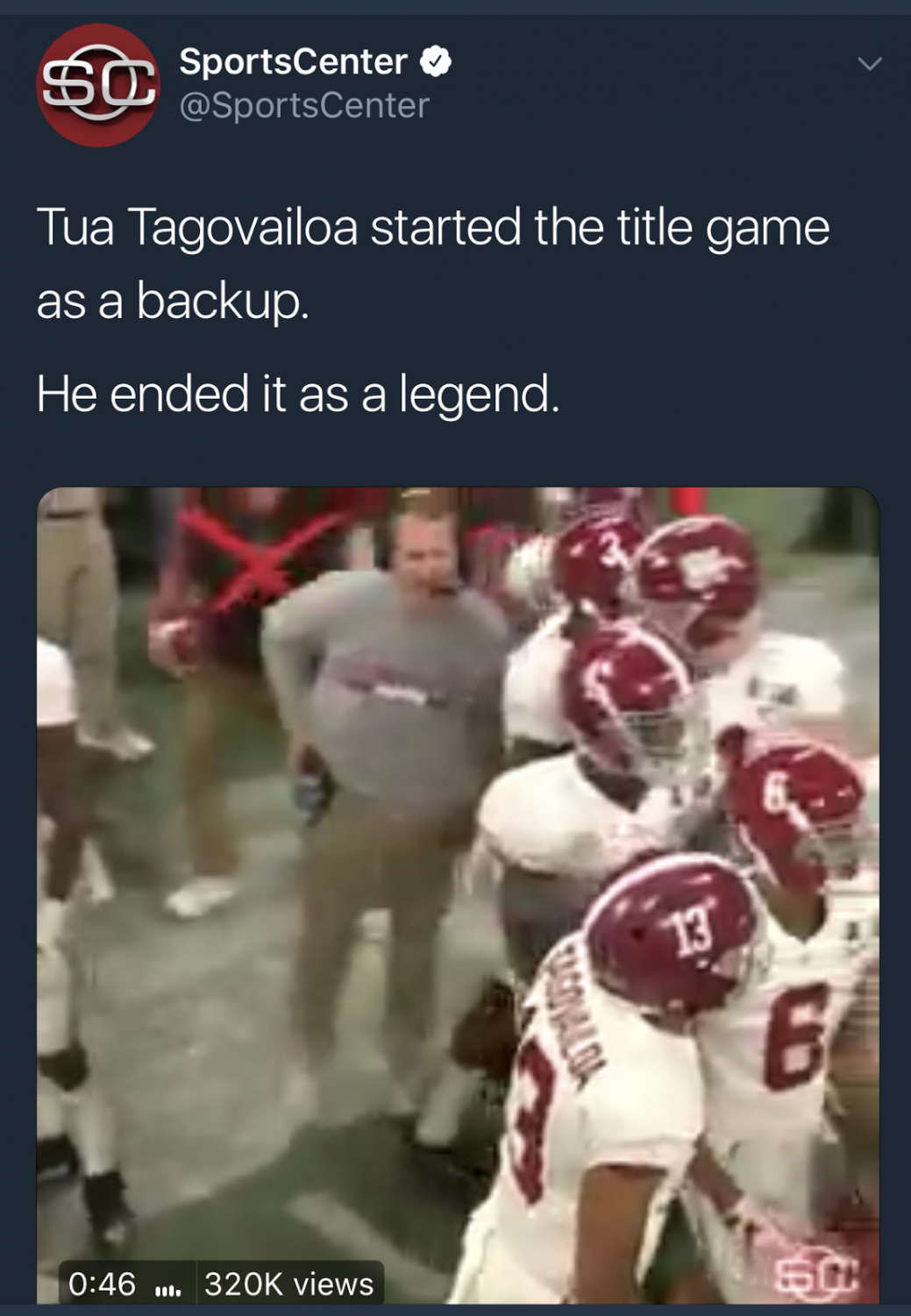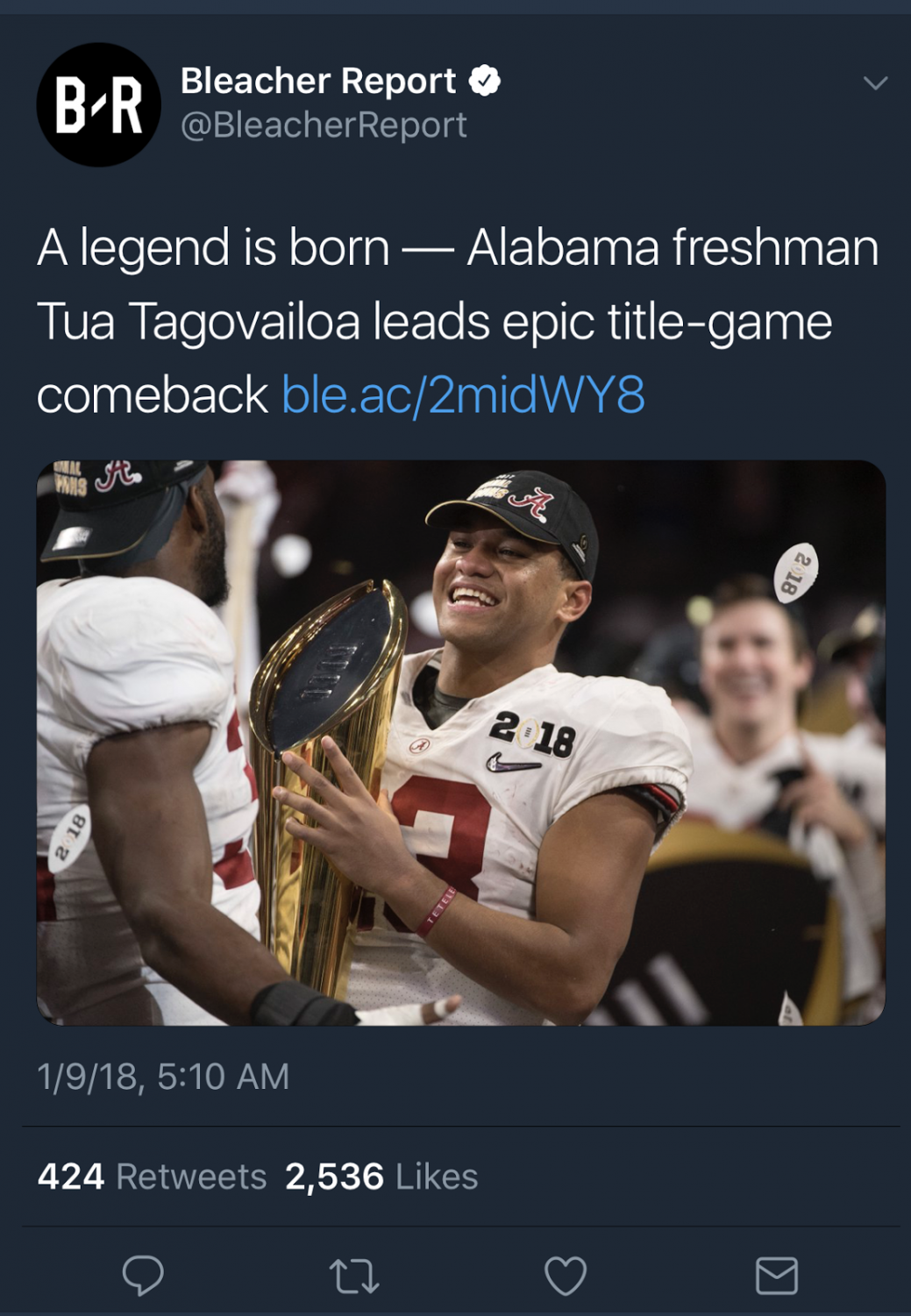 Even big names like Max Holloway and Trent Dilfer posted about Tua's success.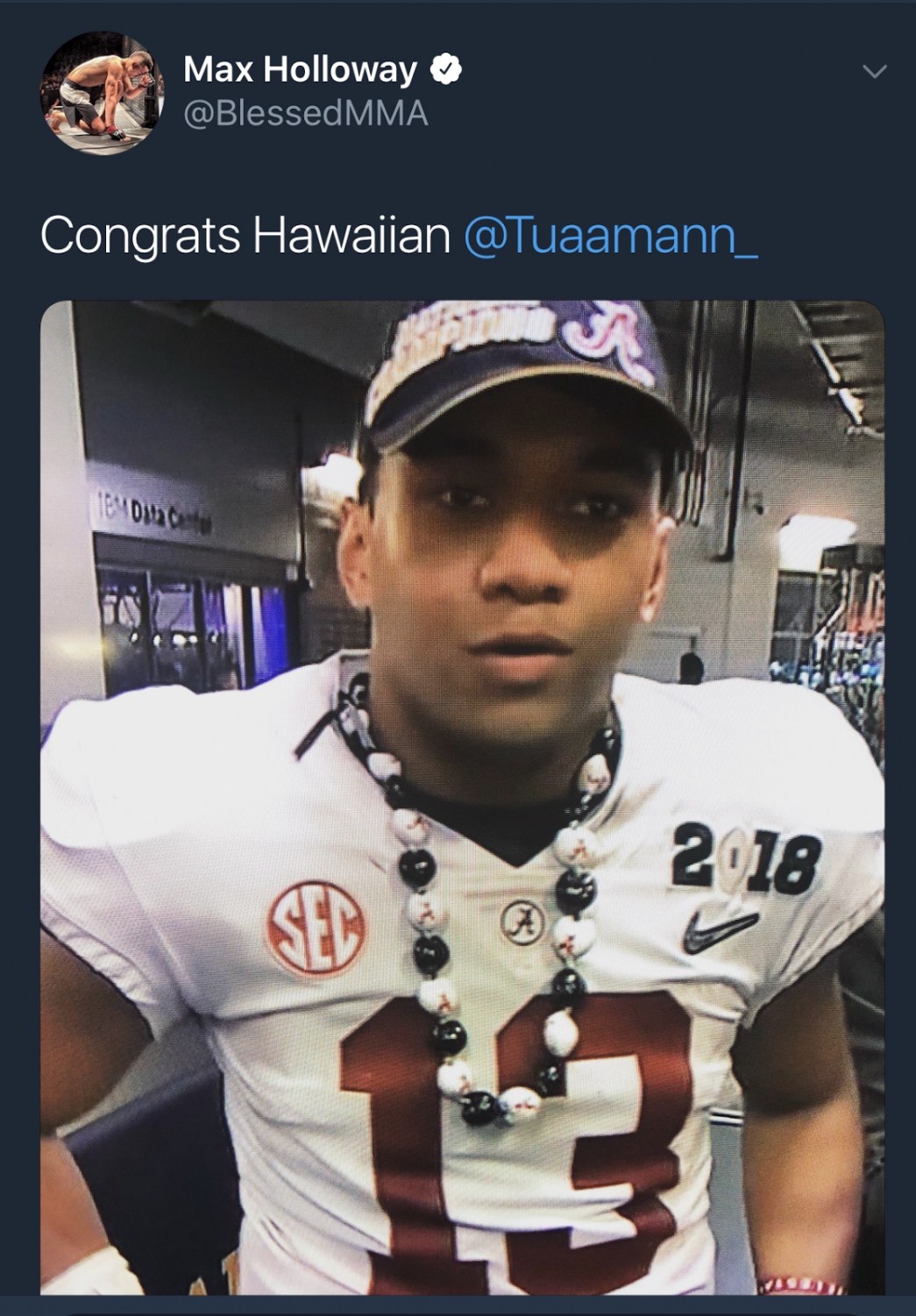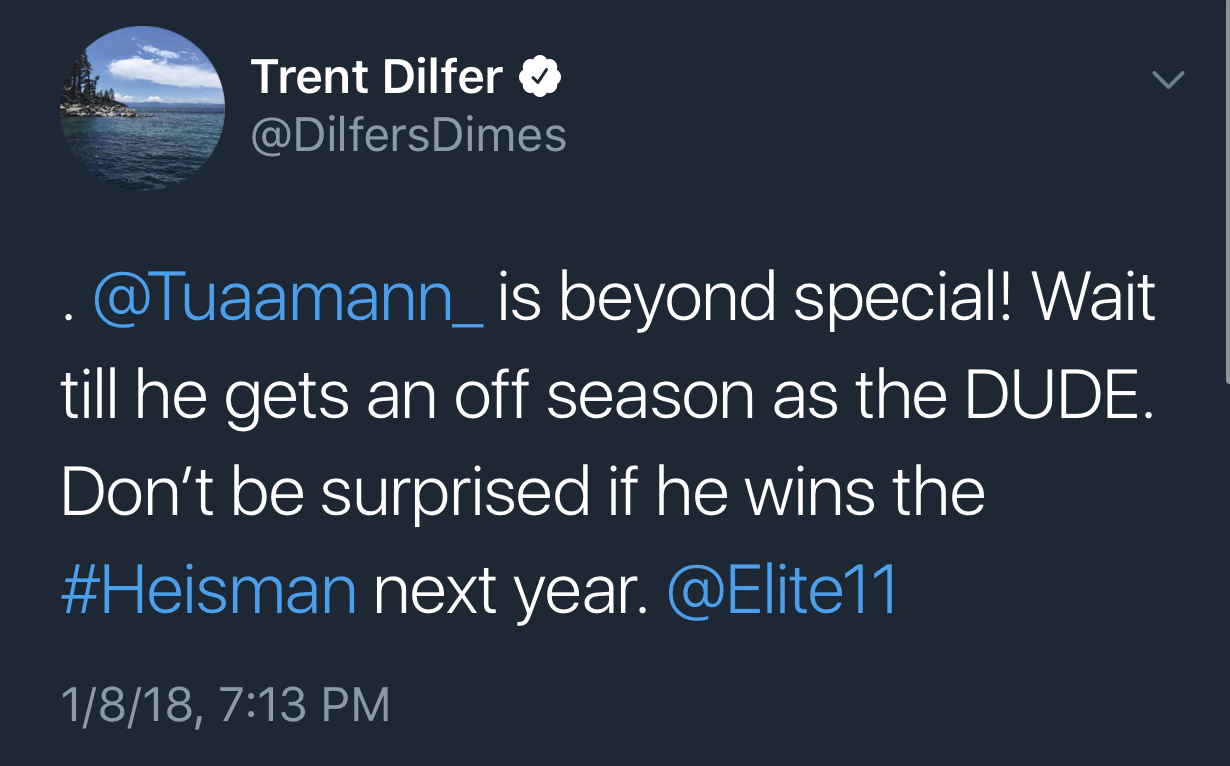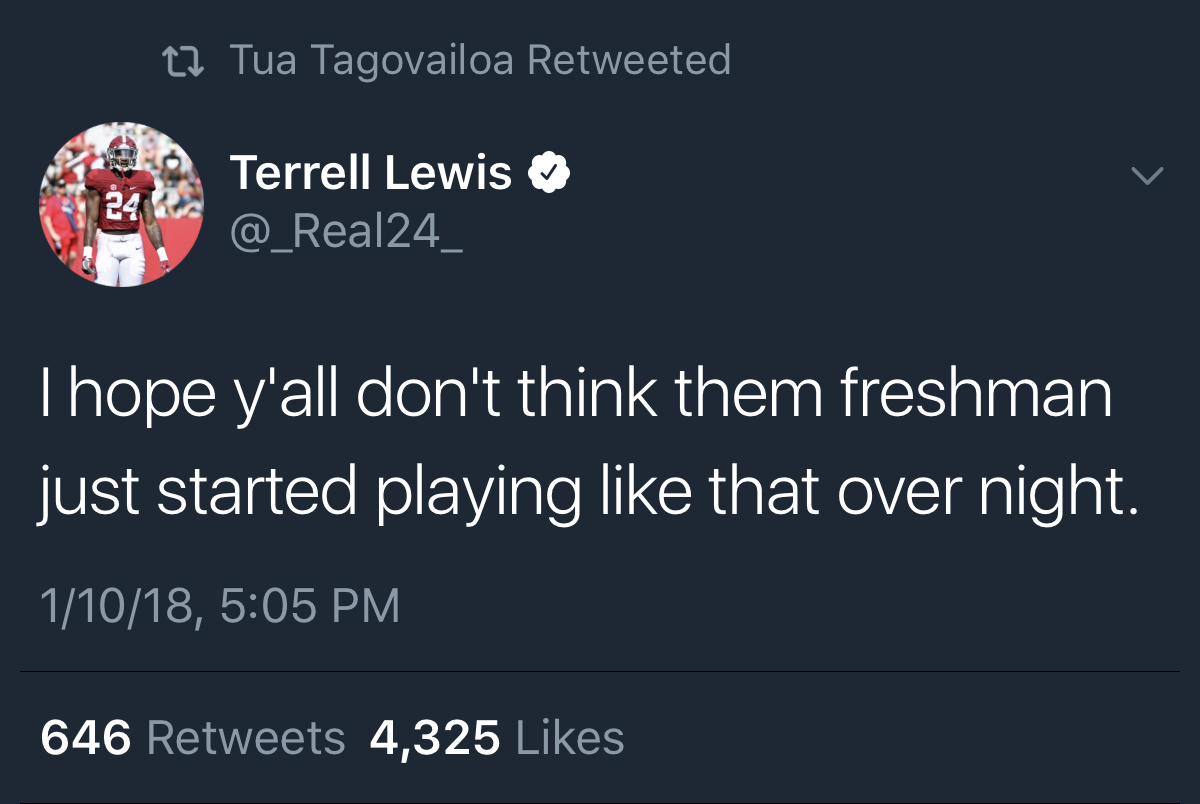 Tua could not thank God enough for his accomplishments, saying "All glory to God" in all of his interviews. This gained the respect ex-pro wrestler Mr. T and many others.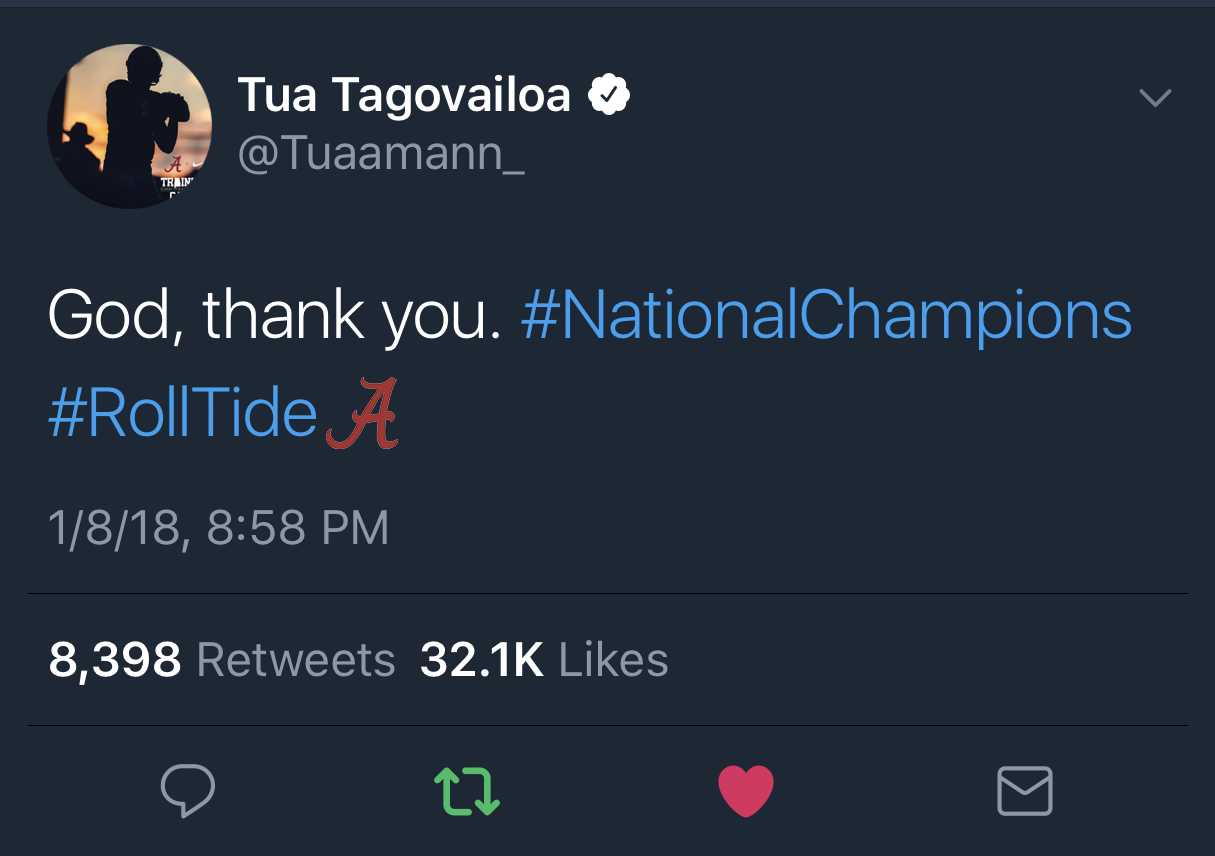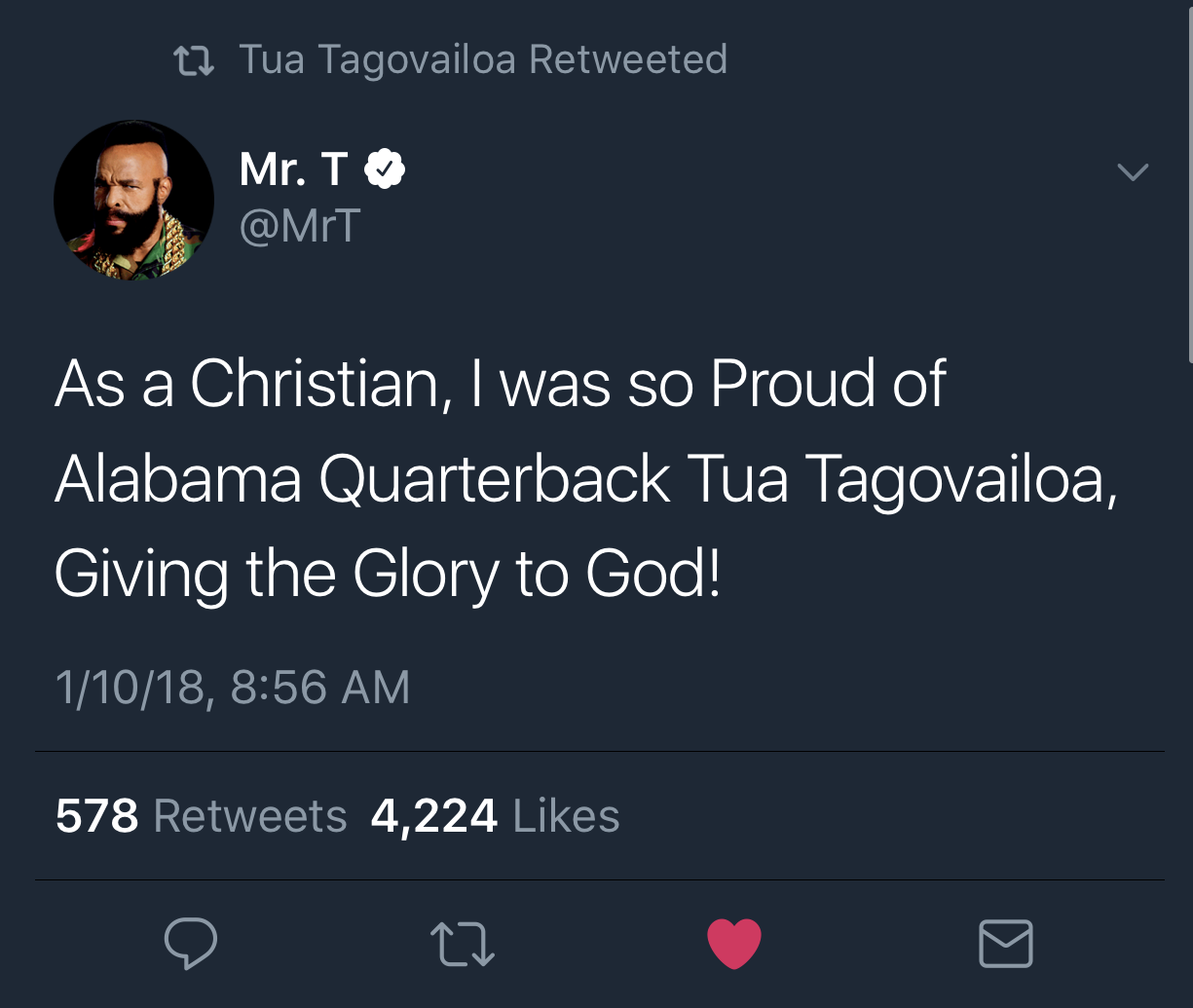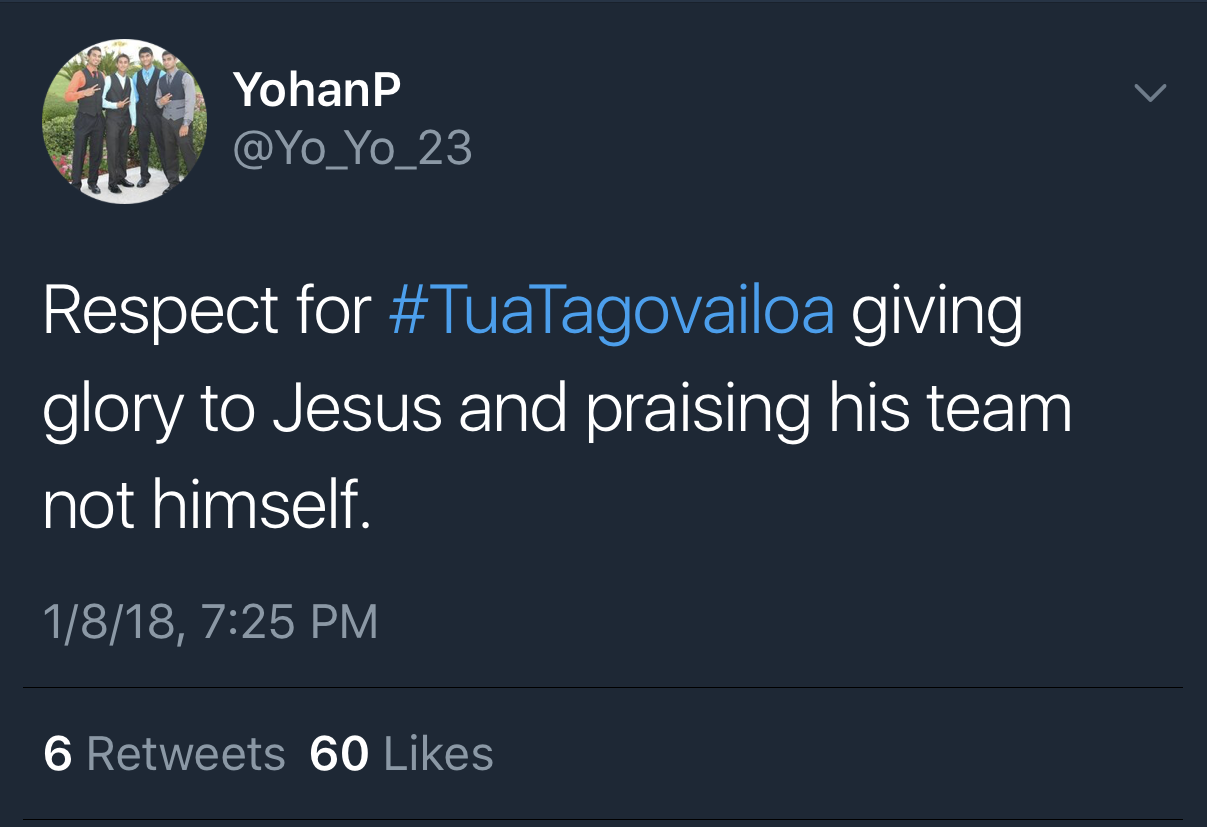 Among Marcus Mariota, Mckenzie Milton, Max Holloway, Jordan Ta'amu and many other names from Hawaii, Tua helped get more attention on athletes from the islands. This is opening up opportunities to the younger generations who look up to all of these Hawaii greats.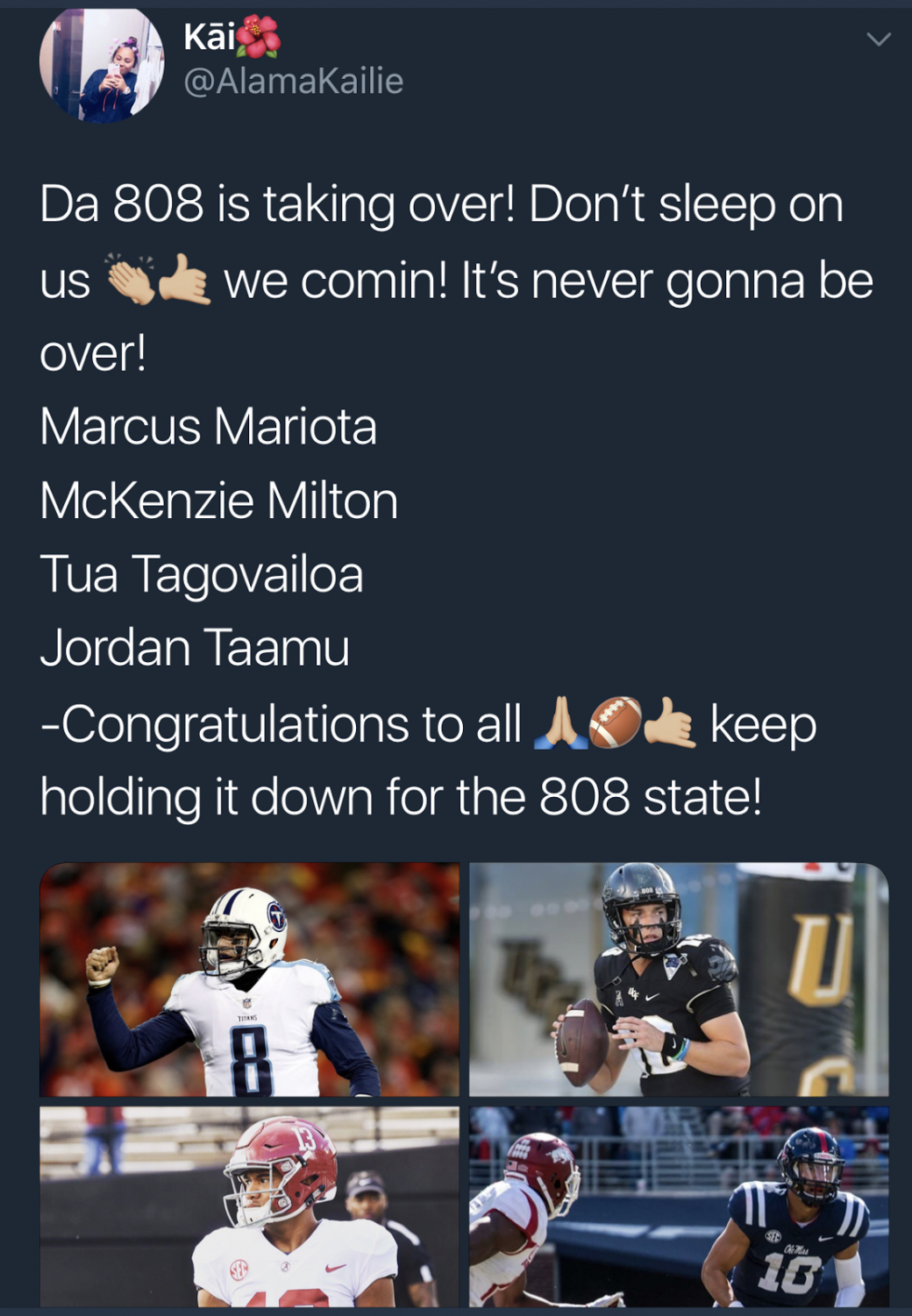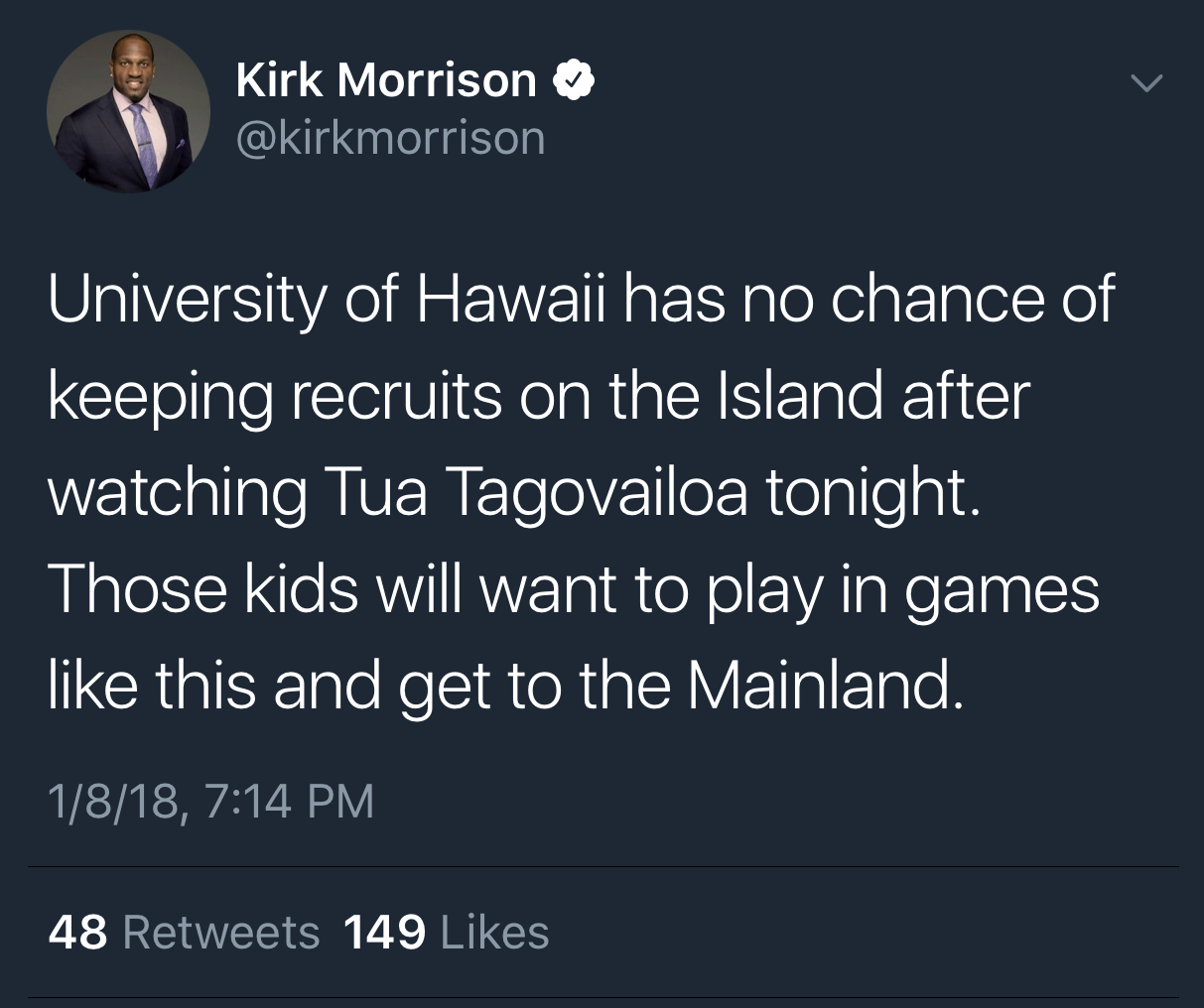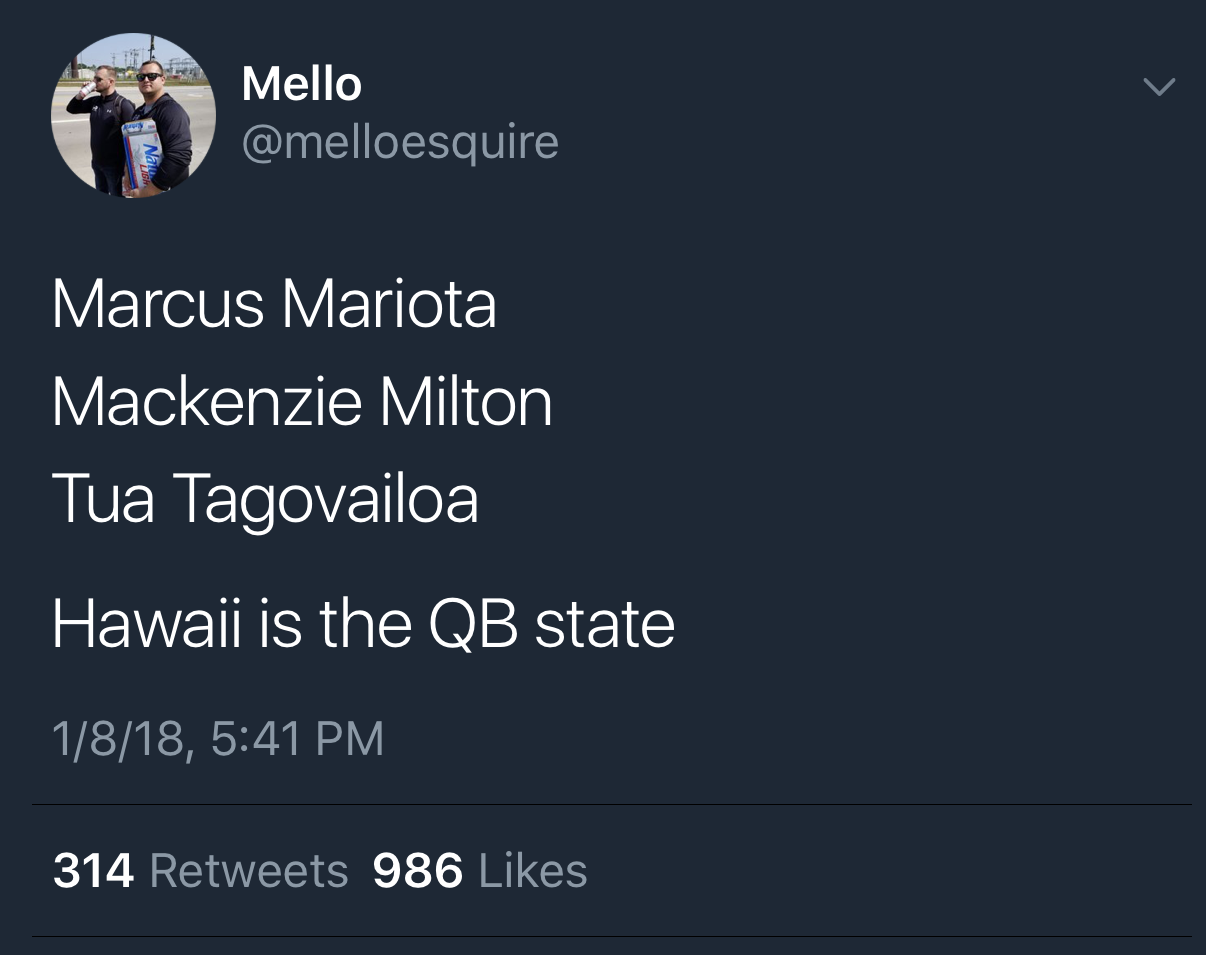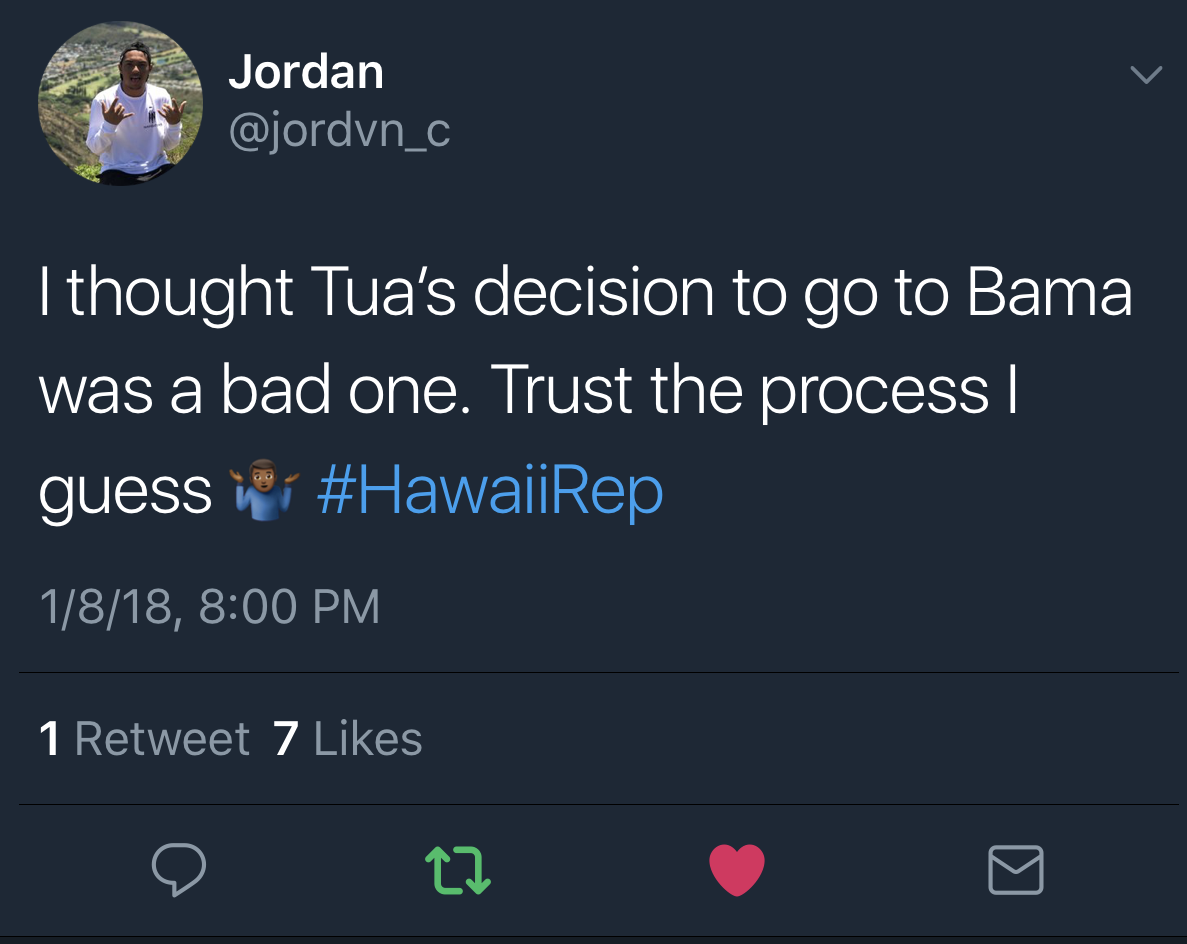 Alumni and teammates alike from Saint Louis School were proud of Tua and what he has accomplished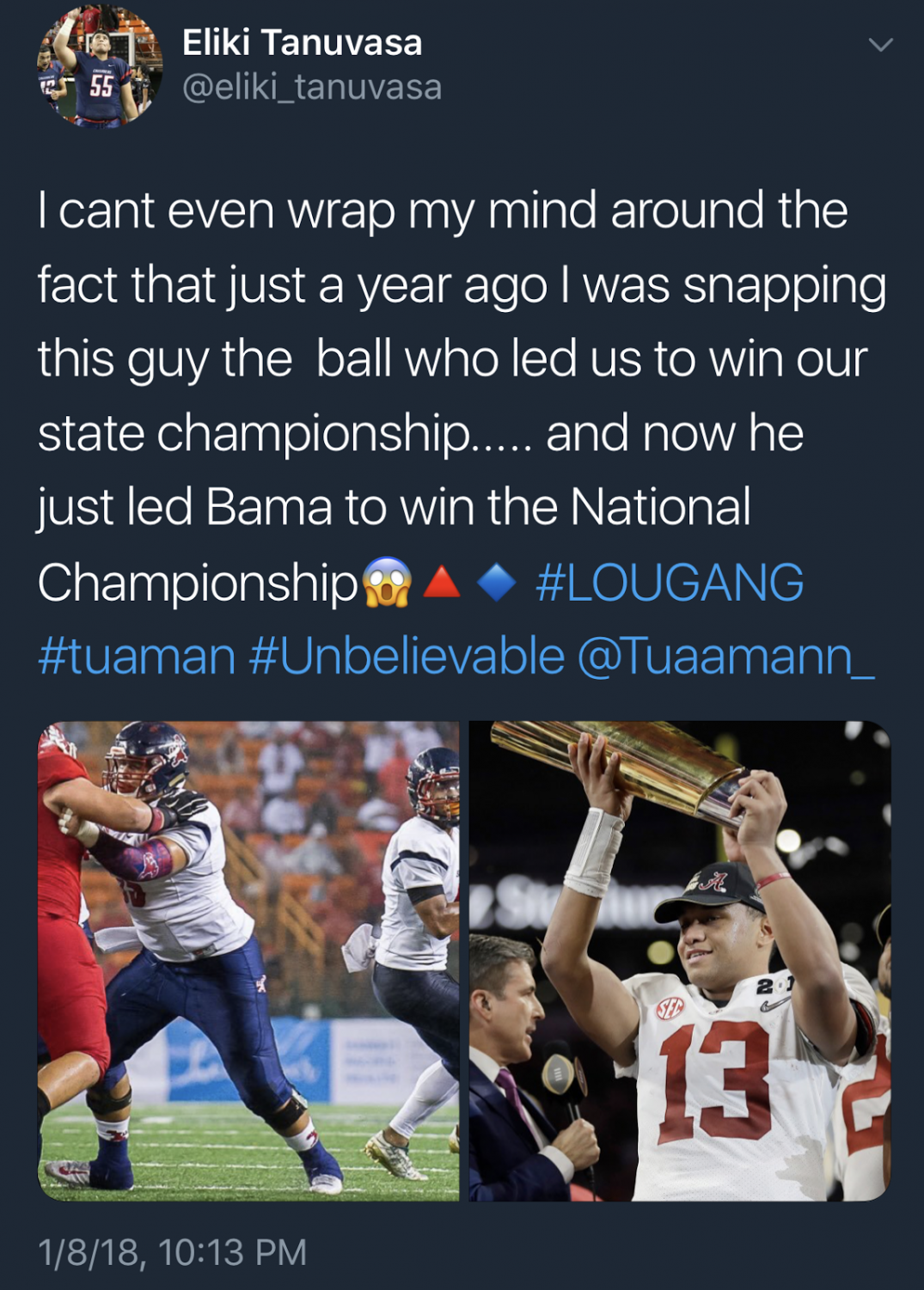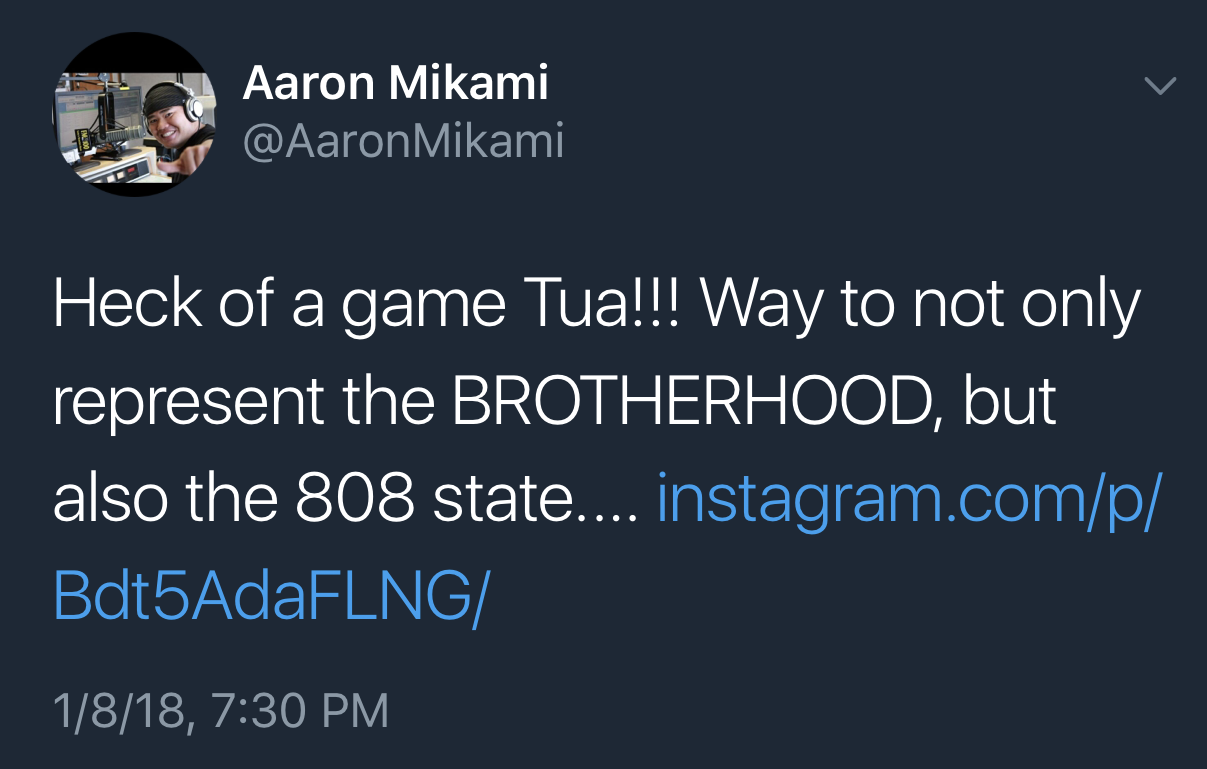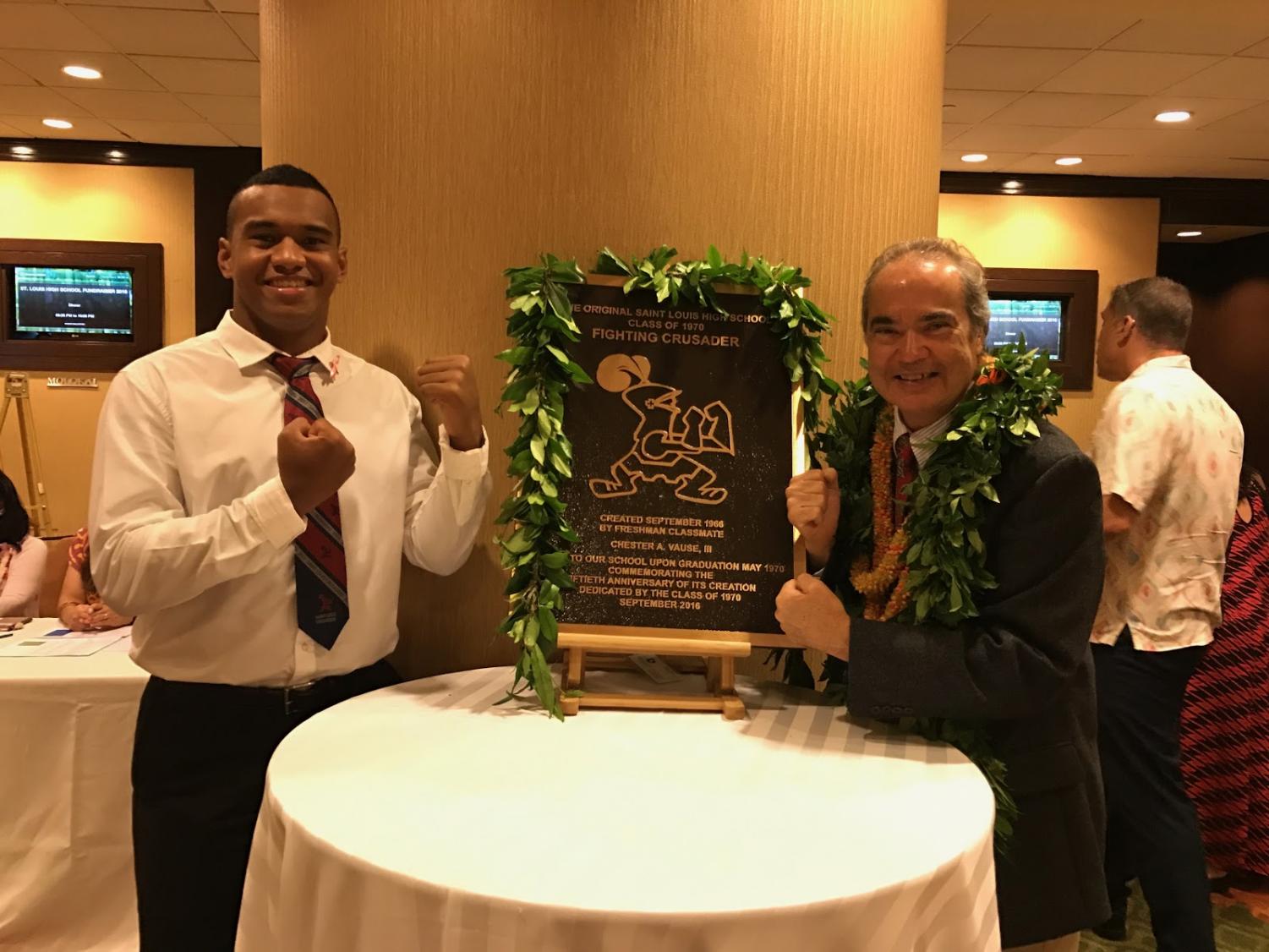 The morning after the championship at 6:30am, there were already news reporters on campus here at Saint Louis. KHON2 news interviewed students and teachers alike. The link to the interviews are here: http://khon2.com/2018/01/09/crusaders-react-this-morning-to-tuas-epic-win/
That same day, I got the honor of being in the background of an interview with FOX 10 News in Alabama. The interview was for players on our varsity football team that played with Tua last year. The video clip can be found here: http://www.fox10tv.com/clip/14039370/tua-hawaii-reax-9pm
With hard work, humble roots, and faith, Tua Tagovailoa '17 showed the nation that anything is possible. Tua showed how 'Terrific' he really is.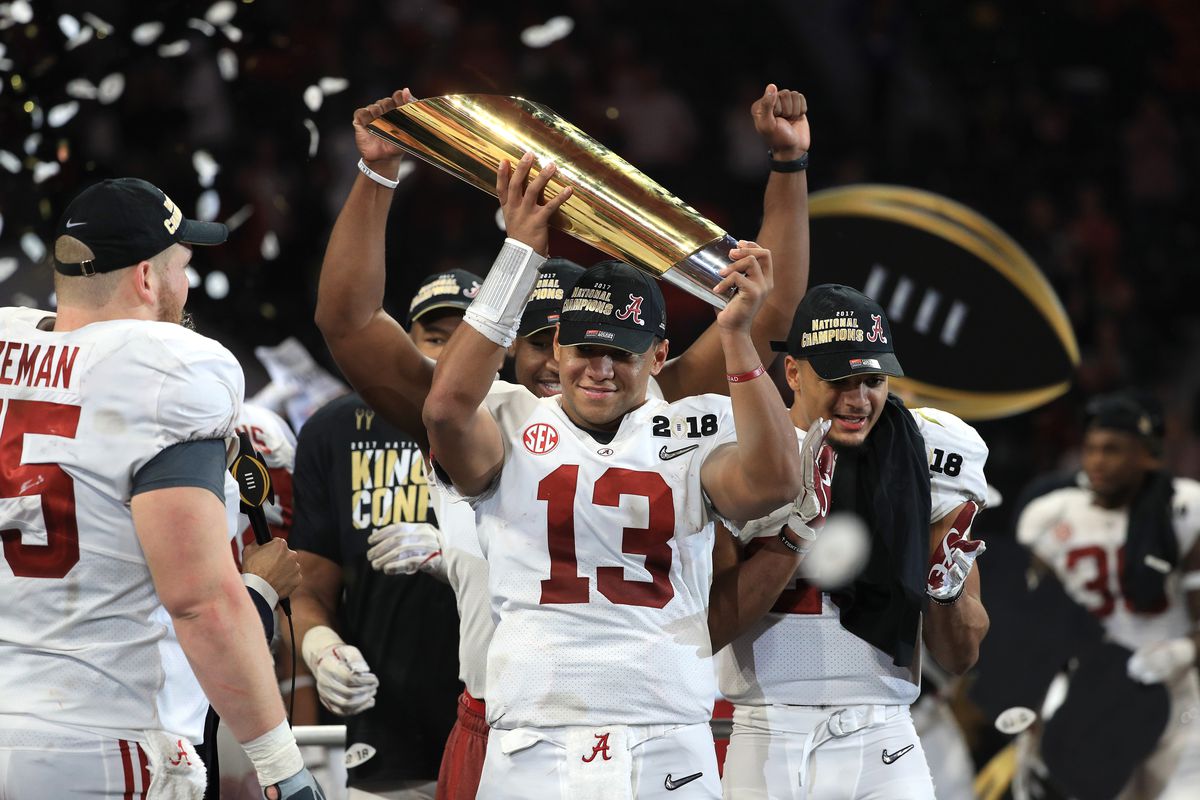 Leave a Comment
About the Contributor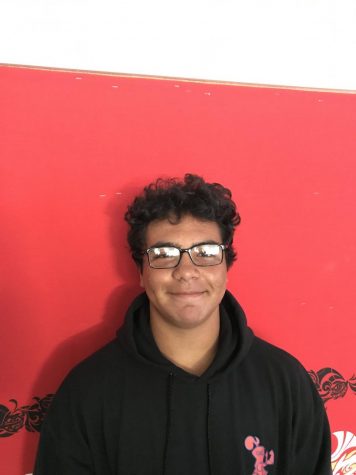 Adrian "Imai" Bates-Domingo, Feature Editor
Aloha, I am a senior and have been at Saint Louis School since 9th grade; I have participated in Football, Soccer and Track and Field. This year, I have...