President's Newsletter: May 2018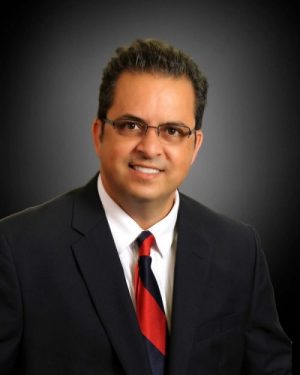 Aloha e Saint Louis School Parents and Guardians,
The 2017-2018 school year is over and on behalf of our Saint Louis School Board of Trustees, our Marianist Fathers and Brothers, and our entire team of administrators, teachers, and staff, thank you providing us the opportunity to mold your sons into gentlemen of character in the Marianist tradition of education. We take this responsibility very seriously. For that reason, each year we analyze our strengths and areas of growth based on input from parents, teachers, etc., and we adjust accordingly to strengthen the experience at Saint Louis School for everyone involved.
Last school year was successful in many ways. We continued to grow as a school approaching almost 900 students. Many young men want to attend Saint Louis School, but unfortunately, some do not have the financial capacity to do so. That is one reason why we spent last year working hard to finalize our collaboration with Kamehameha Schools with the hope of providing our Hawaiian families more financial assistance in the form of scholarships and financial aid. With that agreement now in place, those funds will specifically help Hawaiians who excel in school academically. I want to take this opportunity to thank Kamehameha Schools CEO Jack Wong for making this collaboration a reality. It is his leadership and care for Native Hawaiians throughout Hawaii that has made this collaboration possible.
In addition to helping our Hawaiian students, who make up more than 50 percent of our student population, all of our students regardless of their ethnic backgrounds will benefit from the addition of more merit-based scholarships created by several new endowments established this past year. Like the Kamehameha collaboration, these scholarships are given in large part to students who exhibit strong academic performance in school. Funds collected to create these scholarships began flowing in soon after the launch of our 5-Year Comprehensive Campaign in December of 2017. That campaign has been very successful thanks to the generous donations of those who give to Saint Louis School. Each time a new endowment is created, we slowly build up our entire collection of endowment funds. Several other schools on Oahu have very large amounts of endowments that help to provide scholarships to deserving students. Our endowments at Saint Louis School combine to total approximately 10 million dollars, which is relatively good compared to most Catholic schools in Hawaii. However, private schools we often compete with have significantly more endowment funds to work with ranging from 250 million dollars to 12 billion dollars. I have no doubt that we can build our endowment funds enough to help many more deserving families attend Saint Louis School, thus allowing us to use more of our operational funds to invest into additional programs, provide higher pay for our instructors, and improve our facilities, etc. The success of our current Comprehensive Campaign can make all the difference. When people like you support our annual appeals and important events like GODA, Grape Escape, The Drama Gala, and more, all of those efforts add up. Large individual gifts and the donation of land and wealth through planned giving have led the other schools mentioned previously to greatly increase their amount of endowments over the years. I have no doubt that we can do the same.
In regards to facilities, we celebrated a ground-breaking ceremony earlier this year for our Ching Athletic Center with the hope that the permits needed to start construction may come in earlier than expected. Although that did not occur, we continue to make progress towards attaining those permits.  Our hope is that this new facility will provide more court time for our students to practice and strengthen their skills – especially within our basketball and volleyball programs. Beyond the very successful year we experienced with our football team winning the state championship, our track and field and volleyball programs made significant improvements this year. Also, we've seen good success at the end of this school year in our basketball program with our Catholic School League teams performing at a high level. I am working closely with Saint Louis basketball legends Damien Farias and Jim Nicholson to help bring our basketball program back to the heights experienced when both those Crusaders took part in and dominated the high school basketball scene. They are true Crusaders that know what it takes to build our basketball program. Although it may take some time for us to do it, it is my belief that their help in conjunction with the creation of our new athletic center will make all the difference.
Next school year will bring more exciting additions with the start of a new collaboration with Chaminade University, who will be offering Saint Louis School juniors and seniors the opportunity to take college courses there after school at a fraction of the price that other students pay. More information about this collaboration will be coming this summer. We are also looking to expand our band and orchestra programs by adding a jazz band, adjusting instructional times being offered for band and orchestra during the school day to attract more students, and dedicating an additional classroom to our music department specifically for our new orchestra program started this past school year. Moreover, our counseling team will continue to grow next year. This team of counselors will meet with both parents and students transitioning from grades 8 to 9 and 11 to 12 in the summer to do both short and long-term planning in preparation for college. Also, given the great need for pilots in the next ten years or more, we will be taking a more aggressive approach in growing our Civil Air Patrol program at Saint Louis School. Along those lines, we plan to provide more cadet programs for all our students through reintroducing the Boy Scouts to elementary students, expanding the Civil Air Patrol for middle school and high school students and continuing our JROTC program for high school students. Finally, improvements will begin to be made to Mamiya Theater to upgrade the air conditioning system, sound, lights and more.
Next school year we will also be taking part in the accreditation process from grades K to 12 culminating with our visit in March of 2019. At the start of next school year, you will receive surveys and other questionnaires that aim to gauge what your experience at Saint Louis School is like. We look forward to receiving that data, collecting it and then utilizing that information within the self-study we are in the process of writing. We have already collected a wealth of data and will be using that over the summer to continue developing our self-study. When our teachers return to school, we will keep fine-tuning the self-study that will be sent over to our visiting team prior to December 2018. Mahalo once again for choosing Saint Louis School and good luck to the Class of 2018!
Dr. Glenn Medeiros
---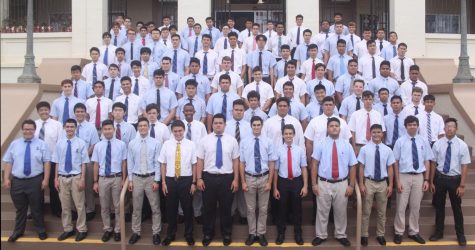 I present to you our class of 2018.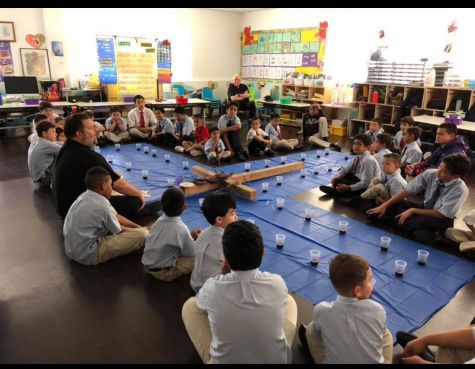 When teaching young men, it's always good to make lessons visual and kinesthetic in nature.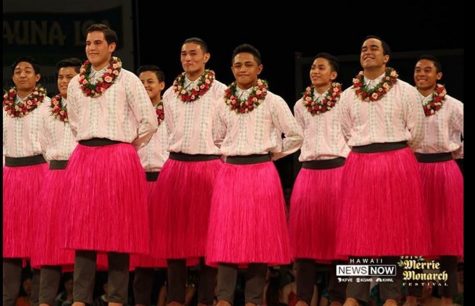 Our Saint Louis 'ohana beamed with pride when seeing our Crusaders perform at the Merrie Monarch Festival.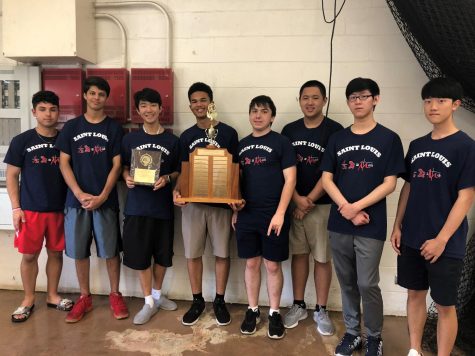 Our Math team, led by Mrs. Abreu, performed extremely well in the Oahu Math League competition.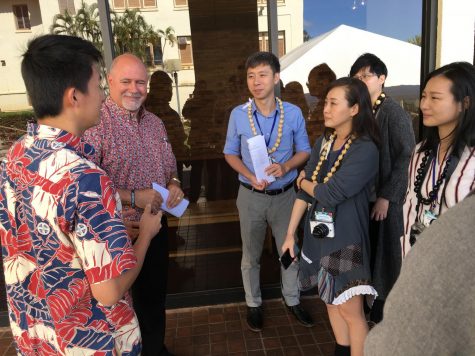 Our international students spoke in Chinese while taking our Chinese visitors on a tour of Saint Louis School. Our guests were very impressed!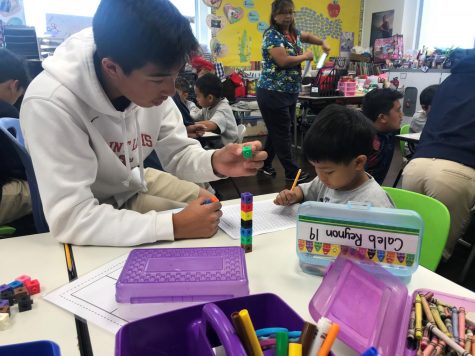 We continue to provide opportunities for our upperclassmen to bond with their little brothers.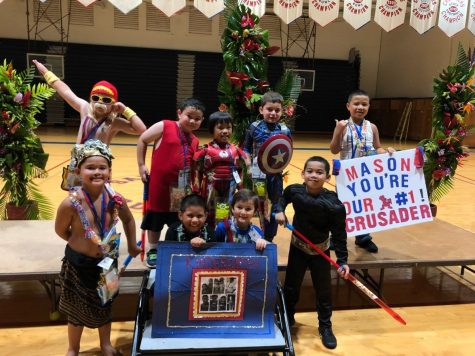 This year's Mr. Crusader Contest consisted of students in our elementary school. They were amazing!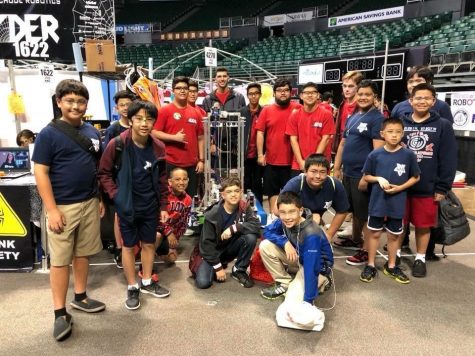 Our high school robotics team took part in competitions locally, nationally and internationally this school year.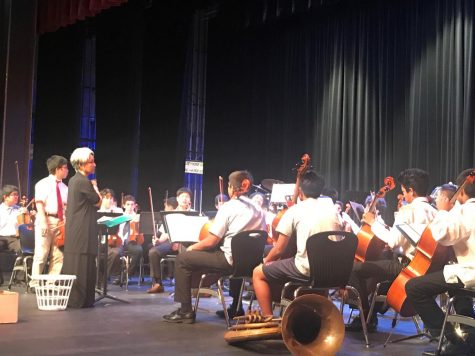 We were able to start our strings program thanks to help from the Class of 1947.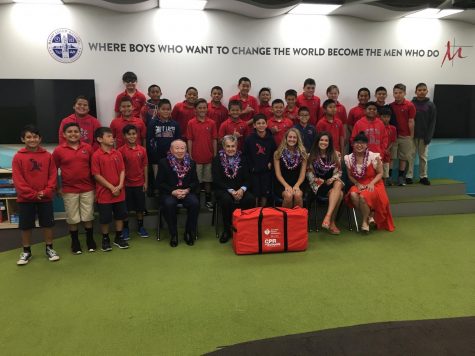 Dr. John Henry Felix and Dr. Lawrence Tseu kindly donated safety kits for our elementary school. Both are graduates of Saint Louis School and continue to give back to their alma mater.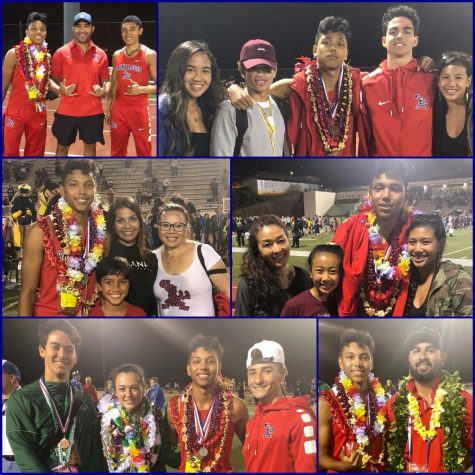 Our Track and Field athletes ended in the top three overall in this year's state competition.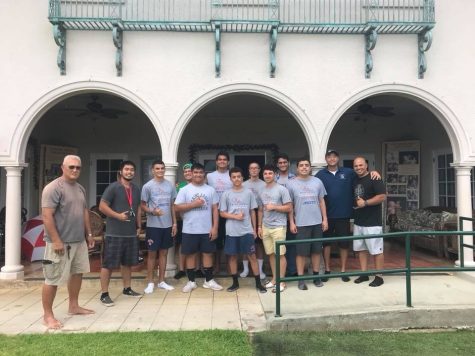 Our JROTC cadets gave of their time recently to prepare food for others at the Ronald McDonald House.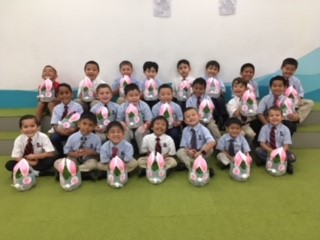 These Keiki Crusaders look so handsome with their ties on!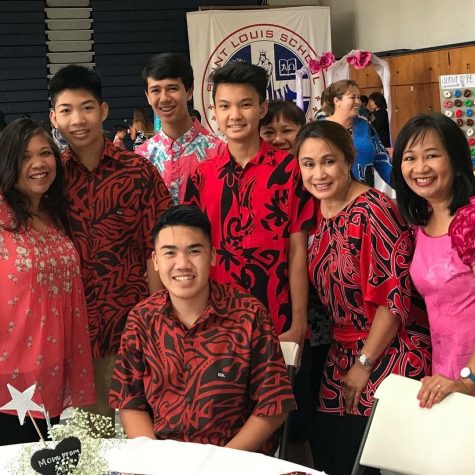 Here's a picture from Mother and Son day, otherwise known as "The Mom Prom."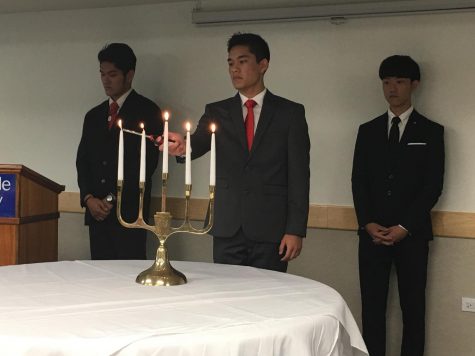 This year's NHS ceremony was well done!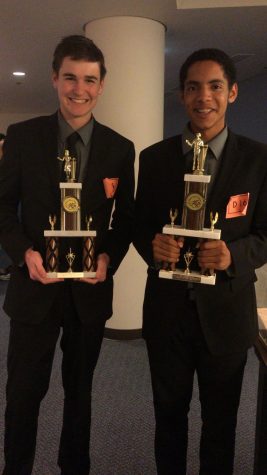 These two talented gentlemen took home 3rd place trophies in the Hawaii Speech League State Tournament.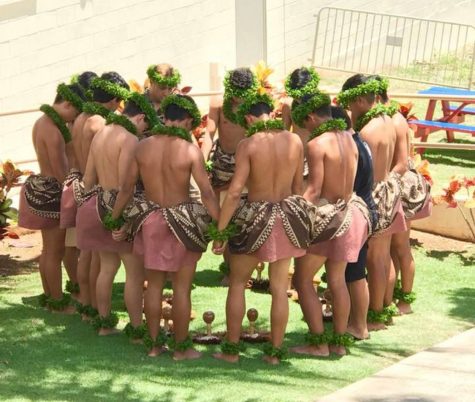 I appreciate how Kumu Keliʻi always prays with his students before and after performing.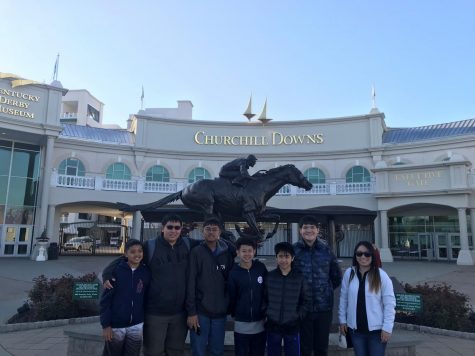 Our Middle School robotics team visited Churchill Downs while in Kentucky for another robotics tournament.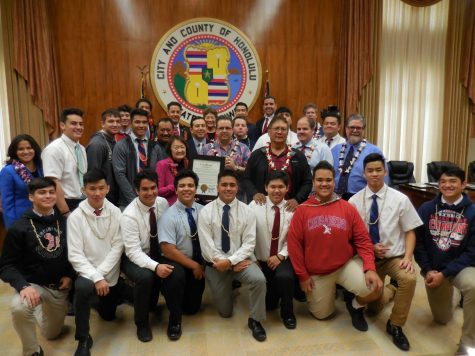 Here our football team poses with members of our Honolulu County Council.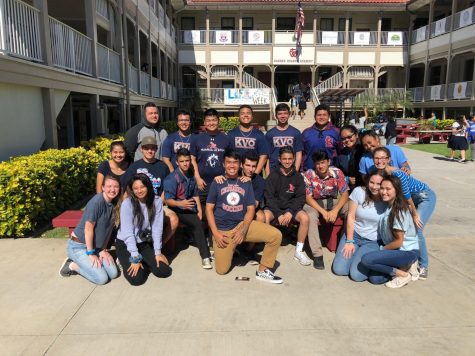 Pictured above are LIFE Team members of both Saint Louis School and Sacred Hearts School.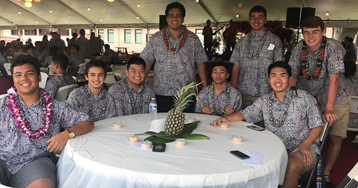 This year's Senior Luau was excellent – especially with Kapena there for entertainment and delicious Hawaiian food.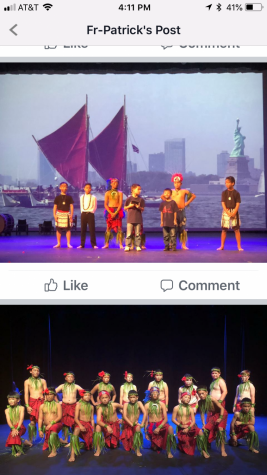 This year's May Day program at our elementary school was beautifully done.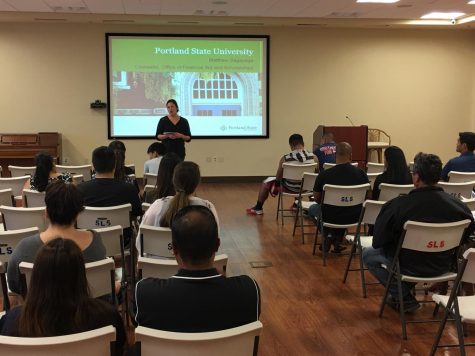 In this picture, parents attend a presentation by our college counselor in the Tseu Presidential Suite.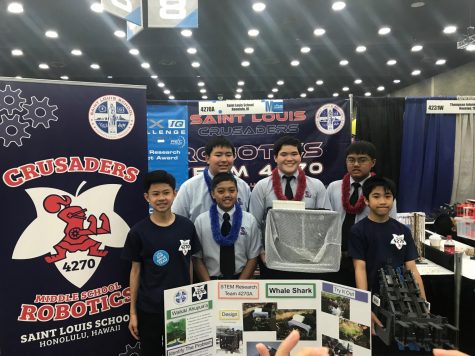 Our Middle School robotics team experienced their share of success locally, nationally and internationally!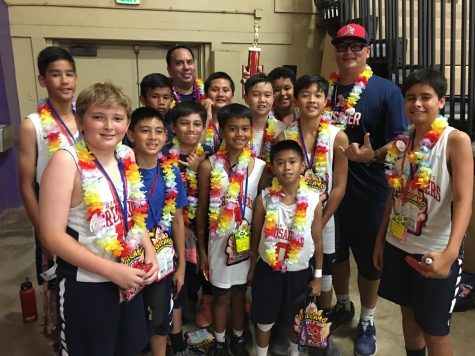 Congratulations to the young men of our Catholic School League basketball team that won 2nd place overall.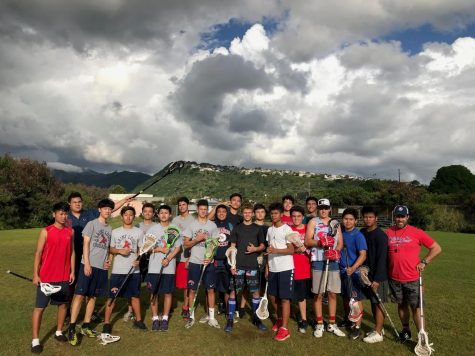 Our first Crusader lacrosse team is pictured here! They did quite well for their first year of competition!
Here our Keiki Crusaders are enjoying themselves on a field trip.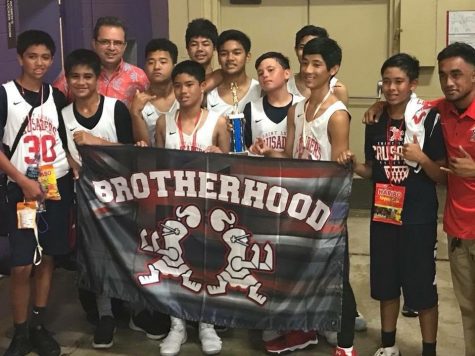 Above, this Saint Louis Catholic School League basketball team came in 3rd place overall.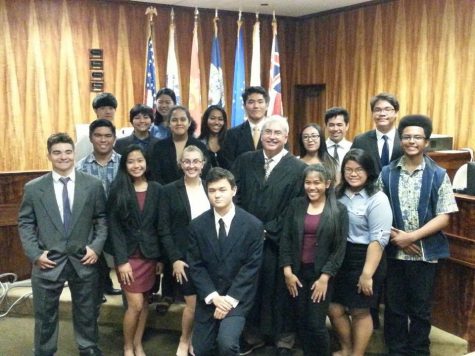 Our Crusaders also took part in Mock Trail competitions this year.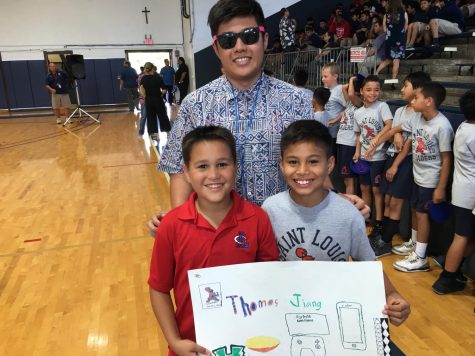 The last assembly of the school year featured the seniors who were presented gifts by their Keiki Crusader brothers.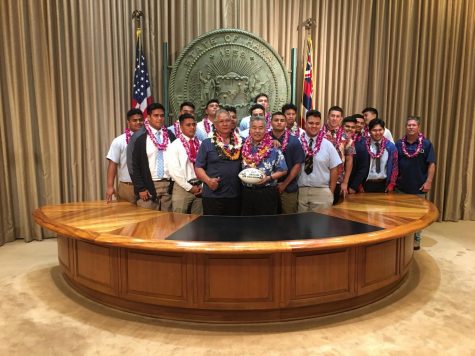 Governor Ige continually praised Coach Cal and his players for a great job on the football field.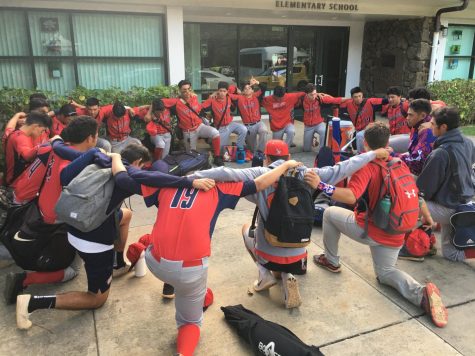 It is not uncommon to see our athletes praying together before and after games.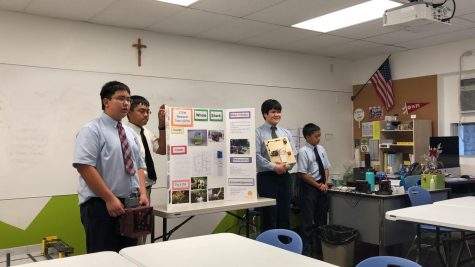 Our middle school students created a spectacular presentation for others to see about a robot they created.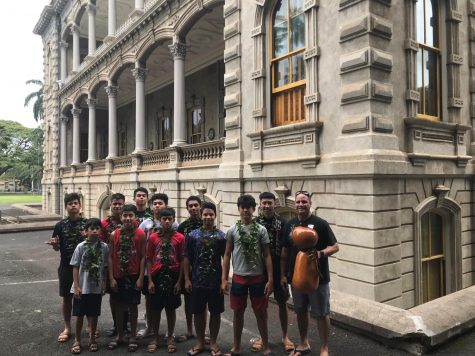 Kumu Keliʻi took his students to ʻIolani Palace to learn more about Hawaiian culture and history.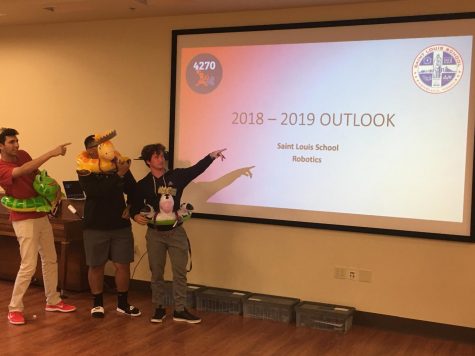 These senior robotics students pose after receiving gifts in appreciation for their contributions in robotics.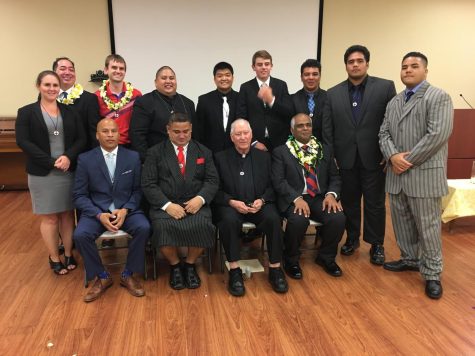 Our Kairos team helped to create an inspiring experience for many of our seniors.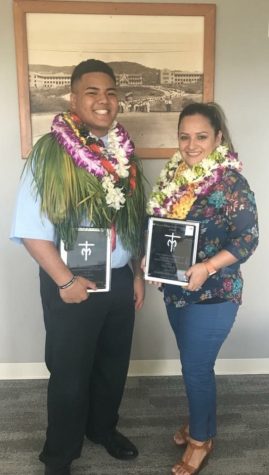 These two individuals received the highest award given at Saint Louis School – Our Father Chaminade Award.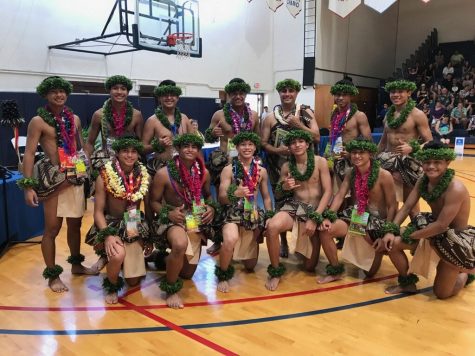 Congratulations to Kumu Keliʻi for winning several categories of the 2018 Malia Craver Hula competition.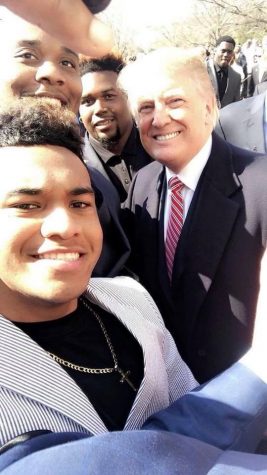 Tua Tagovailoa c/o 2017 is pictured here with the President of the United States after winning the NCAA National Championship in football.