Cordeiro Makes A Name For Himself
Hang on for a minute...we're trying to find some more stories you might like.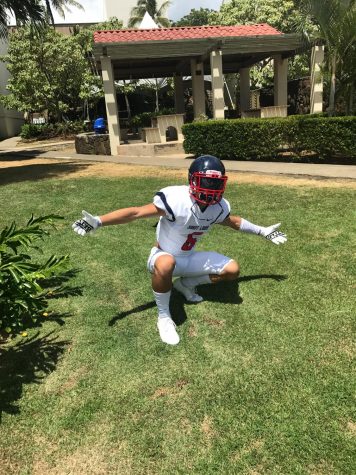 More stories from Kainalu Reyes-Hackney
After winning the state crown last year and having a very successful season, the Crusaders were left adrift when senior quarterback Tua Tagovailoa graduated. Although the Alabama commit has left, the Crusaders still have major talent in senior quarterback Chevan Cordeiro. Cordeiro received an offer from the University of Hawaii in the offseason and later committed to the Rainbow Warriors, but many people still had questions about his ability to play. Finishing the last two games with a total of 5 touchdowns and 316 passing yards has surely seemed to answer those questions.
"Now that I have the starting role, I can take what I've learned from these last two years and show all the doubters what I've got," said Cordeiro when asked about how it feels to finally be the starter. Although he has only played one half of each game, he lead the Crusader offense to a total of 68 points. Putting up this many points, however, has not satisfied him. "Even though the offense was moving the ball, and scoring, I still made bad reads, and threw some bad balls."
Cordeiro has waited all offseason for his chance to prove himself to all those who have doubted him. With the short time he had in both games, he has performed well enough to instill that feeling of confidence in the Crusaders quarterbacks, that all fans and players had last year. Cordeiro can next be seen slinging the rock against the ILH defensive powerhouses Kamehameha and Punahou, as well as nationally ranked Narbonne High School of Gardena, CA., who is ranked 68th in the nation according to Max Preps.