Merrie Monarch Returns with Live Audience
After two long years, spectators are looking forward to returning to the Edith Kanaka'ole Stadium to watch this year's Merrie Monarch Competition.
Auntie Luana Kawelu, the Merrie Monarch President, explains how difficult it was to not have an audience in 2021.  "It was difficult for all of us," notes Kawelu,"especially for the participant's families and friends not being able to attend. We were grateful to have the live event continue in 2021 though."
Kawelu is excited to have spectators back for this year's event.  "Now that Covid is starting to ease in 2022 it's a blessing we can get a step closer to getting back to normal. I know the Kumu Hulas' are excited. The craft Fairs will return as well as the parade and Ho'ike night. Tickets will be sold on our Merrie Monarch website for all interested." adds Kawelu.
Amy Kalili, Co-Producer of the Merrie Monarch, enjoys being a Co-Producer for the Merrie Monarch.  "For me it's the preparation for this big event," notes Kalili, "Watching the participants preparing to put on a show is Maika'i. With Covid it was hard but we found ways to make it work." notes Kalili.
Kalili explains how hard it was without an audience in 2021.  "It was sad to be honest. There was no electric buzz that usually happens every year." The pandemic required many changes to the popular Hula competition.  "The big difference though was for the participants they focused more on their performance towards our judges rather than the crowd. Overall it was a bummer for all of us." adds Kalili.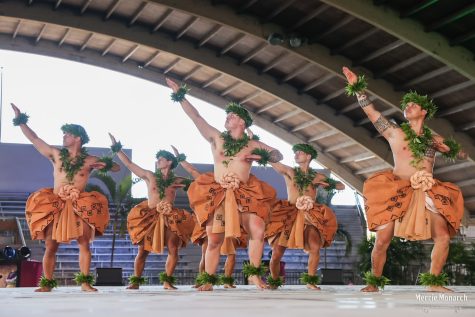 Noenoelani Zuttermeister, UH Manoa Music Department Lecturer, describes her experience as  a judge for the Merrie Monarch Competition.  "It's an amazing experience. I'm so proud of these Kumu and their haumana (students), to see them dance, and their caliber is wonderful." Culture is the most important thing to those who participate in the Merrie Monarch.  "Whether the stadium is full or not, they dance with the same desire and love for their culture." notes Zuttermeister.
Zuttermeister recollects the struggle that both the participants and their usual 5,000 spectators faced without a live audience.  "Man, it was an experience that I never could have imagined would happen. Without the cheers it was sad. It was enough for the event to be enjoyable though in my opinion, with the small businesses that came and made their own little mini-market." recalls Zuttermeister.
As the Halau from Hawaii and across the globe prepare for this year's competition, the excitement grows. Both the live and viewing audience are making plans to watch this popular event as Merry Monarch returns to normalcy and the celebration of hula continues! 
Leave a Comment