Arquette Named 2022 State Basketball Player of the Year
 Saint Louis star-athlete, Aiva Arquette, has taken the state by storm. The Senior Forward was a dominant force throughout the 2022 Varsity Basketball season, on both sides of the ball. With hard work and dedication, Arquette was instrumental in leading the Crusaders to capture the Division 1 State Basketball Championship title. It was a dominating victory over the Mililani Trojans (57-34), with Arquette finishing with a big "double-double" finishing with 10 or more stats in any two out of five categories (25 points and 12 rebounds) and named the Impact Player of the game. 
Scoring Live recently named "Aiva Arquette as "the 2021-2022 State Basketball Player of the Year.". The 6'4" forward was all over the court throughout the season, especially during the championship game, highlighting a monstrous two-hand dunk over two defenders during the second quarter. "It was the heat-of-the-moment type of thing. It was special," recalls Arquette. His dunk-shot got the crowd pumping as the Crusaders took a 20-2 lead.  
Arquette was a workhorse for the Crusaders this year, averaging 17.3 points per game on 60% free throw shooting. However, his best game came when he needed it the most, with Arquette putting up twenty-five points on the scoreboard, including twelve rebounds, two assists and two steals to seal the deal. "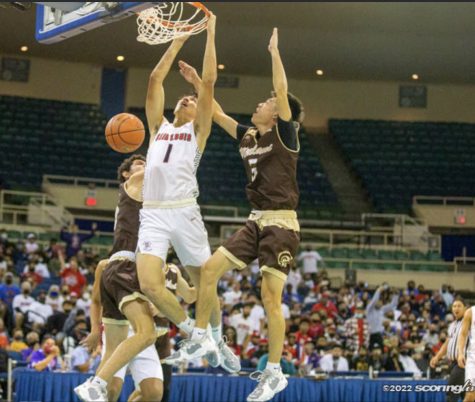 Aiva just took it to a new level" recalls Crusader Varsity Head Coach, Dan Hale. Through the course of the night, the Crusaders jumped out to a big 13-2 end of the first quarter with Arquette scoring eight of the points on the scoreboard. "He was the spark that started for us to run," explains Senior Forward/Center teammate, AJ Bianco.
The basketball season was fortunate enough to play out a full season. The Crusaders finished the season 20-2, with an 11-2 in league play. 
Arquette now head's onto the baseball diamond as he and the Crusaders are currently dominating the 2022 baseball season. The Kailua native is also an outstanding shortstop and will continue next year at the University of Washington – Home of the Huskies, on a baseball scholarship.