100 Years Of The Collegian
School newspapers are a great way to get caught up on all the events/activities that have been going on in school, very similar if not the same as a typical newspaper. It's a way in which students can express themselves about specific topics and issues. If you're reading this, you know that Saint Louis School has its school newspaper named the Collegian, which is student managed and ran. This year marks the 100th anniversary of the Saint Louis Collegian newspaper, and it's a huge landmark and milestone for the school. It is astonishing knowing that the Collegian has been up and running for so long.
The first issue of the St. Louis Collegian was published by seniors in June 1919, under the direction of Brother Elmer Benderritter. In 1922 the Collegian became monthly, discussing both school and national news. The format of the Collegian was that of a magazine; it wasn't until ten years later that it was changed to a newspaper. In 1929 it took on newspaper format under Brother Adrian Keoho. Originally a manual press was used in the Brother's printshop. However, the paper obtained more equipment including a linotype. The new material was bought through a 1929 fundraiser where 50 thousand Christmas cards were sold. Designed by Brother Nicholas Waldeck, these cards are prized by today's collectors of old Hawaii artwork.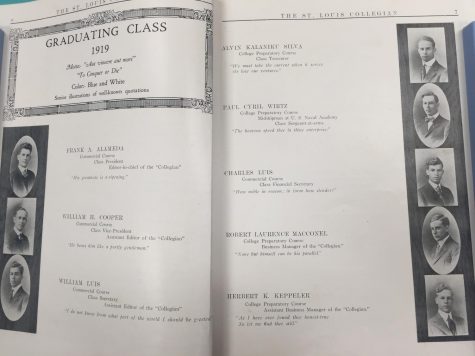 This year's journalism class consist of 16 staff members, most of us being writers and a hand full being editors. We cover an array of topics like football games, but also significant social and political matters. Writing for the Collegian helps us think critically, creatively, and perceptively. We learn the characteristics of a Marianist education and get to carry out those characteristics.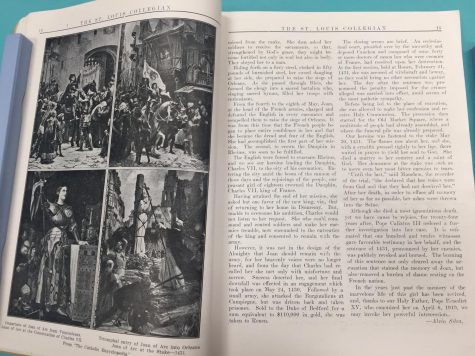 I am glad to be a part of and write for the Saint Louis Collegian newspaper, and can't wait to watch it flourish for many more years to come.