Good Will Hunting: The Story of a Young Man's Struggles (A Throwback Movie Review)
Being one of the best films coming out of the 90s, Good Will Hunting is one of those films that will never get old. You don't need to go to the best school in the world to become educated. Sometimes the smartest students aren't even enrolled in a school. These statements are true in the 1997 film Good Will Hunting. This film follows a young genius Will Hunting (played by actor Matt Damon) trying to find his place in the world, but first, he needs to find out who he is.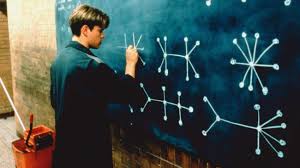 Will lives in a rough, low-income, neighborhood in Boston. He spends his free time hanging out with his buddies, drinking, and getting into trouble. Since Will can't afford to go to school, Will works as a construction worker with his best friend (played by actor Ben Affleck), as well as a janitor at MIT. When Will is working as a janitor, he spots a postgraduate math problem on a blackboard. He ends up solving the problem but gets into trouble by Professor Lambeau (Stellan Skarsgård), who is a math professor at MIT. Professor Lambeau sees Will's potential as a prodigy in mathematics and sends him to therapy with Sean Maguire (Robin Williams) to help him assimilate into everyday life and not be a menace to society. In the end, Sean Maguire was able to help Will realize his potential and move away from his comfort zone.
Good Will Hunting is a phenomenal film and one of the best to have come out in the 90s. It was nominated for 9 Academy Awards and won Best Supporting Actor (Robin Williams) and Best Original Screenplay (Ben Affleck and Matt Damon). Gus Van Sant directed a beautifully made film about a working-class kid with a genius IQ. Good Will Hunting is a timeless film because of the lessons learned throughout the story. The acting by Robin Williams, Matt Damon, and Ben Affleck was incredible throughout this film. They were able to portray a true and believable story because of their script, which was written by both Matt Damon and Ben Affleck, and also their knowledge of Boston as they are locals to the area. From the acting to the screenplay, to the moral of the story, Good Will Hunting is a true classic that many people can relate to as far as struggles through poverty, love, and relationships. This is definitely a movie that I recommend everyone to watch at least once in their lifetime.