President's Newsletter – December 2017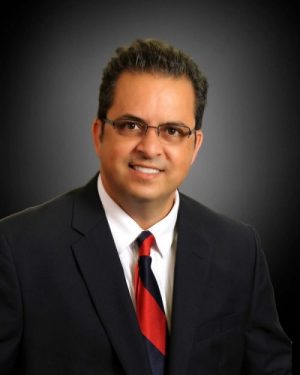 Aloha e Saint Louis School Parents and Guardians,
The end of the 2017 year is upon us and there is much to be thankful for at Saint Louis School. Our commitment to our Characteristics of a Marianist Education continues to endure as seen in the pictures provided in this newsletter. Furthermore, our student learning expectations outlined in the form of our 6 A's embedded in our school's mission guides our teachers as the mold boys into Saint Louis Men.
In the past two months, two major agreements were signed and our Comprehensive Campaign to raise funds for Saint Louis School was launched. The first agreement represents our new relationship with Kamehameha Schools as they recognize our commitment to providing opportunities for all our students to learn Hawaiian language, culture and the arts at Saint Louis School, culminating in select students graduating as part of our Hawaiian Academy. This agreement expands upon the current Kipona Scholarship offered to many of our Native Hawaiian students, which makes up a significant percentage of our student population. The second agreement that was recently finalized is one that was originally started in 2013 with the Clarence T. C. Ching Foundation and Chaminade University to build our new Clarence T. C. Ching Athletic Center. Since that time, a newly adjusted agreement with an attainable timeline allowing us to start construction of the new gym in early 2018 was passed.
Finally, our new Comprehensive Campaign was launched in early December to help raise funds in three different areas of need: Facilities, Tuition Aid, and School Programs. Since that time, people have been generously helping our school in the form of donations and we are very appreciative of that. This initiative will last for five years with the hope of ensuring that we can continue to provide a Marianist education to students at Saint Louis School for many years to come.
Memor et Fidelis,
Dr. Medeiros
---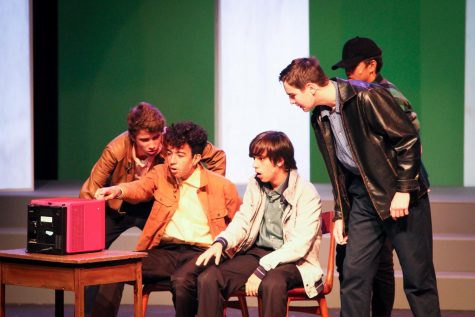 Several of our Saint Louis School students performed in the play Sister Act at Mamiya Theater.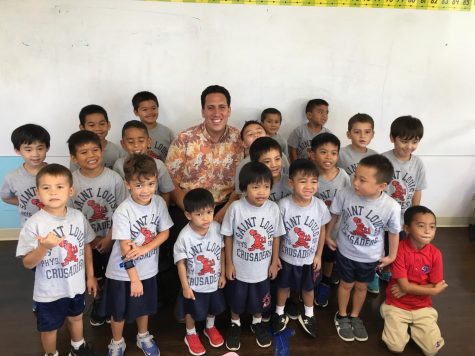 Saint Louis graduate and Hawaii State Representative Jarrett Keohokalole visited our elementary school.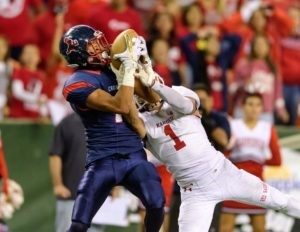 Senior wide receiver, Jonah Panoke, makes an incredible catch to propel our Crusaders to another championship!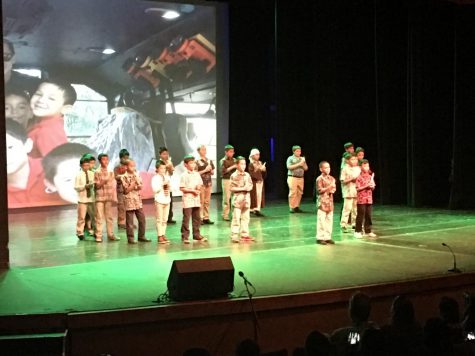 Our elementary school Christmas program was a big hit!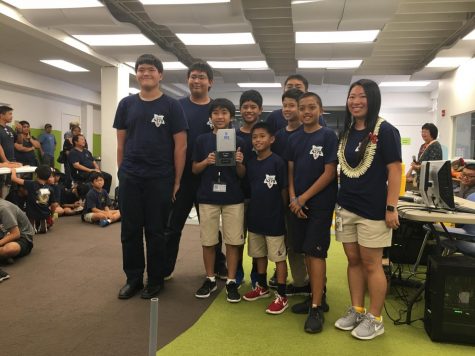 Ms. Fung and her Middle School robotics team won first place in several categories of a recent VEX competition held on our very own Saint Louis School campus.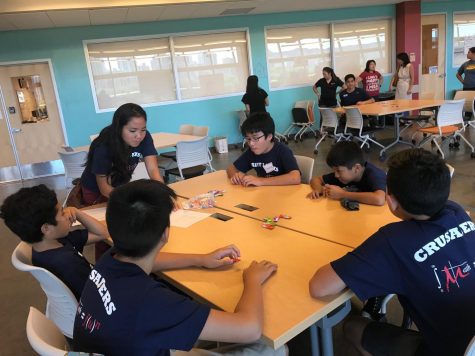 Our middle school Math team performed very well at a recent math competition thanks to Ms. Hirokawa.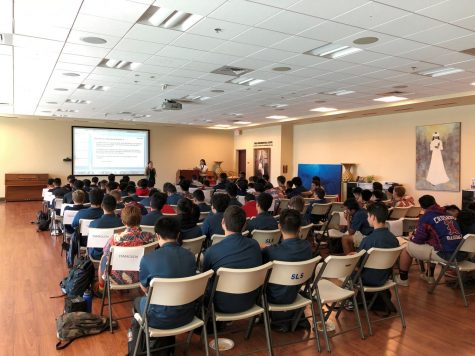 Thanks to our business teacher, Mr. Keogh, and SLS graduate, Ray Tam, our entrepreneurial series continues.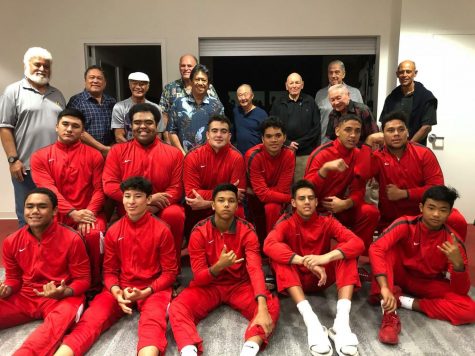 Our current basketball team had the pleasure of recently meeting SLS graduates who won the State Championship in basketball during their years in high school
Captain Casupang, Lt. Col. Green and others shared a special evening with our Civil Air Patrol cadets at a recent event.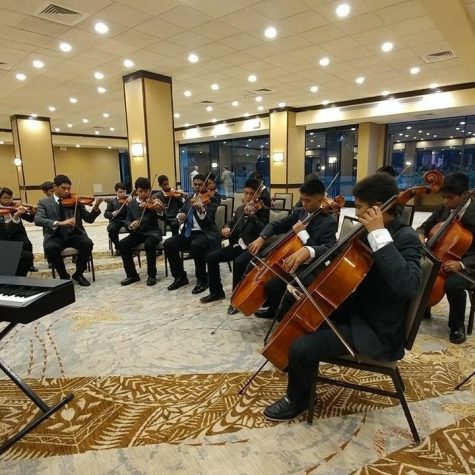 Students in our new strings program shared their talents with those attending our GODA event.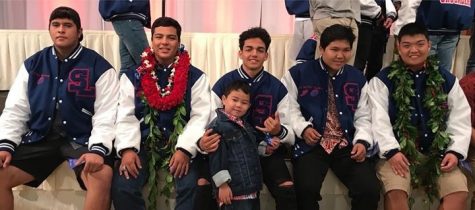 At the recent Football Banquet, several of our football players with their Crusader brother who is a kindergartner at Saint Louis School.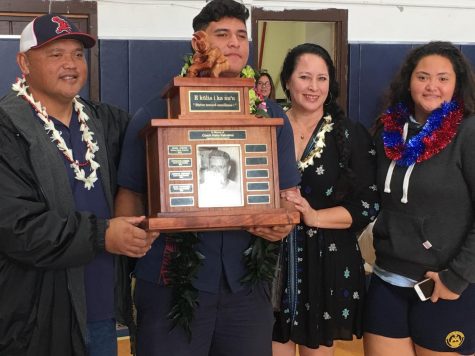 Here with his family members, Eliki Tanuvasa won the award for best high school football lineman in the State of Hawaii!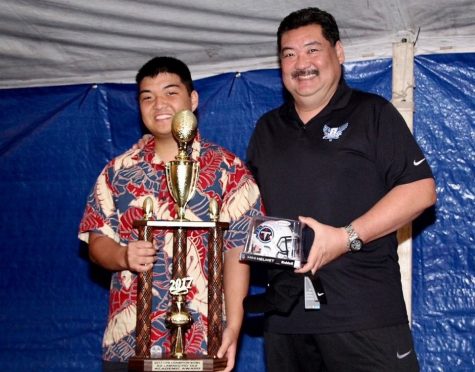 Peyton Yanagi recently received an award for his great accomplishments as a student-athlete from Marcus Mariota and his Motiv8 organization.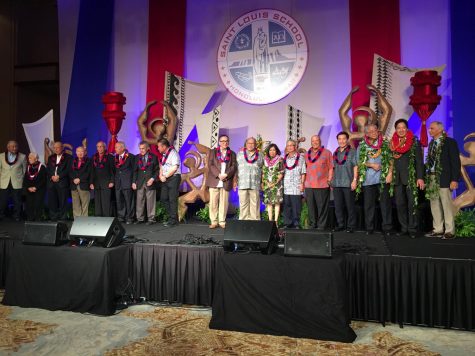 At each Gallery of Distinguished Achievers (GODA) event, all past GODA recipients share the stage to welcome everyone.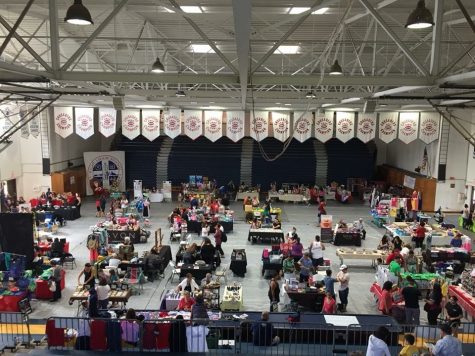 Our senior parents who raised funds for Project Grad 2018 did a fantastic job at our SLS Craft Fair in McCabe Gym.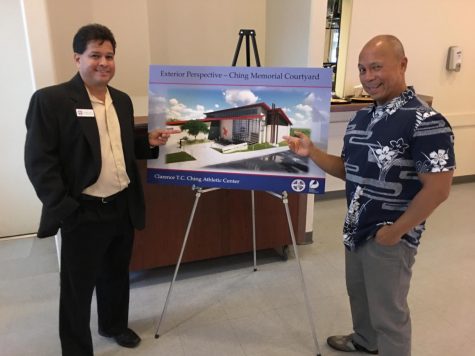 Dr. Scotty Gonsalves and Ray Abregano presented the latest design to our new Clarence T. C. Ching Athletic Center.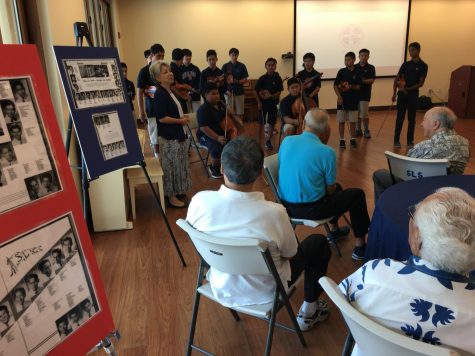 Members of the Class of 1947 visited the Tseu Presidential Suite in the Clarence T. C. Ching Learning and Technology Center as students in our strings program performed for them.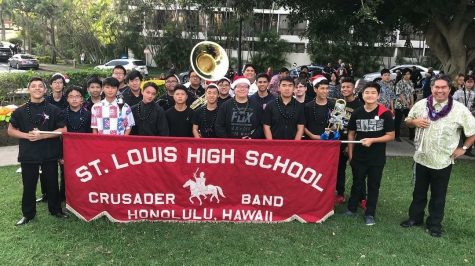 Hawaii's oldest high school band, the Saint Louis School band participated in this year's Kamuki Parade.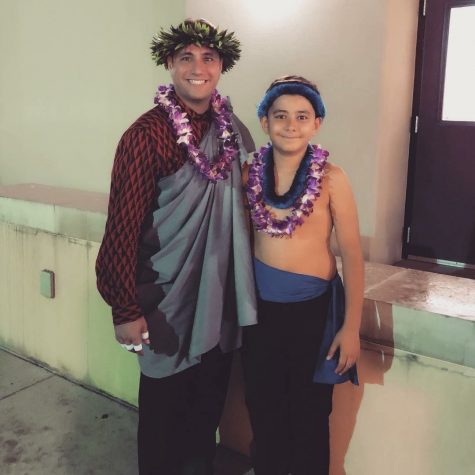 Kumu Puchalski took a picture with his son immediately after a sold out concert for our Hui Na Opio!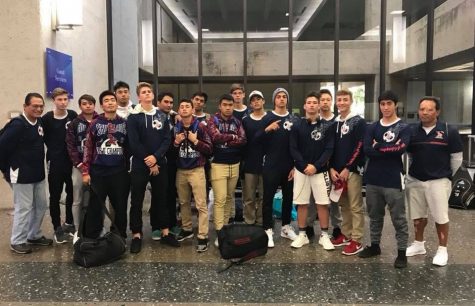 Our soccer team recently challenged several teams on the Big Island prior to starting their regular season and they are off to a good start after their victory over ʻIolani School.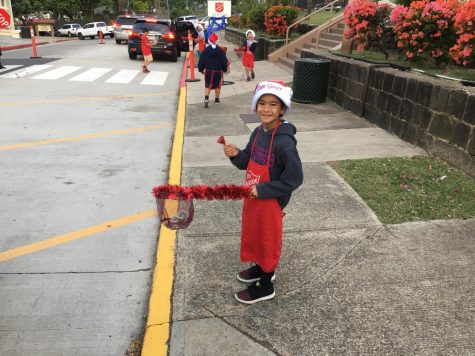 For several years, Saint Louis School students take time from their schedule each morning to greet parents and raise funds for the Salvation Army.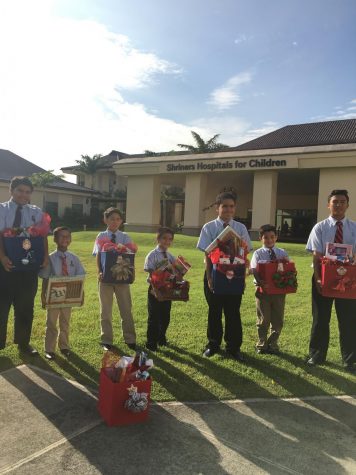 Many of our Crusaders provided gifts to keiki receiving medical services at the Shriners Hospital.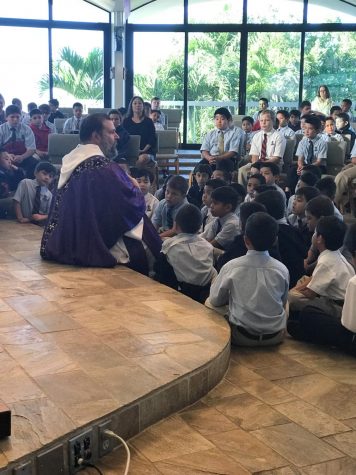 Father Pat spends time in the Mystical Rose Chapel sharing the teachings of the Bible with our  Crusaders.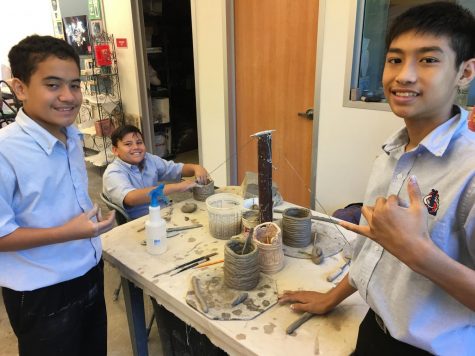 Mr. Amerino's class is always filled with students having fun while creating beautiful pieces of art.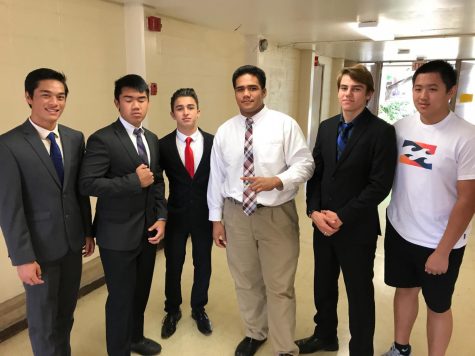 Our Congressional Debate Team showcased their communication skills at a pre-season tournament at McKinley High School.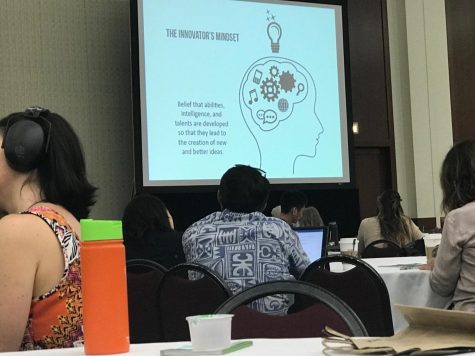 All of our teachers at Saint Louis School attended the Schools of the Future Conference at the Hawaii Convention Center.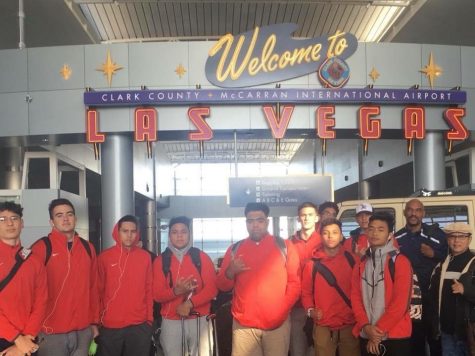 Our basketball team just visited Las Vegas to play several very strong mainland teams as they prepare for the upcoming regular season.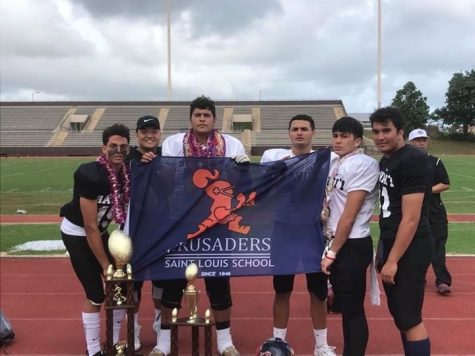 The 3rd Annual Life Champion Senior Bowl took place on Kauai at the Vidinha Stadium and several of our Crusaders took part in it!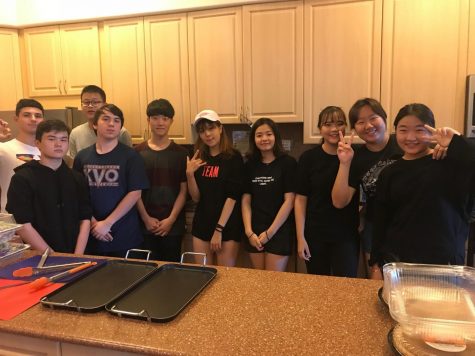 Crusaders and Lancers alike joined forces to prepare food for families staying at the Ronald McDonald House.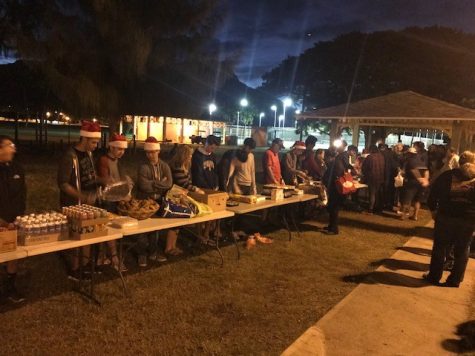 Our Crusaders got up early in the morning to share food and beverages with those who are homeless in Waikiki.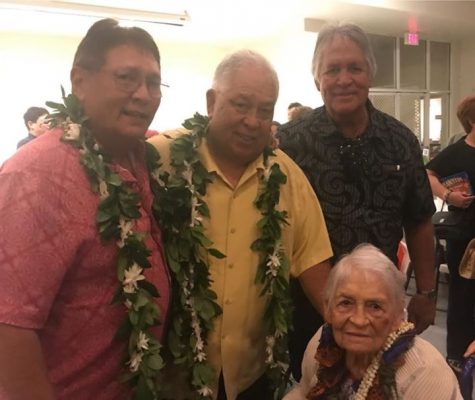 At our Saint Louis Alumni Association Christmas Party, the Lee family was honored for their contributions to Saint Louis School on and off the field.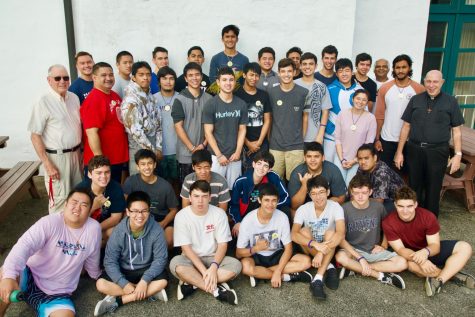 Pictured here are Seniors spending time with Bishop Silva at our Kairos Retreat.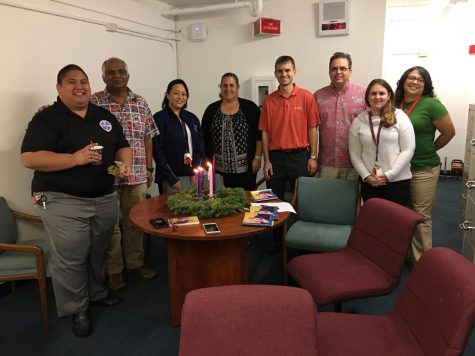 Mahalo to Mr. Casupang for sharing his office with our faculty and staff each morning to pray during Advent season and to share in coffee and pastries.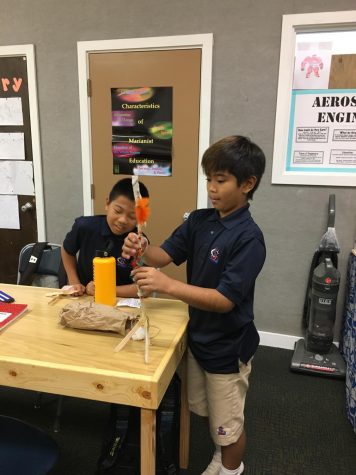 Our middle school students are pictured here learning through kinesthetic (hands-on) activities.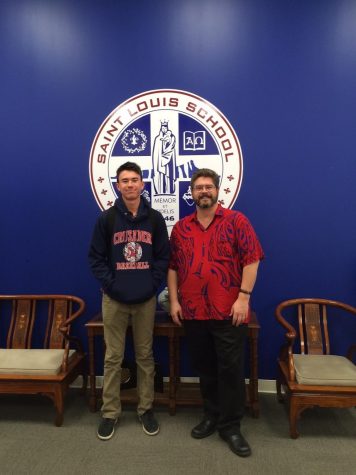 Mr. Cambareri is pictured here with Jacob Mamiya, who won the State Championship of last DAR essay contest.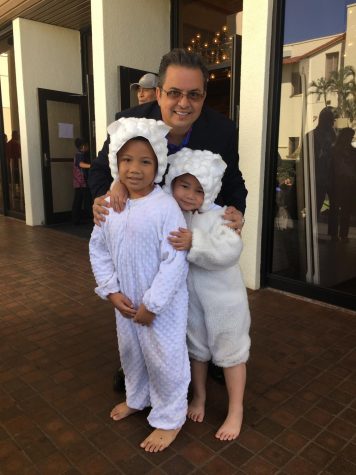 These elementary school students dressed as sheep as part of their recent Christmas play at Mamiya Theater that stole the hearts of parents and students alike.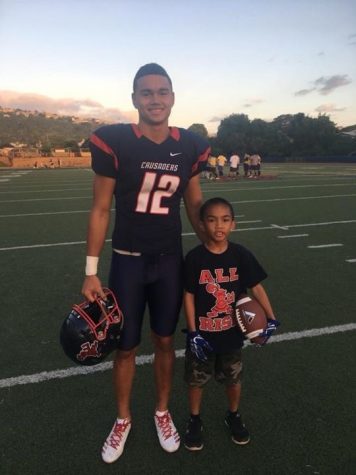 Chevan Cordeiro took time from practice to throw ball with this keiki Crusader.
Brotherhood for life.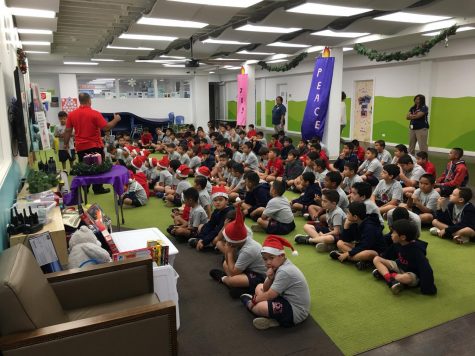 Morning Assembly at our elementary school is a colorful affair during the holiday season.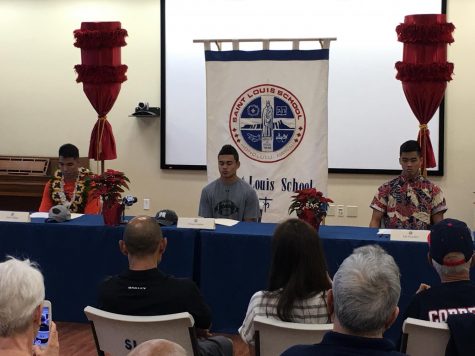 On the Early National Letter of Intent Day, Seniors Chevan, Kai, and Isaiah selected the full college scholarships they earned from the University of Hawaiʻi and Oregon State University.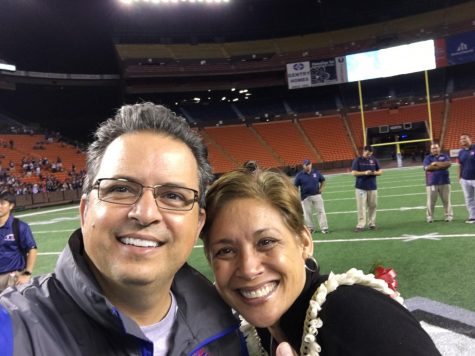 For the past three years, Donna Lindsey, the Principal of Kahuku High School and I met to congratulate each other at Aloha Stadium after each Championship game. We hope to meet there again next season.